Owned by one family for three generations, Stoney Ridge Farm in Everson offers visitors a taste of farm life—and food—in October and December. With Whatcom County's biggest pumpkin patch and steady Christmas tree stands, it brightens two cornerstones of the holiday season.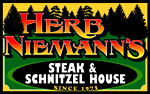 Stoney Ridge Farm began as a commercial apple orchard in 1988. "My parents started the farm with my husband and I, and we have the next generation," says co-owner and manager Debi Gavette. Customers' requests to pick her children's pumpkins inspired the pumpkin patch and eventually Christmas trees. The farm's apples and cider moved from grocery stores to on-site shops.
Ever since, Stoney Ridge Farm has grown into a popular fall activity hub and pleasant stop for Christmas trees. The family closed fall events in 2015, but reopened them in 2018 (scaled down from 10 acres to four) due to popular demand and a desire to keep serving the community.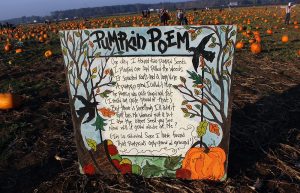 "We took two years to look and see if we wanted to continue doing this and what we liked, what were our favorite parts of it, and what was just a lot of work," says Gavette.
Whichever season you visit, Stoney Ridge Farm offers a panoply of festive sights and sounds. Farm animals, a barn with Mason jar chandeliers, and vast farmlands are ubiquitous both seasons, but the scenery dramatically changes from bustling harvest festival to simple solstice cheer.
Seasonal Activities
In fall, the pumpkin patch and apple orchard have "U-Pick" and "We-Pick" options. Adults and older children enjoy the corn maze and wagon rides, while younger children enjoy a crate maze, play area, and barrel train ride. You can even enjoy hot cider around a bonfire.
"It's kind of like a fall park," says Gavette. On Saturdays, JT's Smokin' BBQ and Lindsay's Crazy for Kettle Corn sell food.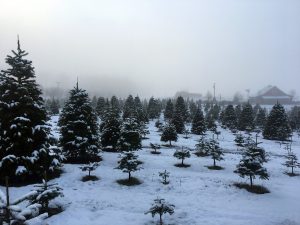 Winter festivities trade scarecrows and autumn leaves for illuminated trees and wreaths. The farm even has a stand for custom wreaths. But most noticeably, entertained visitors stay for shorter visits, rather than the several hours spent in the fall.
"We always have some farm animals out, but it's a totally different feel," says Gavette, adding that visitors "usually get hot chocolate, a couple bags of doughnuts. They'll sit and visit for a little while, but they want to get home and put the tree up."
The trees have U-Pick and We-Pick choices, plus shaking and baling options.
A Charming Farm Backdrop
Stoney Ridge Farm's shops remain the same in October and December. Visitors can buy gifts and decorations for both seasons and enjoy the same on-farm food.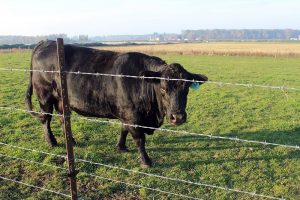 "We have mini cider doughnuts and big pumpkin doughnuts," says Gavette. "And we make them on a machine, so people can watch you make them."
Visitors can expect to see rustic decorations throughout the farm during both seasons.
"I spend a lot of time decorating it," says Gavette. "I want a certain ambiance of celebrating fall and harvest, but I go the extra mile because I want everyone to have a good experience. I want it to be pretty. I want it to be attractive. I want them to be excited to come."
Besides seasonal goods, Gavette says, visitors mainly treasure "the experience of being on a working farm," and many learn that "agriculturalists and farmers are just like everybody else. We just have a different kind of job."
Schoolchildren have first access to Stoney Ridge Farm's fall festivities. Gavette, who teaches horticulture professionally, tours "about 2,000 kids" yearly per school districts' arrangements.
"I take it really seriously that school districts and teachers trust me for 30 minutes to teach their kids about agriculture," says Gavette, adding, "I'm honored to get to do it."
Growing Traditions
"The community has been incredibly supportive of us," says Gavette. Strangers in town sometimes tell her they have cherished memories of Stoney Ridge Farm.
"We sometimes get a totally different group of people at Christmas," says Gavette. "They only come here for Christmas, and these other people only come at fall. But again, we're part of their tradition."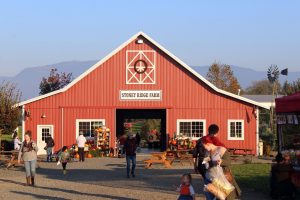 New parents have told Gavette that they take their children to the farm following their parents' tradition. Its renown is by no means limited to Whatcom County.
"We have people come from Seattle, we have people come from Oregon, [and] we have a group that comes here from California," says Gavette. "They all come here as a family, and they say, 'Oh, we spend five or six hours here, just meeting and greeting each other, spending time together and eating together.'"
In other words, the farm's owners have cultivated a love for it that other families now share.
"Our family has been blessed to get to live here and do this, and it's a little bit of a throwback to the community," says Gavette. "Our goal has never been to make a lot of money—our goal has always been to share an agriculture experience with people."
Stoney Ridge Farm is open on select Fridays and Saturdays in October and December.