Submitted by: Whatcom Transportation Authority
Motherload is one of many documentary films being shown at Pickford Film Center during the month of "Doctober." Showtimes are Tuesday, October 8 at 6:15 p.m. and Sunday, October 20 at 6:30 p.m.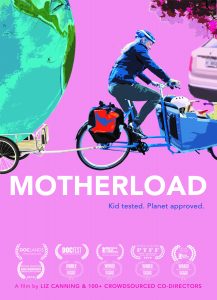 Motherload is one woman's story about discovering the power of cargo bikes. In the film, we meet people like Brent Patterson and Stacy Bisker of New York, who were struggling to pay off student loans and medical bills when they traded in their car for a cargo bike. Though the choice was made for financial reasons, the couple were surprised by how much joy they experienced performing everyday tasks, like grocery shopping. We also meet Portland-based, mother-of-six Emily Finch, who became a minor celebrity in town by peddling a 500-pound bike with six kids in tow.
Motherload also explores the role bicycles have played historically, as tools for social revolution. Through the years and around the world, bikes have empowered the poor and have been used to network and protest during movements—like women's suffrage—of the early 20th century.
After each screening, movie-goers can hear from local parents, commuters, and business owners who have discovered the power of cargo bikes.
Tickets can be purchased in advance at the Pickford Film Center.