Many of us have fond memories of concert bands—whether we played instruments in school or attended performances. Concert bands enchant us from early ages and bring communities closer together. For Whatcom County locals, Bellingham Community Band recaptures this passion for music.
Bellingham Community Band began as the Bellingham High School Alumni Band. Bellingham High School lacked a marching band in 1998 due to remodeling, so former band director Ralph Pauley gathered music alumni to march in the Ski to Sea Parade. In 2012, Bellingham Community Band became strictly a concert band no longer limited to Bellingham High School alumni. Members range from high school students to senior citizens.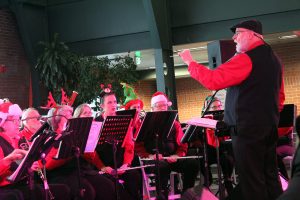 Joining Bellingham Community Band requires only previous band experience and a few phone calls. There is no audition, and some members pick up music again after decades-long breaks.
"If they want to give it a try, we give them a chance to give it a try," says band president Norma Jean Howlett.
Attending the band's regular concerts helps members fund a music scholarship and share their music with the community.
"I would say it's almost half retired people and people who have moved to the area and want to make music," says band librarian Ken Lingbloom. "Continuing to make music is part of their lives."
Year-Round Performances
Bellingham Community Band's main fundraiser is its spring concert, typically held in April or May at Whatcom Community College. Its newest annual performance is a Birch Bay State Park summer concert held anywhere from June to August.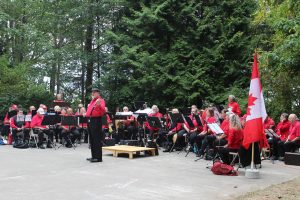 The band annually holds patriotic concerts—two on Memorial Day at Memorial Park and Bayview Cemetery, and one on Veterans' Day at Bellingham City Hall.
The band occasionally performs one Christmas concert at Whatcom Community College and almost always performs another at the Bellingham Cruise Terminal. The latter concert takes place during the Holiday Port Festival, so attendees can also see gingerbread houses and enjoy cider and cookies.
"It's giving good cheer and making the Christmas season, holiday spirit alive," says Howlett. "I think the concerts give us an ability to see if our skills are up to snuff."
Infrequent concerts have included Northwest Washington Fair performances honoring the military, unofficial parade appearances, Whatcom County Toys for Tots benefits, and a Seattle event Howlett describes as "one band after another performing" from various cities.
Music Motivates Members
Bellingham Community Band members rehearse every Saturday at the American Legion, as they are able.
"Sometimes it can be tedious by necessity, because there are areas we need to work on," says Lingbloom. "But most everyone feels satisfied, feels a sense of accomplishment at the end of rehearsals, almost every time."
Howlett says the band seeks "people who love music and are willing to practice and learn music to the best of their ability." Some members have difficulty attending regular practices, especially if they have to balance other commitments. But those who stay enjoy camaraderie and playing for audiences mainly comprised of band members' family and friends.
"That's why I go," says Howlett. "I thoroughly enjoy the people, and I love playing, and playing music is good for the soul. I think that's what we look for: a love of music."
The band offers parts for flute, piccolo, clarinet, bass clarinet, contra bass clarinet, bassoon, French horn, euphonium, tuba, string bass, trumpet, cornet, saxophone, and percussion. "If it's someone that wants to learn to play an instrument, we're not the band for them," Lingbloom says—but members always have opportunities to improve their skills.
Banding the Bellingham Community Together
As a nonprofit, Bellingham Community Band annually awards the Ralph Pauley Scholarship to music students graduating high school. Band members also donate to music teachers and hope to expand scholarship funding.
"I would hope that we would continue to grow, gain new members, [and] become more proficient with our music," says Howlett.
Bellingham locals may spot band members in smaller groups around town. Band offshoots officially include the Jazz Ensemble and the Ebbtides, and unofficially include the Tuba Tones—four tuba players led by Lingbloom. Band director Frank Kuhl and members Gloria Irwin, Skip Williams, and Roger Quiggle also give solo performances.
Despite these community ties, Bellingham Community Band is seemingly lesser-known than overlapping formal groups such as the North Cascades Concert Band and Bellingham Symphony.
"It's one of the best-kept secrets in the city," says Lingbloom. "Other groups I play in are somewhat mystified when I say I play in the Community Band. They say, 'Oh, you mean down in Mount Vernon, Skagit County?' 'No, I play in the Bellingham Community Band.' 'There's a Community Band in Bellingham?' So we're trying to get the word out."
In the meantime, Bellingham Community Band anticipates many more rousing performances to come.