Submitted by: Dementia Support Northwest
Last year Dementia Support Northwest hosted Whatcom County's first ever GLOW-themed 5K Walk and Run and it was a huge success! This year's event takes place November 2 from 3:00 p.m. to 9:00 p.m.
We have listened to last year's participants and have improved upon the course, which is all safely located within the Northwest Washington Fairgrounds, and will have a bigger building to keep you warm and entertained in, before and after the race!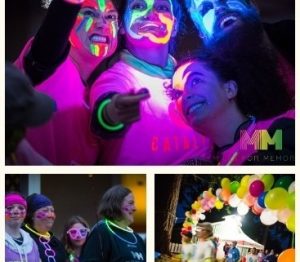 So come out to our Miles for Memories 5K and bring your families, coworkers, kids and pets! Grab a drink in our Glow in the Dark Beer Garden, sip on something warm at our hot cocoa and hot cider bar, fuel up with food, visit our vendors, stretch and warm up to some Jazzercise and support your local nonprofit providing the community with dementia support, education, and resources!
For more information and to register, please visit https://alzsociety.org/event/miles-for-memories-glow-walk-run-5k-2019/.