The only constant is change, or so the saying goes. And perhaps nowhere is that more evident than autumn in Whatcom County. Nights become crisp, chestnuts litter the road, leaves begin to change, and kids head back to school. Unfortunately, colds and flus can often be an unwanted side effect of this season. Sarah Rose Fischer, local herbalist and owner of A Better Livity, reassures me that we don't have to despair or reach for the nearest bottle of cough syrup.

"These transitional phases are really powerful," she says. "My relationship with plants grows every day and every time the seasons change. Our bodies are needing different things; nature around us changing."
Just as nature guides us into cooler months, it can also provide relief to symptoms that arise during this time. Fischer notes that while the immune system gets a lot of press when it comes to cold and flu season, she actually looks first at the state of the nervous system. "I really feel like the nervous system is an underrated player in immune health. If you're sleeping six hours a night, working 50+ hours a week, and not supporting your nervous system, your immune system can't function as well as it needs to. Nourishing the nervous system is a ground-up way to support immunity."
An easy, and fun, way to nourish the nervous system is herbal body oiling. "Since 60% of what you put on your skin goes into your bloodstream, you can get medicine from herbs from your skin into your body," Fischer says. She recommends cottonwood body oil. Cottonwood buds are covered by an antimicrobial resin that protects the tree from infection. Fischer makes an oil from these buds, telling me, "It's warming, antibacterial, and slightly antiviral. It also helps with circulation and general immunity."
But it's not just the medicinal properties of cottonwood that can be beneficial. The means of application plays a huge role, as well. "Body oiling as a practice takes your nervous system down from a ten to a two really quickly," Fischer says. "Even if you're just oiling your neck and ears, it's a great opportunity to connect your mind to your body and tune into your body and see what it needs next."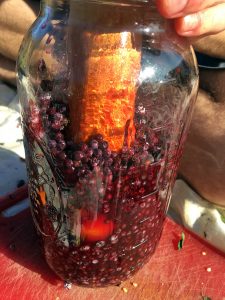 Your body may not need anything fancy. In fact, Fischer recommends culinary herbs as an easy and simple way of incorporating more medicinal plants into our lives. "I like to refer to chicken soup herbs," she tells me. "If our great-great grandmas made chicken soup or some healing brew, they used the kitchen basics—onion, garlic, thyme. Parsley's great too, because it makes our bodies more alkaline. Most of us are quite acidic, and getting out of line with alkalinity can also throw our immune system."
A great way to further reduce acidity is cutting out sugary and starchy white foods at the first sign of a cold or flu. "Food is the fastest way to get medicine in your body in your daily three to five eating opportunities. Plus, it's fun!" Fischer says.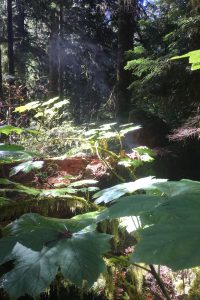 Culinary herbs are a great way to start developing a relationship with your own body as well as the world around you. "When a recipe calls for something like rosemary, look up its medicinal qualities," she says. "See what it offers you and your body; get a dialogue going with the plants."
Fischer continues to be inspired by that dialogue, both in her personal life and in the expansion of her business. "When I see people at the Bellingham Farmers Market, or other customers around town, they tell me their stories and get really excited. I love to see people excited when plants work. I love it when young girls who have been marketed Clearasil and Neutrogena go out on a limb and try one of my products. They come back feeling so good about themselves, like 'Oh my gosh!'"
To find your own 'Oh my gosh!' moment, try incorporating a few natural remedies to stave off sniffles and sneezes, like locally grown blue elderberry. "It's safe for kids, but I always tell people to do your research," Fischer says. "It's great for a tonic if people around you are sick, and then if you do get sick it can shorten the healing process."
This fall, as you enjoy the beauty of the changing season, consider building your own relationship with the natural world around you, whether that's through a conversation with a local herbalist or a new curiosity about your kitchen pantry.