Peace builders are all around us, if you know where to look.
That's why the Whatcom Dispute Resolution Center (WDRC) honors peace builders in our community each fall at the Peace Builder Awards Gala. This year's event takes place on Friday, November 15, at Bellingham Technical College's Settlemeyer Hall.
The Peace Builder Awards are in their 17th year, and their purpose hasn't changed since its inception, said the WDRC's Executive Director Moonwater.
"It's an event that serves to share community-wide examples of peace-building efforts and to elevate the people who illustrate the values and skills these efforts require," she says. "In doing so, we're able to raise awareness of our mission and how our organization supports, promotes and contributes to building peace throughout Whatcom County."
In choosing the honorees, the awards committee actively seeks all kinds of people doing all kinds of work throughout our local communities. The common thread in each is work that builds trust, promotes healing and resolves conflicts.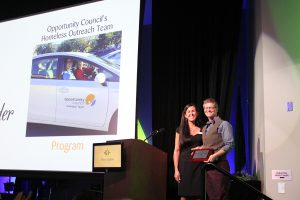 "The work in peace building is coming from really diverse corners of the community," says Addie Candib, Community Engagement Manager for the WDRC. "The Peace Builder Awards provides an important opportunity for us to connect with individuals and groups—and those connections are important and lasting."
Past award recipients have gone on to serve on the WDRC board and advisory board, become donors to the organization, volunteered at the gala and in other capacities, and brought the center into their organizations for training.
Gala guests can expect hors d'oeuvres, dinner, a silent auction and dessert dash, while being entertained by live music and poetry readings from the Youth Peace Poetry Contest winners. Candib describes the evening as a "fill your cup" event, where people come away inspired to step up their own peace-building efforts.
Candib also notes that the Gala sells out every year, so she encourages people to buy their tickets early. Visit the WDRC website to purchase tickets.
Honorees for this year's Peace Builder Awards are:
Collaboration Award: Whatcom Youth Pride Coalition (WYPC)
The WYPC formed in late 2018 in response to what its organizers saw as a need for more visible support for LGBTQI+ youth in Whatcom County. The organization planned and hosted the first ever Whatcom Youth Pride Parade and Festival in June 2019, drawing more than 1,500 people—LGBTQI+ youth, youth allies, families and community supporters. The group hosts other queer-friendly events and activities throughout Whatcom County and beyond, and continues its work to provide a voice to Whatcom County's queer and transgender youth.
"The Peace Builder award really feels like a validation for the work we are trying to do to celebrate and empower Whatcom County queer and transgender youth and build visibility and community support around that," says WYPC's Holly Tobosa. "That said, this is truly an award for all of Whatcom County's LGBTQI+ youth, as they are the motivation and inspiration behind all of our efforts."
Community Award: 2019 Paddle to Lummi Tribal Canoe Journey
In July, the Lummi Nation welcomed over 111 tribal canoes representing more than 70 Original Nations and Peoples. Awaiting the canoes on Lummi shores were more than 18,000 people from throughout the county and state, as well as people from throughout the United States and abroad.
"The event represented an incredible act of hospitality on the part of the Lummi Nation, inspired generosity from many corners of the community, and promoted reconciliation, healing and trust among all who participated," Candib says.
Environment Award: David Roberts and Kulshan Services
Kulshan Services works with organizations on strategic planning, analysis, facilitation, and public engagement, with a primary focus on helping build sustainable and resilient communities and organizations. Projects include business sustainability, climate adaptation and mitigation, resource recovery, water quality investigations, land use assessments, recreation planning, and conservation.
"I have worked with many groups over the last 30 years—some who wanted to work with each other, and some who didn't," Roberts says. "It's been with great satisfaction that I've been able to guide processes in a way that helped people grow and learn together as they sorted out their differences. In particular, I've enjoyed seeing the doors open to new collaboration and watching the 'light bulb come on' as participants discover together answers that mutually benefited all involved."
Healthcare Award: Marcela Suarez Diaz and the Sea Mar Promotores Program
Many are not likely aware that migrant farmworkers in Whatcom and Skagit Counties often speak indigenous languages native to Mexico and Guatemala—in other words, not Spanish. A handful of other languages, from Russian to Punjabi are also spoken. The Promotores program serves these migrant farmworkers by providing "linguistically and culturally appropriate health care services and health information to the farmworker community."
Marcela Suarez Diaz, Promotores coordinator, works to recruit, train and supervise the Promotores as well as plan and coordinate with the Promotores team medical and dental mobile clinics in both counties during the harvest season.
"As part of the Promotores Program team, we feel privileged to receive such an award," says Suarez Diaz. "We do our work in the community not expecting to receive recognition but to help the agricultural community as best as we can."
Inspiration Award: Peace Wizard
You may have encountered the Peace Wizard downtown during a Saturday Farmers Market or one of the weekly Peace Vigils outside the Federal Building each Friday.
"For several decades he has been carrying a 'Peace' sign around town," the WDRC's Candib says. "He's literally committed his life to spreading the message of peace."
Public Service Award: Incarceration Prevention & Reduction Task Force
In 2015 the Whatcom County Council established the Incarceration Prevention and Reduction Task Force. Its mission, according to Task Force Co-Chair Jack Hovenier, includes making recommendations to reduce incarceration for individuals struggling with mental illness and chemical dependency, reviewing Whatcom County's criminal justice and behavioral health programs, and suggesting ways to improve it. The Task Force is also helping shape the creation of a new crisis triage facility.
The Task Force includes elected officials, court personnel, law enforcement, service providers, members of the public and others who have valuable experience and insight to inform the Task Force's work.
"On behalf of the Whatcom County Incarceration Prevention and Reduction Task Force," Hovenier says, "we thank the WDRC for honoring and acknowledging our efforts to reduce incarceration and improve the criminal justice system in Whatcom County."
Volunteer Award: Ann and Pug Edmonds
Ann and Pug Edmonds were honored for their tireless volunteer work to build collaborative relationships between organizations and faith communities.
"Through their work with The Alms Ministry, Hope House, The Support Network and other groups, Ann and Pug have helped hundreds of community members get their basic needs met in the last year alone," says Candib.
Youth Award: The Upstanders United
The Upstanders United is a student club at Blaine High School that works to promote healthy relationships, mental health and an inclusive school environment. They initiated events and campaigns to create a school that feels safe for everyone, that promotes self-care, compassion and fun. The students have led assemblies on consent before prom, healthy relationships, and mental health.
"An upstander is someone who stands up and does not stand by when others are hurting," says Liz Stuart, the club's adviser. "These students have created a culture of care at their school where students stand up for each other, and it has been my pleasure to witness and mentor them as they lead with their endlessly creative hearts."
"I was amazed and humbled that our largely student-led group was able to make enough of an impact on our community to be recognized with this this award," says Payton Ives, a Blaine senior. "It gives me hope that all students at BHS will have an open minded and safe environment now and far into the future."
Peace Builders Award Gala 2019
Friday, November 15 at 5:00 p.m.
BTC's Settlemeyer Hall
3028 Lindbergh Avenue in Bellingham
Sponsored