Life is about relationships. Family, friends, co-workers, even your favorite grocery store clerk, waiter, or barista. But when it comes to our money, relationships with skilled banking professionals can make any paycheck, income, nest-egg, or rainy day fund work to its fullest potential.
At Olympia-based Heritage Bank, they offer on-staff relationship managers to all their customers. "Imagine if instead of fumbling through a maze of 1-800 numbers to find product experts spanning across multiple offices within one bank, there was one person who brought together all of these experts on behalf of your business needs," explains Commercial Banking Officer Scott Michie. "Relationship managers improve the customer experience by fostering relationships, not transactions, with local service teams, providing service continuity, local decision making, and access to products and services."
This hands-on method means less frustration and greater opportunity. "This common-sense approach, known as a relationship management model, focuses on the 'big picture' of what customers need from a financial partner to achieve their goals," says Michie. "Which means, rather than a model that encourages one-off products and services, a dedicated banker—with the experience and knowledge of the customer's business—can draw upon the bank's best talent on that customer's behalf. This encourages cross-pollination and collaboration instead of siloed thinking."
Relationship managers are available to all members of Heritage Bank. Big or small, corporate or personal, they value customers and staff equally. Michie, who joined the team in 2006, is grateful for the many opportunities he's had to both assist customers and continue growing professionally. "Being an expert in everything isn't really possible in today's ever-changing banking environment. But, bringing all the pieces together from experts to provide a personalized service and ensure its meeting the customer's needs is hard to beat."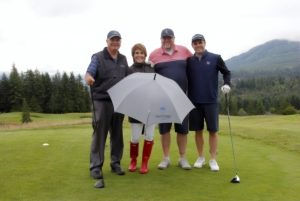 Michie's relationship with Heritage Bank began well before they hired him as a traveling teller, to assist multiple area branches. He opened his very first savings account at their downtown Fifth Avenue branch at age nine. "Over time, I have worked each position in a branch, including managing two of our locations. I have always strived for more and am lucky to now be in commercial banking. Commercial banking for Heritage Bank started here in Thurston County and the knowledge of the team around me is impressive. I am very lucky to have the background in retail banking and the local commercial team to support my customers with their needs."
Several generations of his family continue to live, work, and play locally. When not at the bank, Michie enjoys time with his fiancée and children, surfing, and running ultra-marathons. He's currently training for a 100 mile race to be held up north in Whistler, B.C.
And he has big dreams for the future. "Day one, I told our former CEO Brian Vance that I was coming for his job," smiles Michie. "I may have been young at the time, but I love a challenge! Looking forward, I intend to be in commercial banking for quite some time. I absolutely love learning about businesses, how they function, what got them to where they are today, and where they want to go. The opportunity to learn about so many businesses here in my hometown is something that I really enjoy. I'm here to help as many people as I can and build some great relationships along the way."
Heritage Bank also works to build relationships in and around their community. "Heritage Bank's community involvement program is called Heritage Helps," says Michie. "Heritage encourages employees to volunteer in the community and pays them to do so. In 2018, 4,427 volunteer hours were donated to 258 local organizations. On top of donating time, Heritage Bank had a corporate giving total of $1,212,935 to local nonprofit organizations in 2018. We clearly care about the communities we serve and are here to be a part of them for the long haul!"
Author Margaret J. Wheatley once said that "There is no power for change greater than a community discovering what it cares about." To see relational change in action, every day, in the lives and small businesses of our friends and neighbors, head to Heritage Bank. They'll answer questions, provide support, and help grow your future.
Sponsored