The warm August night is full of laughter, music, and the smell of tamales and pakora. The youngest generation of Birchwood residents have set up booths selling all manner of handmade slimes and soft clays alongside artisan vendors. The Sikh community has just finished a traditional gatka performance, an Indian martial art involving elaborate stick fighting, and the 4-H Para Familias Latinas dancers are up next. This diverse, vibrant event is the Birchwood International Market, a celebration of Bellingham's Birchwood neighborhood.

Morgan Henry Kerr, the market's event coordinator, describes the inspiration behind the Birchwood International Market as "grassroots." She explains that the market arose from other placemaking elements in the neighborhood, such as the mandala mural in Shuksan Meadows. Through a collaboration with Sustainable Connections and Henry Kerr's events company MOMAD Productions, the market was born. After the inaugural event in 2018, "the neighborhood loved it," Henry Kerr says. "I circled around to the Birchwood Neighborhood Association and paired with them. They brought their community and I brought outside resources and professional event coordination experience to make the event happen again."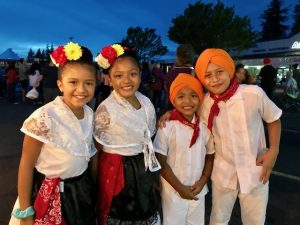 She's quick to note that none of this could have been possible without the support of the neighborhood itself. "The event happened again by way of the people of the neighborhood wanting it to happen again," she says. "It's important for them to have this creative container that's safe and inclusive."
That safety and inclusivity is essential to fostering deeper connections both within the neighborhood and to the larger Whatcom County community as well. Henry Kerr describes what sets the market apart from other events in Bellingham. "People are really interested in knowing the people they're interacting with. Like, wow, maybe I've lived down the street from this person for 15 years and I didn't even know who they were, and by way of participating in this together, I feel like we know each other. People feel safe to express themselves. It taps into mental health, too, and empowering communities with the pride of where we come from. People are excited to show that."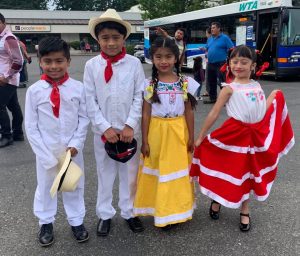 After all, Birchwood has a lot to be proud of. It's a diverse neighborhood, wherein 26 languages are spoken. And although many folks within its boundaries live below the poverty line, "they still say, 'We see the power in saying we're revitalizing our space and we see the power in who our community is,'" says Henry Kerr.
The market demonstrates the power in the diversity of the Birchwood community. "On paper it's an event, but every time it feels like so much more than that, for both kids and adults," she says. Kids can be seen doing a traditional dance and then at some point getting a turban tied from the Sikh community.
"The Sikh community is so cool," Henry Kerr says enthusiastically. "They are so loving and inclusive. For them, we are all one, and they're doing a ton to bridge the gaps between the Sikh community and the rest of Whatcom County. It feels very important and very intentional."
One such effort is the Chardi Kala Project, a Sikh community outreach group that serves our county as well as the "greater good." They will be at the final market of 2019 on Friday, September 27.
At the September market, Common Threads Farm will present food and recipe demos, Play Lab will offer interactive play for kids (and adults, too!), and City Sprouts Farm will share delicious, hyper-local veggies.
"Food accessibility in Birchwood is huge," Henry Kerr tells me. "We got some funding from PeaceHealth, and so we sprinkled 100 $20 vouchers to City Sprouts into the market's game prizes." City Sprouts is part of a cooperative effort with other farmers from the neighborhood. "A lot of people feed their kids from the 7-11," Henry Kerr says. "So the Co-op is doing a lot around food access, too, like how to get to their stores and be engaged in what they're doing."
The market strikes a balance between providing information and providing plain old fun. "There's a pure sense of celebration," Henry Kerr says. "And I think there's just so many opportunities for that to ripple into the community the rest of the year."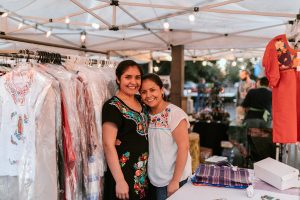 The market may indeed have far-reaching implications for the Birchwood neighborhood. Birchwood Neighborhood Association will build upon the current work they are doing for the neighborhood, and the goal is to get the Birchwood International Market a 501c3 non-profit status so it can provide opportunities to incubate small, local businesses.
Come out to the corner of Birchwood and Northwest on Friday, September 27, and experience the market. Get a turban tied, eat freshly grilled elote, and mingle with neighbors new and old. Celebrate Birchwood and help honor the power in diversity.