I sit down with Sandy Ward, CEO and president of Bellingham Whatcom County Tourism, and am immediately struck by her warm spirit, her love of her community, and her hot pink nails. As she sips a hot chocolate, she tells me about her dreams and plans for sharing Bellingham and Whatcom County with the world.

Bellingham Whatcom County Tourism is an organization that's been in business since 1978. "Our main job is to bring people from far enough away so that they have to spend the night," Ward tells me. "When people spend the night, they spend more money. We're really an economic development tool and agency. We're focused on bringing people in from outside of the area—from Seattle, San Francisco."
But it's not just about 'heads in beds,' as Ward is quick to note. "It's about stewardship," she says. "This is such a beautiful place. It's easy to live here, it's easy to sell. There's the beauty of the water, the mountains, and it's clean and lovely. We're thinking about how we can attract people here who share our values and our quality of life."
Ward thinks big, and she thinks sustainable, too. "I want us to build a tourism master plan that helps us plan for the future for the next 10 years. We make it smart and plan for development so we're able to maintain the character we have and get the kind of tourism we want, and build infrastructure from there. Do we need more kayak put-ins? More places to launch your boat?"
Ward's vision, drive, and commitment have led her to a long career in travel, tourism, and hospitality. "People don't realize how important the travel and tourism industry is," she says. "There are 6,900 jobs in Whatcom County that are directly employed in this industry. There's a huge career path, and the kinds of skills you learn are ones that can help you succeed in any job."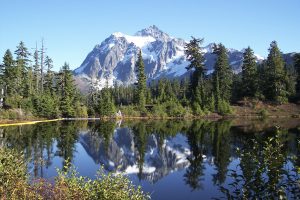 Starting as a travel agent in her hometown of Ogden, Utah, Ward eventually "threw her hat in the ring" for projects across the Pacific Northwest that she believed in. She started the Snohomish County Tourist Bureau, growing it from two people sharing a desk to the current organization it is today. She was then hired to be the first marketing director at the Future of Flight in Mukilteo. "There were no brochures, no ticketing system. I started the system from scratch." And then Ward came to Bellingham.
Keith Coleman, General Manager of Marriott Springhill Suites, raves about Ward's induction into the Whatcom County community, "I was a new board member for Bellingham Whatcom County Tourism when Sandy arrived, and she inherited a number of obstacles. Sandy has a way of graciously attacking everything—with a smile. She has turned her team into a cohesive machine that is incredibly amazing. She identified leaders and has empowered them to thrive. Speaking from experience, this is a huge sign of an effective leader."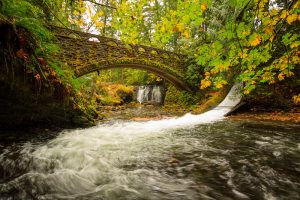 Ward's leadership has overseen several important projects over the two and a half years she's been CEO and president. Under her leadership, Bellingham Whatcom County Tourism instigated a wayfinding project. "We're almost to implementation," she says enthusiastically. "Everyone's on board, and it's county-wide. There are gateway signs, maps, and kiosks. It's all integrated."
What's special about this project is that it unites the cities and towns in Whatcom County while still allowing each to retain its unique character and qualities. "We went with an identity model," Ward explains. "Blaine can be Blaine, Bellingham can be Bellingham. The common thread is Whatcom County, so the signage is really similar. We have an icon to use to let people know that they're on the right track."
Speaking of the right track, Ward and her team also worked with the Basecamp Bellingham program, which connects race directors to each other so they can increase attendance at races like Ski to Sea and Tour de Whatcom. "We're really proud of that," she says. "Attendance is up 10%, according to the race directors. And there's so many different events you can do, whether you're a cycler, paddler, or runner."
For hikers, Bellingham Whatcom County Tourism, in cooperation with the Mt. Baker Foothills Chamber, also produces the Mount Baker Hiking Guide, a thorough and light-hearted companion to hikes in the nearby wilderness. Looking for a 'strenuous' adventure through wild country? The guide recommends Yellow Aster Butte, noting that it's perfect for "devouring blueberries until your lips are blue, watching hummingbirds skydiving, and feeling weightless above foggy valleys."
In addition to their current portfolio of visitors guides and economic development programs, Bellingham Whatcom County Tourism is always looking for thoughtful ways to grow and expand. "We're doing a feasibility study for a multi-purpose events center," Ward explains. "You could do basketball games, a trade show, banquet, comic-con, round tables for 1,000 people—anything you can imagine. We've got some money from the county and the city to see if it's possible."
If anyone can turn possibility into reality, it's Sandy Ward.