Hotel Bellwether looks out over both Mount Baker to the east and the San Juan Islands to the west. Today the seas are calm and blue and a few guests are sitting outside and enjoying the view. The hotel is renowned for being a premiere, boutique destination in the Pacific Northwest. People come here to luxuriate in the world-class waterfront dining, to honeymoon steps away from the beautiful harbor, and to enjoy one of Hotel Bellwether's many special events.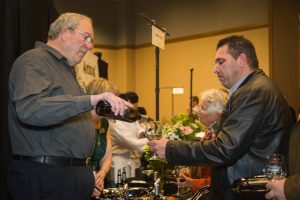 One such event, Grape and Gourmet, will benefit the Bellingham Bay Rotary Club, a local community non-profit that is dedicated to service above self. Grape and Gourmet takes place Saturday, October 19 from 5:30 p.m. to 8:00 p.m. The theme is Wines by the Water, so lucky guests will be able to enjoy a fine selection of world-class wines while funding charitable organizations like the Hospice House, Bellingham Food Bank, Northwest Youth Services, DVSAS, Lydia Place, Blue Skies for Children, and many more.
Jim Haupt, general manager at Hotel Bellwether, says that's what makes this event so special. "That's what it's all about: giving back to the community through Rotary. They do so many great things for these organizations."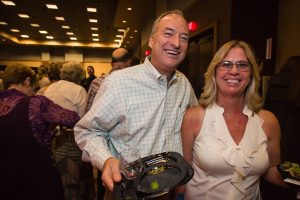 Christine Palmerton, Rotary member and local business owner of Nautigirl, speaks to what makes the Bellingham Bay Rotary so special. "My Rotary moment came one day when a fellow Rotarian stood up and talked about the need to raise money to build a new food bank. Having had to stand in line at the food bank as a child with my parents I was embarrassed but humbled by how nice the volunteers were to everyone and I vowed one day I would give back."
She was grateful to be a part of Rotary and able to do exactly that. The food bank subsequently got a new building and, during Palmerton's year as Rotary President, expanded even further. "This event was crucial to helping fund that and other projects like the Hospice House, DVSAS, Blue Skies for children, NW Youth Services and so many others."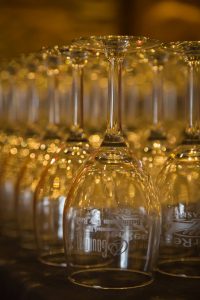 Grape and Gourmet helps raise funds to support the great work the Bellingham Rotary does for the community. Palmerton notes that after a pause last year, the event is coming back and better than ever. "We decided to take a break from the event last year and are now excited to bring it back to the Hotel Bellwether on a Saturday evening, featuring international wines and gourmet bites from chefs at the Lighthouse Grill."
The event has always included outstanding displays by local restaurants competing for 'best-of' awards, such as ice sculptures. One memory stands out for Palmerton, who recounts the year The Big Fat Fish Company presented a "naked" model to display their sushi. "Of course all private areas were properly covered, but it made for a much-talked-about display."
Haupt describes the set-up as global, saying, "We're doing wines around the world. There will be a concentration of Northwest wines, of course, and California, and a couple tables set up for Spanish and French wines."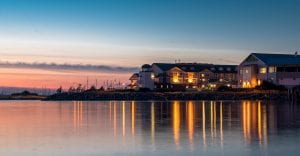 The Bellwether team is known for its excellent taste in wines, so it feels appropriate that this year's Grape and Gourmet will be held on their grounds. "We even do monthly wine socials," Haupt says. "We select two or three premiere wineries and feature their wines throughout the evening." One event showcased Spanish wines with tasty Spanish treats. "The wine was over the top. Through our process of buying and tasting for the restaurant, we get access and exposure to some exceptional wines."
Some of those exceptional wines will be featured as the "grape" in Grape and Gourmet. Guests will sip offerings from Forgeron Cellars, Mark Ryan Winery, Opici Wines, and more. Not only will guests be able to enjoy wine throughout the evening, the Bellwether will also have a wine shop where aspiring sommeliers can pick up discounted bottles. And for the "gourmet," the Bellwether's top chefs will provide dishes like prosciutto-wrapped scallops, locally sourced duck leg canape, and an action station featuring three styles of oysters paired with wine.
This October 19, get a little dressed up and raise a glass to community, Hotel Bellwether, and the Bellingham Bay Rotary. Cheers!
Sponsored