When Ann Beck and Anna Blick began to talk about participating in a service group, Beck thought of her mother's 100 Women Who Care organization in San Luis Obispo. Together with two friends from Western Washington University, Rebecca Butler and Kathleen Olvera, they started 100+ Women of Whatcom in October 2015. Blick and Butler worked on the website and social media, Olvera vetted the nominated agencies, and Beck worked on outreach to grow membership.

The goal of 100+ Women of Whatcom is to be an effective, efficient fundraising organization high on local focus and accessibility and low on barriers. "Our purpose it to find causes that are important to our members and use our collective donations to make a difference, with unrestricted funds awarded," says Beck.
The goal is to have 100+ women donate $200 per year. Awards are made twice a year. The $100 donation twice a year was chosen intentionally to appeal to younger philanthropists so they can afford to participate and help direct their offerings.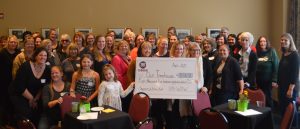 "We don't ask for a big time commitment, and only hold two happy hours and two meetings per year. We don't hold bake sales, we don't have a large social aspect, we just want to make as big a difference as we can," says Beck.
There are networking opportunitie at the happy hours, and also for an hour and a half before the twice-a-year nomination meetings. "But introverts can just come in time to hear the presentations and vote on their choice for the award," Beck says with a laugh.
In 2016, the group started seeing members bring their children to the nomination meetings, as well. "We wanted our kids to see the positive message of giving, and also see the power of women doing things together," says Beck.
Any member can nominate an organization, which is then vetted by the Board to be sure it has 501c3 status, does not discriminate, and is not political in nature. Members who wish to nominate an organization write the group's name on a piece of paper, and it's put into a bowl. Three group names are pulled randomly.
At the meeting, either the member who nominated the group or a representative from that group is given three minutes to pitch the merits of the non-profit. A vote is taken using glass beads, the winner is announced, and the donation from each member is taken immediately and given directly to the winning group. In just over an hour, one local non-profit is awarded a substantial sum of very important unrestricted funds!
100+ Women is not a 501c3 and has no overhead. It's the vessel through which its members directly donate to the awarded organizations. "It's good to see where our members' interests lie," says Beck. "The ability for any member to nominate is great exposure for our group to see what goes on in our community."
Some non-profits who have previously been awarded include:
"The person who nominated the Food Bank had no affiliation with them," says Beck. "It was a big and welcome surprise to the Food Bank when they were made aware of the award." After the Food Bank received the donations, several members of 100+ Women of Whatcom showed up to help them sort through a mountain of food donations from the postal workers collection efforts.
"Many of us work in non-profits," says Beck, "but had never heard about some of these organizations and have renewed appreciation for how awesome our community is."
Beck mentions that one avenue for improving 100+ Women will be reaching further out into other areas of Whatcom County in future meetings. And why wouldn't you want to join? "100+ Women of Whatcom helps us all have faith in our fellow members, adds kindness to our community and harnesses the power of collective giving."
100+ Women's next meeting is on October 9th at 5:30 p.m. in the Mount Baker Theatre Encore Room, which is generously donated by the theatre for the meetings. Current Board members Beck, Devlin O'Dell, Sara Wilson and Katie Sly donate wine and nibbles. Any woman of Whatcom County can attend without obligation. It's a wonderful way to see how this organization works and decide if it's right for you before committing to being a member. Only members are able to vote.