The older one gets, the harder change can be. But it's not always a bad thing, as proven by the Bellingham Herald's recent move to Barkley Village.
The newspaper left its downtown home on August 15, ending 93 years in the historic Herald Building at the corner of North State and East Chestnut Streets. The paper's news and advertising teams now reside inside a new, fully modern office space on the third floor of the Dorothy Haggen Building at 2211 Rimland Drive, former site of Haggen Food Stores' corporate office.
The Herald's move is emblematic of how many newspapers are changing, growing into digital media companies that necessitate less space and more technology than their previous iterations. Despite leaving the place they've always called home, the move is a big step forward, explains Executive Director Julie Shirley.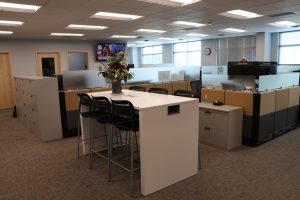 "What we do these days is just so different from what it was," Shirley says. "We used to do just one thing—we wrote stories and sold ads for the newspaper. The world has completely changed, and we've completely changed with it."
The Herald recently found itself at the end of a 10-year lease with Daylight Properties, which bought the Herald Building 10 years ago. Rusty Dodge, the Herald's General Manager and VP of Advertising, says they considered staying in the building, but ultimately decided a change was best.
"You don't leave a legacy building without putting a lot of thought into it," Dodge says. "We have fewer people than we did before, and we don't need the same amount of space. What we need is space that fuels a really positive culture of collaboration, efficiency, and high-speed technology. And to a degree with older buildings, it's harder to achieve and meet those needs."
The Herald looked at numerous locations throughout Bellingham, including along the waterfront, and considered parking, security and modernity, Dodge says. In the end, Barkley Village emerged as the best fit. Dodge says Barkley partnered with them closely, designing the new office to their specific needs. The result is a positive, modern environment that allows staff to do their best work.
The new office is an example of what Barkley Village's Neal Swanson calls "right-sizing." Shrinking a workspace is a trend many businesses have utilized, and can often be more indicative of efficiency than struggle, he says. To accommodate the Herald and four other tenants on the building's third floor, Barkley Village paid for a complete rebuild of the area's 22,000 square feet of office space, of which the Herald occupies 3,250.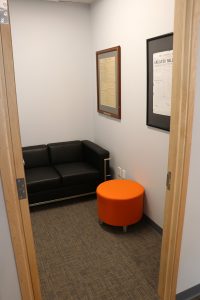 After three to four months of work, the new office was ready for Herald staff, and provided an immediate morale boost, Dodge says. The bright, new office features "phone booth" rooms, perfect for the large amount of video conferencing the Herald does, both with advertising clients and other McClatchy operations in places like Sacramento, California and Raleigh, North Carolina. Larger conference rooms in the building are perfect for hosting clients or public events.
Work space desks are modern and set up for the fast-paced work Herald employees often find themselves doing, quickly plugging and unplugging multiple devices from their desks throughout the day. The office has its own electrical box, owing to the company's unique and heavy power needs, and is also LEED-certified for energy efficiency. Rooms have motion-sensor lighting, and overhead office lights adjust automatically and uniformly throughout the day, accounting for how much sunlight comes through the windows.
Being in the new building also makes collaboration between news and advertising easier: in the Herald Building, their offices were separated by hallways. In addition, the new location provides much better security, more parking, and an overall more centralized location from which to gather news. A story that requires a reporter to venture into the county, Shirley points out, is a quicker trip now.
The move also allowed the Herald to tidy up a bit, getting rid of extraneous equipment and physical archive material. Shirley says they've completely digitized their archive from 1903 to the late 1990s, about the time the Herald's online presence began. Distribution of the paper's print editions also moved to a location in north Bellingham, and it too is a benefit for the company: carriers can more efficiently begin their routes, Dodge says.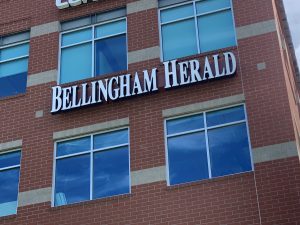 In an age where news and ads are not just distributed through print, but on computers, smartphones, email newsletters and social media, the Herald's move to Barkley Village is helping them lead the McClatchy Company towards profitability, with year-over-year increases in both print and digital subscriptions, Shirley says.
For Swanson and the rest of Barkley Village, it's another example of how vital the area has become for all of Bellingham.
"The Herald name means something in town," Swanson says. "We're really excited to have them join the Barkley Village family."