The door to Red Boots Design in Sunnyland is decorated with the work of screen printer Erin Boyd: a poster for this year's Sunnyland Stomp; two bicycles with graffiti-like text that reads 'My bike has a crush on your bike'; and an all-caps statement saying WOMEN MAKE POLICY, NOT COFFEE.
Women also make seriously excellent t-shirts, as Boyd's studio is soon to reveal. Beneath an awning emblazoned with "The Fort," I enter a wonderland of color, pattern, and posters that seem to represent all of Bellingham. Boyd has been in business for 14 years. "It's evolved from my own creative work to selling in stores to this niche screen printing I'm doing for really cool organizations in the community."
Breadfarm is a longtime customer, and Boyd is currently working on a project for RE Sources. Phoebe Wahl is one of Boyd's favorite local artists to collaborate with. All of these clients have one thing in common: they're small, local, and community-minded. "I don't do t-shirt gun stuff for T-Mobile," Boyd says, laughing.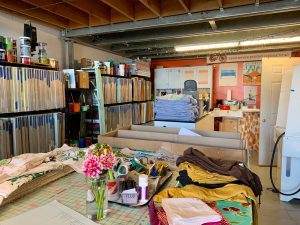 Community is one of Boyd's core business values. After moving to Bellingham in 2003, she began working with a local screen printer, gathering skills and connections, before launching Red Boots Design.
The business has evolved through the years; what began as Boyd's creative work finding a home at the farmer's market and local boutiques has now led to a "high-end boutique kind of screen printing for customers who want a unique product." Boyd's distinctive products are like the "slow food of t-shirts."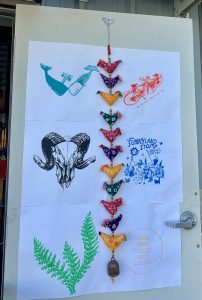 Sustainability shows up even before the finished product is hot off the press. Boyd does all her test prints on tea towels instead of rags (which often end up in landfills), and then sells or gives them away. "Social responsibility means that the shirts and blanks I use are quality, so people are going to want to wear and keep them for a long time." She sources many brands that are American-made and organic. She also works with a company in Haiti that produces t-shirts and pays their workers five times the living wage.
Boyd is proud of the way she handles her business in a male-dominated, competitive field. "I don't think a lot of people understand the difference in how t-shirts are normally made and what I do," she says. "Lots of shirts are mass produced on automatic presses—someone loads it and the machine just prints it. Every shirt I make is hand-pulled, and there are subtle differences that make each one special."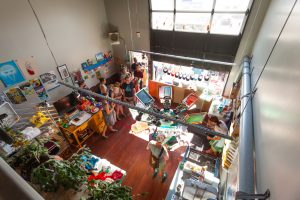 That's not all that makes her work special, though. Accessibility is also a cornerstone of Red Boots' philosophy. "I work with individuals in the community to make this all accessible, too," Boyd says. "A woman who's a longtime customer—she used to buy stuff from me at the farmer's market—was having a family reunion, and asked me to make their t-shirts. She sent me pictures of all of them wearing them. It's so fun to do stuff like that!"
Also fun? The Sunnyland Stomp, an annual celebration of the Sunnyland community, which Boyd has been involved with for four years. The neighborhood is diverse, an interesting mix of commercial, light industrial, and residential. "James Street is full of thriving businesses, plus there are these really cute little homes," Boyd says. This year's Sunnyland Stomp featured 36 Stump Stops. People open up their homes, backyards, studios, and businesses to share in the artistic abundance that the neighborhood has to show off.
At Boyd's stop, she set up six screens, and people brought a t-shirt and got a free screen print. "It's super fun," she says. "There was a line out the door for five hours! It's great for people to come and see how screen printing actually happens."
Boyd is inspired by her community, starting each day with a mug of coffee from her beloved neighborhood staple, Homeskillet. But she also cites her creative inspiration as "real-world Instagram. My favorite thing to do when I travel is walk around with my camera, wander the streets, and take pictures of things. I was at the fair the other day and checking out the old rides. I love old stuff and I have a booth at the Antique Mall at Penny Lane. I'm always looking to find treasures."
When not wo-manning the presses, Boyd can be found hiking, camping, paddleboarding in the bay, and playing with her small black dog Ebey Kobayashi, named after a Japanese hot dog eating champion, because she ate so many hot dogs getting over being a fearful dog. "I feel really fortunate to have had this great little business for so long," Boyd says.
Bellingham, too, is fortunate to be home to Red Boots Design and women like Erin Boyd who merge art, sustainability, and entrepreneurship to build beautiful community.