The crack of the bat, the roar of the crowd, celebratory fireworks…plus Family Fun Day Sundays, $2 Tuesdays with local brews, and so much more. Here in Whatcom County, we don't have to travel far to enjoy a season of sensational baseball and the fun that goes along with games—because we have the Bellingham Bells.
The team officially wrapped up its 2019 season on August 11 after playing their last regular season game in Kelowna, B.C., against the Falcons. They ended the season at fourth place in their division. Division rivals, the Victoria Harbourcats, went 9-1 in their last 10 games, pushing them to the playoffs against the Corvallis Knights.
This season included a long list of successes for the team, according to general manager Stephanie Morrell. "It's all about the development of young college players," she says. "And a lot of really good development took place."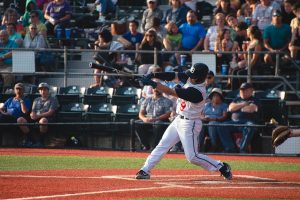 Coaches mentioned a lot of positive change and learning in regard to player performance. "We were really close to winning the first half championship," says Morrell. "[We send] them back to college as better players and better people, which is always our ultimate goal."
The Bells also had six players make the 2019 West Coast League All-Star Team. The All-Star game was held in Bend, Oregon, on July 23. Troy Viola, Guthrie Morrison, Jack Machtolf, Nick Proctor, Logan Hatley, and Jimmy Chatfield all played in the game that ended in 14-1, with the North team coming out on top. Bells player Machtolf was awarded the Player of the Game, recognizing the strength of the Bellingham program.
Off the field, Morrell notes an even better success: crowd turnout. "When I was hired [six years ago], game attendance averaged 1,200 or 1,300." Morrell tells stories of her early days with the Bells, chatting in coffee shops introducing patrons to the team, and the first community appearance of mascot Dinger. In 2018 and 2019, over 50,000 fans walked through the gates of Joe Martin Field, each season. "Good weather, lots of good local support. Just a really fun summer at the ballpark," she says.
With an emphasis on family fun, it's easy to see why more fans are spending their summers watching the Bellingham Bells. Families enjoy relaxing in the grassy general admission area where kids can have more freedom, and everyone attending home games has quick access to plenty of food and drink options. The 2019 season featured a promotional schedule that offered discounts as well as extra fun and entertainment for every type of baseball fan.
The Bells' West Coast League is designed for college player development. Most of the players on this year's team are heading into their sophomore or junior years, according to Morrell. After junior year, players are eligible for the draft, so it's rare to see older players. Some, however, just want to play for fun. Players from this year's team came from out-of-state schools that included Stanford, the University of Oklahoma, Oklahoma State University, and San Jose State, to name just a few.
Off the field, the Bells remain dedicated to the student experience, providing an opportunity for students to grow their professional careers in the sports industry. Hannah Martian, currently a senior at Washington State University, spent her summer in Bellingham as the Bells' color commentator, video operator, and even the public address announcer for half of the home games this season. When asked about her experience and how it relates to higher education, she describes it as, "Something special, especially for people interested in sports management, communications, or business. To work for a highly reputable team in the [West Coast League] was incredible."
Martian also praised local fan engagement. "From a fan standpoint, it was an awesome season," she says. "The fans have a huge impact on the team. I loved coming to work every day and seeing the fans cheer."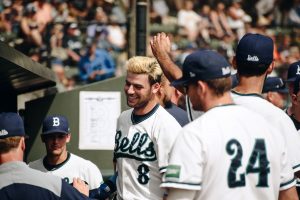 At the end of August, head coach Bob Miller announced he would not be returning for the 2020 season. Citing personal reasons, and permanently residing in California with his family for the rest of the year, the Bells wish him only the best moving forward. The hiring process for a new head coach has already begun.
"Bob was our dream hire," says Morrell. "He did an awesome job and honestly we're sad to see him go. The kind of guy and the kind of coach we want is the kind we just had. He was awesome and did a lot for our program," Morrell says.
Player announcements for next year's team are expected to begin in January. You can keep an eye on the Bellingham Bells website, Instagram page, and Twitter feed for all the latest team news and information. Before you know it, we'll again be hearing the cry of "Play ball!" at Joe Martin Field.