I sit down at a rustic picnic table with Eric Abel, president of Bellewood Farms in Lynden, as we look out over the farm's pumpkin patch and corn maze towards Mount Baker. The sun is shining, a common sight this summer. That sun, a welcome warmth for area families and outdoor enthusiasts, also signals one big thing for Bellewood Farms (neé Bellewood Acres): a bumper crop of apples.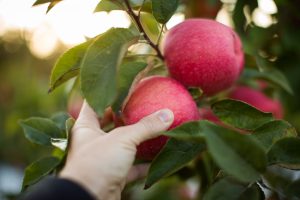 Whatcom County's harvest season fast approaches, and Abel is thrilled to be able to tell me, "We have the most bountiful crop ever. All of our apples are flourishing with the good sunshine. We're picking a couple weeks early because of the great weather we've gotten."
That means that Bellewood will have their most popular apple, the Honeycrisp, ready to go in just a few weeks. Honeycrisps are beloved for their perfect balance of sweet and tart, and make up 55 percent of Bellewood's apple harvest.
They don't only grow these popular varieties, however. Bellewood Farms is home to over 21 varieties of apples. Right now, they're starting to pick Gravensteins and Sansas. Abel's favorite, the Tsugaru, a sweet apple originating in Japan, will also be ready soon.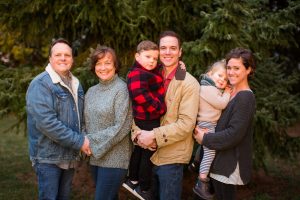 All this abundance calls for a celebration. And that's just what Bellewood Farms intends to do. "Every year we have a festival called Harvest Happens," Abel says. "It's a celebration of the fruit we grow, and it introduces the community to the fun that comes around harvest time."
Community is at the heart of Bellewood Farms; in fact, it's woven into their mission statement. "It's our mission as a farm and company to bring delight to people," Abel says. It's also part of the reason they're moving to Bellewood Farms as a name.
Though many associate this land with Bellewood Acres and a "tourist thing," a lot of people in the community don't know how focused the farm is on agriculture. Abel hopes to change that perception. "Our priority is our farm. We're a sustainable farm, and we believe in the richness of agriculture and what that means to culture and human life. That's a big part of why we got into that in the first place. Agriculture is more than just growing food. It's about getting together with the family, hanging out in the kitchen and the warmth that comes from that. It's a beautiful thing."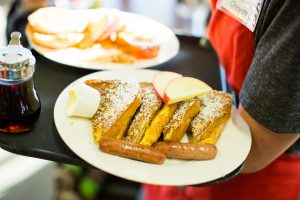 Families can experience some of this warmth and agricultural richness at Bellewood Farms this harvest season. At Harvest Happens, people are encouraged to go out and pick their own apples from the orchard. And don't worry about picking too many—faced with such an abundance, Abel laughs and says, "It's all about pies and applesauce! Homemade applesauce is delicious. We also sell pie dough, which makes it easy to thaw, roll out, and bake some apple pie."
In addition to apple U-Picks, Bellewood Farms hosts pumpkin U-Picks, as well. Kids can enjoy playing on the tires or exploring the corn maze; if you finish the maze, you get a free homemade cookie.
It's not just kids who enjoy the beauty of Bellewood Farms. "It's a cool mid-county date night spot," Abel says. Every Friday night during the summer, Bellewood hosts Friday Farmtunes, where guests can enjoy a drink around the fire pit while listening to good music. Bellewood Farms has beer and hard cider on tap. Several local companies, including Lost Giants Cider, use Bellewood apples in their hard ciders.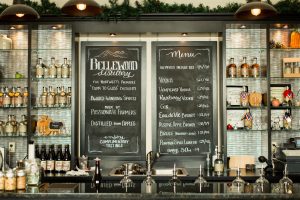 "People can just grab a can and drink out here," Abel says, gesturing at the pastoral vista. "We also have our own distillery where people can come and have free tastes of the spirits that we make here on-site. We can even give them a tour." Bellewood Farms makes delicious drinks from their distilled spirits, too: Moscow Mules, gin and tonics, and a cocktail called the Razzamatazz made from their raspberry vodka.
Before or after a visit to the Bellewood distillery, visitors can walk to the orchard through the conservation area. "There's a ten-mile creek you can walk along," Abel says, "and a cute little bridge that leads to the apples."
The natural beauty of Bellewood Farms is thoughtfully woven into all aspects of the business. The gift shop stocks local treats and treasures, the menu is growing and changing to incorporate even more fresh and local ingredients, and, first and foremost, it's designed to make sure families spend quality, fun time together.
After all, family is central to Bellewood Farms. Abel is president, but his whole family runs the business alongside him. Julie Abel, Eric's wife, heads up the farm store, cafe and events. Their daughter-in-law, Janelle, manages social media, while their son, Blake, handles the agriculture side of things. The Abel family is coming up on the one-year anniversary of owning Bellewood Farms. "Plus my 40th wedding anniversary," Eric Abel adds with a grin.
True to their mission, I leave Bellewood Farms filled with delight. I can't wait to return to snack on some Honeycrisps and Tsugarus this harvest season.
Sponsored