In the middle of Bellingham's Sunnyland neighborhood, sandwiched between businesses and residential homes, you'll find a true gem of Bellingham's ever-growing beer scene: Twin Sisters Brewing Company.
The brewery, consisting of a taproom, restaurant and beer garden, opened last summer. It's the brainchild of local business owners Loren DeMuth and Terri Green, who own nearby CDI Custom Design, a nationally recognized architectural design business that's operated locally for 30 years.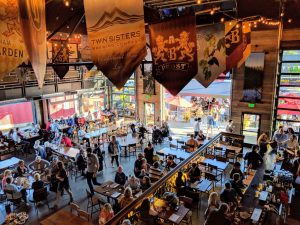 DeMuth—a lifelong Bellingham resident—and Green have twin boys. Originally, they intended to call their new business "Twin Brothers," but the name was already taken by another company. They settled on "Twin Sisters," inspired by the picturesque, twin-peaked mountain that can be glimpsed throughout Whatcom County.
Twin Sisters' initial concept was a taproom and beer garden with rotating food trucks. But when Green connected with Tom Eastwood, another brewery's former brewmaster looking to start his own operation, the plan changed. A brewery was developed, and soon after, DeMuth and Green decided to add a restaurant. They began assembling a great team of people to run it, and after a year of construction, Twin Sisters officially opened in August 2018.
The result is a place with not only great brews and food, but a spacious, family-friendly establishment perfect for performances and private events. Over 100 local jobs have been created because of it. DeMuth and Green put a lot of money into the business up-front, which is easy to see as soon as you walk in.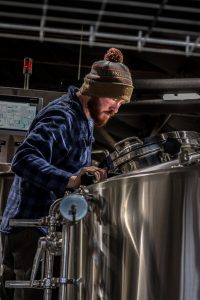 "It's very much intended to be a community gathering place," says Chad Bumford, Twin Sisters' director of operations. "Loren is a 'go big or go home' kind of character.' There's no middle ground."
The signature of Twin Sisters is the high-ceilinged restaurant and spacious outdoor beer garden. The restaurant carries the atmosphere of a German beer hall with Pacific Northwest elements and industrial flair, and also has a great indoor mezzanine. The walls are decorated with wood-paneled cutouts of mountains set on metal backgrounds, along with images of the area's outdoor beauty on large scrolls. Giant shield-shaped flags, decorated with the Twin Sisters logo and more classic beer imagery, hang from the ceiling.
The beer garden was inspired by an Austin, Texas establishment. Tables in a red-colored area delineate self-service, while the rest are full-service sit-downs. The entire facility is capable of hosting more than 500 people and can be rented out, making it perfect for large private events. Last year, Roger Jobs Motors rented the entire space for a Porsche unveiling.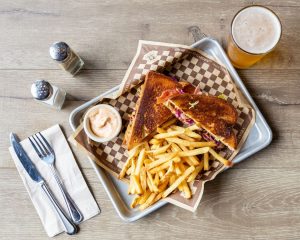 The restaurant, meanwhile, features excellent gastropub fare, and the menu includes plenty of gluten-free, vegan, and vegetarian options. A fork symbol next to a dish indicates it's part of Sustainable Connections' "Eat Local First" program, with at least 50 percent of the ingredients sourced in Whatcom, Skagit, San Juan and Island Counties. Brunch, a recent addition, is also served on weekends from 10:00 a.m. to 2:00 p.m. The restaurant has a full-time banquet team.
The brewery's flagship beers, Bellingham Green IPA and Golden Eel IPA, began being canned in March for sale at Whatcom and Skagit County Haggen stores, as well as local co-ops and convenience stores like Yorky's Market and DiVinci's Market. Retail kegs, available in three different sizes, started being sold in June. Twenty-two ounce bottles are also sold on-site.
Bumford says Eastwood and the other brewers are coming up with new brews regularly, including additions to the fruit-infused "B-Side Series." The restaurant currently has 25 taps, featuring their main line of about a dozen beers, plus a few limited releases and seasonals. There are also three guest cider taps from local pressers, and root beer (not on tap) is available for non-imbibers.
To mark its one-year anniversary, Twin Sisters celebrated with a weekend-long party. Bumford says Twin Sisters' plan for its second year is to improve on what they've got going, and continuing to increase the quality and distribution of its beer.
"We want to be focused on providing the best service we can, making the best food that we can, and making the best beer that we can," he says. "Nothing else really matters."
Sponsored