Over the years, the term "12th Man" has been used to represent the fans of numerous football teams, both college and professional. But with perhaps no other team has the signifier been more fervent than the Seattle Seahawks.

Prior to kick-off at every Seahawks home game, a large blue "12" flag is hoisted triumphantly into the air behind CenturyLink Field's south end zone, representing the pride, passion and high-decibel register of Seahawks fans everywhere.
Though it can be said there's a party wherever two or more Hawks fans are gathered, the most epic of Seahawks gatherings—"Fan Fest NW"—wasn't formed until about five years ago, when a man named Terry Johnson had an idea.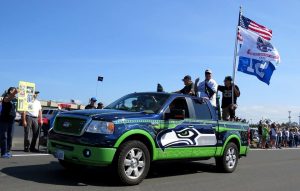 Johnson, 60, is a military veteran and cancer survivor who grew up in Monroe, Washington. He's been a 12 since Seattle's franchise formed in 1976. About six years ago, after several seasons of regular "Blue Friday" parties with friends, he decided to do something big to bring Hawks fans together. In November 2013, he formed a "Toys for Tots" toy drive. The next year, Johnson organized a Seahawks fan night at Evergreen Speedway. So many 12s showed up that the track set an attendance record. They also ran out of concession food. Still, Johnson and his friends wanted something even bigger, even though he personally was quite exhausted.
"I told everybody I just wanted to go to the beach and have a beer," he says.
That obviously sounded like a great idea. Soon, a two-day beachside gathering, dubbed "Fan Fest NW," was planned in Ocean Shores. The first iteration of the event featured a rented community center, several live bands, and an appearance by Mama Lynch—mother of legendary Seahawks player Marshawn Lynch. That first year, about 3,000 to 4,000 people showed up. Since then, attendance has steadily increased, ballooning last year to an estimated 20,000 people.
"It's been amazing," Johnson says. "I never expected it to turn out the way it has."
This year, for the first time, Fan Fest NW comes to Whatcom County, taking place in Birch Bay on August 16, 17 and 18. There will be multiple "Blue Friday" events throughout the area, a special Saturday gala and parade, and celebrity golf tournament.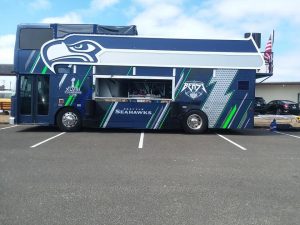 "Everybody wants to come," says Johnson, now official chairman for Fan Fest. "We have no trouble getting people to come. We actually have to turn some of them away."
Johnson says the idea has always been to move Fan Fest from place to place, allowing fans in different areas to show their pride. Having it held in Birch Bay puts the festival closer to more people. This year, Johnson's been told fans are coming not just from Washington and British Columbia, but from Montana, Idaho, California, and even Hawaii.
Fan Fest NW 2019 kicks off on Thursday, August 15 at 4:00 p.m., with a welcome barbeque at SpringHill Suites by Marriott Bellingham. The Seahawks "Beast Bus" will be there, along with a DJ and more. On Friday, August 16, a series of events in the Birch Bay area will shift things into high gear. From 11:00 a.m. to 2:00 p.m. at the Birch Bay Woods Coffee, Seahawk Mamas—the mothers of several past and present Seattle players—will host a coffee-infused meet-and-greet.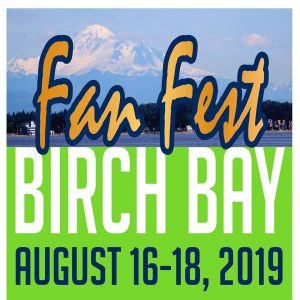 At 5:00 p.m., a Blue Friday Party will be held at the Silver Reef Casino Events Center. Tickets are, appropriately, just $12, and festivities include appetizers and live music from The Lowdown Drifters. From 6:30 p.m. to dusk, the Birch Bay Waterslides will host another Blue Friday party with special guests Mama Lynch and former player Hillary Butler. Music will be provided by DJ Non-Prophet. Tickets are $12, with a free prize giveaway.
Saturday will play host to the Fan Fest Grand Parade, featuring all manner of fandom, including participation of Mama Blue, the legendary octogenarian Hawks fan. The parade is being organized by the Birch Bay Chamber of Commerce, which teamed up with Fan Fest on the same weekend as the area's annual Discover Days.
On Saturday night, the Silver Reef will host the official Fan Fest gala. There'll be a buffet dinner at 6:30 p.m., with an auction, comedy show, and live music spanning the evening. Tickets, of which there are only about 350, are $50.
Seattle-based comedian Andrew Rivers will provide big laughs during the gala, along with fellow Seattle comic Carole Freeman. Rivers, the son of longtime Seattle radio personality Bob Rivers, has previous experience with Seahawks events; he served as a writer for a roast of former player Doug Baldwin, and performed at a roast for current player Tyler Lockett.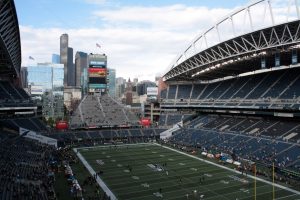 He's also friends with former Seahawks punter Jon Ryan, whose wife Sarah Colonna is a stand-up comedian Rivers has opened for. That friendship led to an amusing first episode of Rivers' video podcast "Don't Quit Your Night Job," where Rivers attempts other people's jobs. In the episode, Ryan shows the Rivers the ropes of punting.
Sunday morning at 9:00 a.m., a celebrity golf tournament will begin at Loomis Trail Golf Club, featuring numerous Seahawks alumni. Former players that may participate include Alonzo Mitz (1986-89), Joe Tafoya (2005-06), Nesby Glasgow (1988-92), Hillary Butler (1998), and Randall Morris (1984-88).
The weekend concludes with a 4:00 p.m. Silver Reef viewing party for the second 2019 Seahawks preseason game, a road match-up against the Minnesota Vikings. The party features plenty of big screen viewing, along with a hot dog and baked potato bar. Tickets are $12.
With no shortage of events to celebrate your fandom, there's no reason not to grab your favorite jersey or hat and head on out to Birch Bay. Go Hawks!
Featured photo by Matt Benoit