Take a deep breath in. Let it all out. Now take an even longer inhale. An even longer exhale. Imagine the fragrance of eucalyptus in the air. Thoughts of to-do lists and phone notifications feel like a distant memory. You open your eyes and see a gentle waterfall surrounded by native plants. Are you dreaming? Lost in meditation? No. You're simply sitting in the relaxation room at The Chrysalis Inn and Spa in Fairhaven.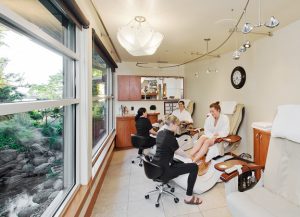 Spa director Sandy Sallee describes the experience as "tranquil, nurturing, and rejuvenating." That certainly comes across in the space, which has undergone a recent renovation to accommodate an increase in visitors.
Large windows look out onto Bellingham Bay and the San Juan Islands. And that beautiful aroma wafting on the sea breeze? Most likely the result of the Chrysalis and Birchwood Botanicals collaboration. They use locally sourced products in the spa whenever they can. "We carry Moon Valley Organics; Loma is our haircare product," says Sallee. "We also carry Coola suncare, which are West Coast-based—all organic, natural, reef-safe products. And they work amazingly."
This devotion to quality doesn't stop at the products used by the Chrysalis. Sallee's face lights up as she describes her staff. "I have such a great group of people, close to 60 employees most of the time, so to be able to say it's a solid team that works together and has each other's backs is really huge."
That friendliness is apparent as I walk through the spa with Sallee. From the woman who greets us at the front desk (where lemon water keeps you deliciously hydrated as you wait) to the massage therapists who pass in the hallways, everyone has a kind smile and a demeanor that immediately makes visitors and guests feel welcome.
And that's part of what makes the Chrysalis Spa experience so special. When asked what sets her spa apart from others that she's visited, Sallee doesn't hesitate in her answer: "Ambiance. It's kind of hard to put your finger on exactly what it is. It's the whole feel of it. We don't want to be formal or stuffy. We know that people's expectations are high for standards of service and the facility itself, so we work really hard to maintain those standards while still keeping the human element to it—the nurturing part."
Guests can nurture themselves in multiple ways at the Chrysalis. Got a little too much sun over a fun-filled weekend? The Eminence Organics body treatment might be just for you. "It calms your whole body down," says Sallee. "It's super hydrating and can reduce hyperpigmentation from sun damage."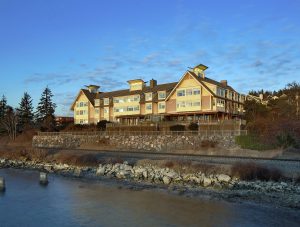 Eminence is made with ingredients that are biodynamically farmed. Sallee affirms the importance of this type of product. "Just as biodynamically grown food is more nutritious—same with the ingredients in these products. It's really catching on and people are loving it."
However, be aware that you can only buy these products at retail locations like Chrysalis. "Anything you see online is counterfeit," Sallee says. "We constantly have to educate people. You literally cannot buy these products online and have them be legitimate."
On top of body treatments and facials, Chrysalis also offers massages that range from Swedish to Ashiatsu.
Looking for a romantic weekend getaway or staycation? "We have a soaking tub in one of our massage rooms, which is really lovely," notes Sallee. "We can do a soak and massage combo for couples. Soak in the tub with Epsom or Dead Sea salts, then get your massage."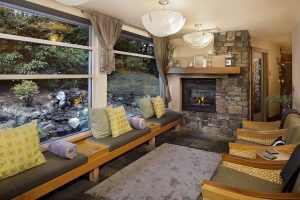 And, of course, you'll want to book a room at the inn so you can relax on the window seat with a bottle of champagne, watching sailboats and sea kayaks skim across the bay.
The Chrysalis has found the perfect balance between their consistent high standards and adaptation to changing needs of guests and employees. If you book a service with them (a process on a soon-to-be streamlined and updated software), you can enjoy a traditional relaxation massage or experience LED light therapy. "It's a very intensive therapy that stimulates cellular activity, kind of like photosynthesis in plants. It plumps the skin, improves elasticity and circulation, and treats anti-aging and acne," Sallee says. "The esthetics team is always really excited to play with new technology and equipment. They're very passionate about skincare and improving people's skin."
This passion is what keeps Chrysalis guests coming back for more. "It's not just the setting and the decor, it's the attitude and the mood," Sallee says. And it's true: people leaving their treatments clearly have a glow and peacefulness about them that is not unlike a butterfly emerging from its chrysalis.
Sponsored