Almost by happenstance, Bellingham residents Amy and Merrill Bevan started a summer backyard concert series, creating a place to gather friends and strangers and support singer-songwriters.

It all started four years ago. Amy had been following musician Ian McFeron for over a decade, and she went to see him play at the former Green Frog in Bellingham. After the show, McFeron recognized Amy as a frequent attendee at his shows, and they started chatting. He was running a kickstarter campaign at the time, asking people to give $500 and in exchange he would play a concert at their home.
The Bevans were planning their wedding at the time, and didn't have $500 to spare. No matter, McFeron said, he played house concerts all the time.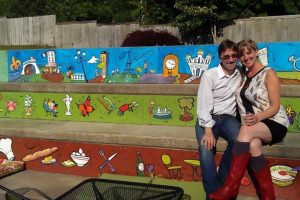 "And I said, "What? I didn't even know that was a thing,'" Amy says.
A few months later, McFeron played in the Bevan's backyard for Amy's 40th birthday.
"It was amazing to have someone that you've followed for so long in your backyard," Amy says.
Around the same time they met McFeron, they were redesigning their backyard, replacing the wood deck with a concrete patio. The patio, they learned, needed a retaining wall, but instead of building one, single wall, they created three layers of benches in their backyard, begging to be sat upon by concert goers.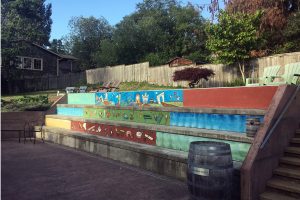 To liven up the concrete, they also worked with local artist Ben Mann—the beloved local artist who did the outdoor art for Mambo Italiano, Avenue Bread and Mallard's Ice Cream, to name just a few—to paint the faces of each bench layer.
"Since then, it's just progressed," Amy says.
Four years later, the Bevans have hosted between three and four musicians each summer and a handful of indoor concerts in the fall and winter. Their friends and friends of friends gather on the benches and the grassy area above, bringing blankets and picnics and settling in for the intimate live music offerings.
"I think my craziest musician story is probably Fast Heart Mart," Amy says.
Martin Stamper, or Fast Heart Mart, travels the country playing "sonic folk rock." Amy heard him play at a farmer's market in San Diego and bought a CD. When she got home, she emailed him, told him about the backyard concerts, and said if Stamper was ever in Bellingham, she and Merrill would love to host him.
"He responded back and said, 'How about September 15th?'" Amy recounts.
The two have also hosted Merrill's favorites, Reid Jamieson and his wife Carolyn Mill from Vancouver. They drew the largest crowd the concert series has seen, bringing 75 people to the Bevan's backyard for Canada Day in 2017.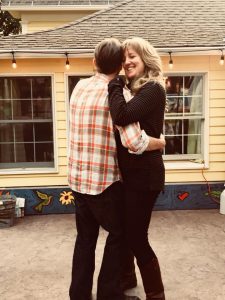 The concerts are all just a suggested donation, and all of the money goes straight to the musicians. The Bevan's also offer each musician dinner before the show, a place to stay the night if they need one, and breakfast in the morning if they do stay.
The setup benefits the musicians and the people who come to watch. The musicians consistently walk away with more money than they would receive playing a bar, and they appreciate the captive audience, Merrill says. The people who attend get the chance to see talented musicians up close, and can connect with them personally after the shows.
"The musicians have told us that they really like house and yard concerts because people are showing up to listen," Merrill says. "Also, how artists are generating revenue is changing radically with streaming music, and house concerts are a really viable way for musicians to make money through their craft."
For the Bevans, the shows are reminiscent of childhoods spent listening to music with large groups of friends and family. They both get a lot of joy out of bringing people together through music.
"We [both] grew up in families that were very social and there was always music being played," Amy says. "For Merrill, it was actually musicians, and for me, it was just parties and people and the stereo—but we were always celebrating life through music."
The two both grew up in Whatcom County and today are able to bring a diverse group of friends to their backyard concerts.
"Every time I go to introduce someone and thank people for coming, I get emotional," Amy says. "I cry every single time, because I look out and I see people from so many different parts of our life and then people that I don't know—complete strangers—that have been brought here by someone else that we love. It just brings so much joy."
Ian McFeron will play again on August 4. For information on his show or to join the email list for all upcoming shows, email bevanbackyardconcerts@gmail.com.