The American Red Cross is an organization that doesn't need an introduction. It's a household name, well known for responding to disasters big and small, all around the world. But a conversation with Karen Miller and Betsy Robertson brings the organization's work home, quite literally.

Miller is the executive director of the Red Cross's Northwest Washington chapter, which includes Whatcom, Skagit and San Juan Counties, as well as Whidbey Island. Robertson serves as the communications program manager for the Red Cross's Northwest Region, which covers Washington state and northern Idaho.
Robertson has lived in Bellingham for 20 years and joined the Red Cross four years ago. "That's not long by some standards, but I feel very ingrained in the community," she says. Both women are dedicated to keeping their organization ready to serve friends and neighbors in ways we may not even be aware of.
While we've all seen dramatic images of helicopters, vans and trucks loaded with supplies making their way into the aftermath of a massive hurricane or devastating tornado, the everyday mission of the Red Cross is a bit different. "Because the Red Cross is so well known," says Robertson, "I think people forget just how local we are." For example, the day before we spoke, there were eight home fires in Washington state, and already three more that morning.
It's these much more intimate kinds of disasters that keep our local Red Cross busy. For example, when the fire department calls with news of a family in need, a Red Cross volunteer shows up with food, blankets and a place to go. They have resources to replace the little things that are often the most important, like eyeglasses and prescription medicines. And they can give that most crucial first response: a friend to lean on and a person to talk to.
"The disaster responder is a special kind of person who's willing to be on call. It's 2:00 a.m., a house is on fire, and a family is out on the sidewalk—who takes the call to get out of bed?" Miller asks. And that's why they're always on the lookout for a kind soul who can lend emotional support, the person qualified to teach their trademark first aid courses, and nurses and other mental health professionals. "We can find a home for you here."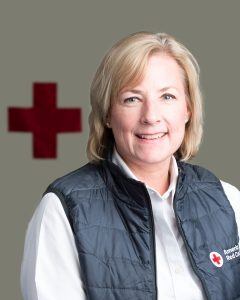 Preparedness is another vital aspect of the Red Cross mission. One of their main focuses right now is a campaign to get smoke detectors into every home in the country. By partnering with Bellingham grocery chain Haggen, they're making the detectors available to people free of charge. "It started as an initiative to reduce home fire deaths by 25 percent over five years," Miller says, "and we've saved over 500 lives nationwide since 2014."
"I love this program," Robertson adds. "When people think about the Red Cross, they usually think about us reacting. This is a way we can be proactive—and it's free!"
Partnerships are valuable to the Red Cross, and their annual golf tournament is a great example. "This is its 25th year," Miller says of the popular fundraiser. "It started out with just the board of directors and staff, and now it sells out every year."
BP is the golf tournament's major sponsor, and brings a wealth of support to the Red Cross. "We have a great network of supporters because of BP," Miller says. "A lot of their contacts are aligned with our mission." The local appliance dealer DeWaard & Bode is also a valued supporter in many ways, including donating the prizes that make the tournament worth winning.
While they're always looking for volunteers and to meet new people through their public events, the Red Cross is also happy to receive support from community members. "The Red Cross is basically funded by individuals," says Miller. "A small contribution has a big impact—that's how we fund our disaster response." And how they fund their preparedness campaigns, as well.
Their programs are designed to reach all demographics, including programs aimed at youth that are intended to be fun and interactive in order to keep kids involved in learning. They also have programs tailored to seniors that highlight the importance of keeping duplicates of prescription information in a safe place, and keeping lists of contacts and other important information on hand, printed in a large font that's easier on a senior's eyes.
Thanks to that kind of practical, immediate and street-level presence, the Red Cross logo is always a popular sight on the street. Both women say that one perk of the job is that they're approached all the time in public. "When we are branded," Robertson says—meaning wearing a name tag or driving a vehicle decorated with the Red Cross logo—"people always come up to us to say thank you."