"Bellingham Academy of Elf Defense." These words, emblazoned as they are on a nineteenth century church near Western Washington University, confuse and amuse passersby even before they read the accompanying sign: "Bellingham Alternative Library." Bellingham has come to expect quirkiness such as "Elf Defense" from its community—but what, exactly, is an "alternative library?"

The building's interior may answer this question. Bookshelves cover every wall beside a stage, classroom, and front desk bookended by two trees reaching to the ceiling. The independently published books, graphic novels, zines, prints, and records on display range from experimental art to countercultural philosophies. In short: the Alternative Library is a cooperatively owned nonprofit with more than 2,000 members, which features over 9,000 titles.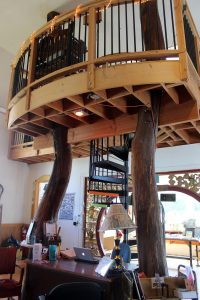 Founder and Director Cullen Beckhorn (AKA Future T. Man) started the Alternative Library in 2007, "by putting a sign in my front yard and telling my friends," he says. As volunteerism increased and collections expanded over the years, his graphic novel lending on Billy Frank Jr. Street relocated to a larger communal housing cooperative, Make.Shift Art Space, Railroad Avenue, and finally its current home, the historic "Karate Church," in January 2017.
"Our focus is on small-press art books and radical subcultures," says Future Man. The library's location between downtown Bellingham and Western parallels its situation between artistic experimentation and scholarly critical thinking; humor and reserve. Above all, the Alternative Library aims to represent and unite the community it serves.
Alternatives to the Usual Library Experience
According to Future Man, "a library can be any collection that's available to the public." It's the Alternative Library's niche genres, community arts center functions, and member-run structure, particularly, that set it apart as alternative.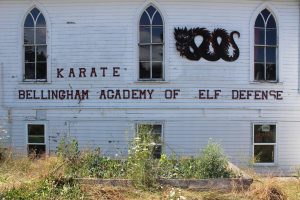 "In addition to the book collection, it offers the opportunity to participate in its creation," says Future Man. "And it's continually self-defining in nature."
Membership privileges range from checking out books and other media to curating the selections. Thanks to this arrangement, the Alternative Library's aims of "accessibility" and "historical preservation" also extend to various non-library functions.
"We consistently have small-press publications from local authors as well as from international authors in our shop," says Future Man. "And we have events almost every night of the week, as well as in our classroom throughout the day."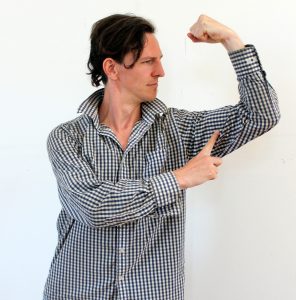 Members can consign their own works to the bookstore or buy the library's popular items. Additionally, organizations can use the stage and classroom for events. As long as events meet booking guidelines, practically anything goes.
"We've gotten some great turnout for everything ranging from Russian folk singers to experimental noise music," says Future Man. "We've also hosted dance performances, film screenings, performance art, and pretty much anything else you could imagine."
Through these events, the Alternative Library and independent artists mutually promote each other. The library's direct affiliation with allies and members creates even closer community building.
Community-Supported Art for an Art-Supported Community
The Alternative Library allies with several publishers, bookstores, festivals, and organizations across the state and country. Bellingham partners include Future Man's independent press Neoglyphic Media as well as the Lookout Arts Quarry and its Sh'Bang! Fest. These partnerships connect members with an overarching underground arts community, alongside more direct means of connecting them with Whatcom County arts, in particular.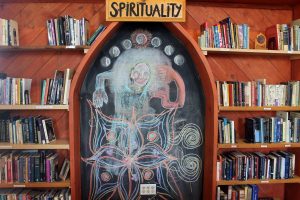 "We also offer CSA, a Community Supported Art project that's based off of community supported agriculture models," says Future Man. "It's a way for our members to sign up to receive art monthly from a local creator in exchange for sponsoring and becoming a patron for the arts."
For monthly subscription fees, members receive a Community Supported Arts package of their choosing. "Supporter Membership" allows members to pick up an exclusive selection of local art, zines, and other materials. Members can upgrade to "Sponsor Membership" for premium items or even "Remote Sponsorship" when they want to receive Bellingham art from afar.
Essentially, all parties give back to the community.
A Library for Everyone
Future Man says the Alternative Library ultimately aims to inspire "a greater awareness of a vibrant underground arts community that isn't obvious through mainstream media."
Since its humble beginnings, the constantly growing Alternative Library has raised awareness of Bellingham's countercultural side. And as its elfin martial arts sign suggests, the Alternative Library's invitation to see things differently is ultimately a good-humored and welcoming one.
Outside event hours, visitors can enjoy reading in a quiet and laidback setting. The Alternative Library may be an unconventional and eventful community arts center in a landmark building, but it's also still a library.
You can become an Alternative Library member for $5 a month, which becomes lifetime membership once you reach $100. Their regularly updated events calendar can also help visitors keep up with Whatcom County's thriving art scene.
Alternative Library
519 East Maple Street in Bellingham
info@altlib.org
Featured photo courtesy of Alternative Library