If you've been to an event in Fairhaven, you've likely seen local artist Richard (Rick) Bulman. You may have seen him when he's not even there, since Bulman served as the model for the statue of Dirty Dan Harris on the Village Green bench. Sculptor Robert McDermott picked Bulman as his Dirty Dan, though Bulman's husband, Jim Rich, is better known around town as the Dirty Dan lookalike.

Bulman and Rich moved to Bellingham from northern California in 1992 after a brief stay in Atlanta, back when Fairhaven was a struggling ghost village. While the Historic Fairhaven Association built Fairhaven into the vibrant district you see today, Bulman and Rich wove themselves into its cultural fabric. They are often seen on the Village Green playing gentleman escorts to the Fairhaven Ladies of the Evening Society. You can also see some of Bulman's work in the mural on the Green; he helped painter Lanny Little restore it in 2013.
Bulman found a career niche in the thriving Fairhaven art community. He's been an artist all his life, with a love of puttering and experimentation. He claims his only natural artistic gift is his sense of composition, and he had to work at the rest. "If you showed me a circle and a rectangle," he says, "I knew exactly where the circle looked best in the rectangle, but I couldn't draw the circle or the rectangle." Bulman attended seven different art schools to learn to bring his visions to life.
I recently asked him to design a tattoo of a scratching cat to transform a disfiguring scar on my arm, and in just a few minutes, he mocked up a feline so sinuous in its lines that I could almost feel those claws in my skin as the cat stretched. It took hours to perfect the design, but the basic form came to him instantly. He seemed almost surprised and admitted, "It's kind of a thrill that I can do that on demand."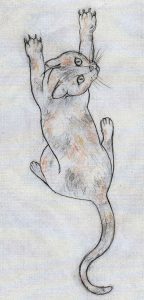 The range of media in Bulman's studio is a sight to see. An easel stands in the living room with a variety of paint types in the tray below and a nearby table is jumbled with found objects and beads waiting to be incorporated into multimedia pieces. A partially formed glob of clay rests on a shelf, while slabs of stone lean randomly on every surface—and you should see what he does with those! He draws out the image he sees with subtle color and etching so it looks like it was formed right into the rock.
Bulman's website mentions his "devotion to realism," which he describes to me as striving for a sense of depth, atmosphere, and texture. His portraits are not meant to be exact replicas, but to convey emotion. "It's not so much about what you see," he says, "I want you to feel how the subject feels."
As I look at his mixed media piece "Feather Fetish," Bulman's words about composition and realism come together in my mind. Something about the piece pleases me—a sensation like you feel when a musical phrase ends with the right chord. For a moment, my lack of art education makes me uncomfortable—what is my experience worth? Then images flash in my mind: the low, rhythmic, ominous organ chords that signal "Indians" in western movies, a memory of crystal blue pool water and adobe torches in Scottsdale as the desert sweltered around me, Blackfeet powwow dancers in full regalia against the backdrop of the Rocky Mountains, and the conflicting interplay of all these images. Startled, I realize I get the piece. It's not about what Bulman meant for me to see; it's about the images inside me that he brought to the surface. "Feather Fetish" is going to be perceived differently by everyone who looks at it, and that's the point.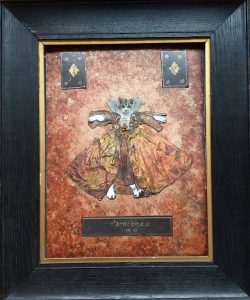 What strikes me about Bulman's modesty is that it's in no way self-deprecating; he simply deflects your attention from him as an individual to the art community as a whole. He won't claim any glory without including his fellow artists.
He's a member of Allied Arts, the Whatcom Art Studio Tour, The Whatcom Art Guild, the Whatcom Art Market, the Whatcom Museum Advocates, and the Fairhaven Fourth Friday Art Walk. Bulman is most excited to talk about the Whatcom Art Market, a co-op of 45 local artists from the Whatcom Art Guild, all volunteering three shifts a month and taking responsibilities, from groundskeeping to bookkeeping, to keep the store open. The market benefits both the artists and the community, allowing the artists to offer their work for sale with low overhead expenses to make it more affordable. Shoppers can then see the work of many artists with a huge variety of items for display and practical use.
If you would like to see Bulman's art for yourself, it's easy to do. Preview his pieces on www.bulmanfineart.com. An ever-changing collection is on display at the Whatcom Art Market, located at 1103 11th Street in Fairhaven. At the time of this writing, his section is on the back wall, directly in your line of sight when you walk in the front door (but Bulman would be the first to say be sure to look at all the displays!). You can see his smaller paintings, mixed media pieces, stone engravings and jewelry there. If you're in the market for some bigger work, like the imposing "Temple at Sunrise" (oil on canvas depicting the Temple Of The Vestas in Rome), you can make an appointment for a studio tour using the contact form on his website.