In June 2018, a group of eight women made history by becoming the first all-women team and the first team sailing a monohull boat to win the Race to Alaska, a 750-mile race from Port Townsend, Washington, to Ketchikan, Alaska.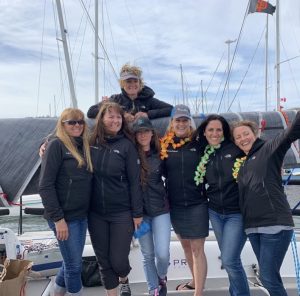 Last year, team Sail Like A Girl became the first team to ever win the Race to Alaska, and then return for a second go this year. Today, the group continues to push themselves as sailors and push their sport to support female athletes in equal numbers as male.
"They are an inspirational group of women who have really made waves in the sailing community and made it their mission to encourage more women to get out on the water," says Karen Lewis, Marketing Director for First Federal Bank, the sponsor of team Sail Like A Girl. "They are all such incredible sailors and incredible people."
The Race to Alaska is not for the faint of heart. The course follows the inside passage to create the longest human- and wind-powered race in North America.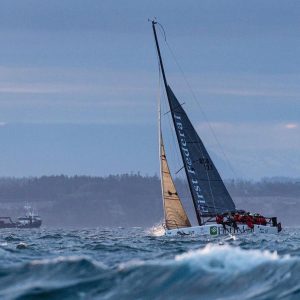 Founded in the spirit of exploration and self-reliance practiced by Coast Salish tribes and then gold rushers, the race extends very few rules to today's participants. Any boat without an engine can enter. As long as teams hit two checkpoints along the way, there is no set route. Lastly, teams must be entirely self-supported, meaning no pre-planned supply drops along the way.
This year, 50 vessels started the Race to Alaska in Port Townsend; only 25 made it to Ketchikan.
Jeanne Goussev is the captain of team Sail Like a Girl. For her, these races are opportunities to prove her strength to herself, and to support other women in doing the same.
"We have all kinds of challenges in life that we face, some of them we choose and some of them we don't choose," Goussev says. "This is a race that I chose, and I know that if I ever have challenges in life that I don't choose, I'll be able to handle it—because I've proven that I have the strength to handle some pretty rough stuff."
To compete in last year's race, Goussev bought and retrofitted an old racing sailboat with two bicycles on the back in place of a motor. She then put together a team of eight willing women, three of whom had never sailed.
Through days of very light winds, Goussev estimates she and the team spent about 75 hours biking.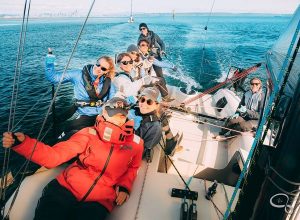 "Last year was a race of perseverance and physical endurance," Goussev says. "Last year we pushed our bodies. This year we pushed the boat."
In 2018, Sail Like A Girl won the race in six-and-a-half days. This year, they placed fourth in four-and-a-half days. There was so much more wind, Goussev estimates they only biked about eight hours this time.
The race this year took place earlier in June, and Goussev correctly predicted that would mean more weather and more wind. In order to navigate windier conditions, she brought on four new women to create a team of all-star sailors.
This year's Sail Like A Girl team included Goussev, Anna Stevens—the woman who first brought up the idea of an all-women Race-to-Alaska team to Goussev last year—Aimee Fulwell, Lisa Cole, Laurie Anna Kaplan, Nicola Henderson and Katrina Zoë Norbom. Henderson is a personal heroine of Goussev; she was the youngest person to ever captain a boat in the Clipper Round the World race, where her team took second place. Each of the other members have their own sailing acclaim.
"I can absolutely say we raced the boat as hard as the boat could possibly have been raced for 750 miles. Every second of every day, we didn't let up," Goussev says. "It was a different experience this year, but I'm really proud of what we accomplished out there."
This time around, the experience had also become bigger than just the eight of them on their boat. "From the moment when we hit the dock in Ketchikan last year, it was no longer about us," Goussev says.
In the last year, sailing and racing for Goussev have become part of a bigger conversation around women's opportunities in the sailing community. Since last year, she joined the board of the Northwest Maritime Center, Race to Alaska's parent non-profit, and created an all-women race clinic to train the next generation of female sailors.
And she's not done. Now that this year's Race to Alaska is over, she says, she and the other team members have more time to plan new initiatives all geared toward getting more women on the water.
"I feel like we were given a voice on behalf of women in sailing," says Goussev. "We have an obligation to our community and to the sport we love to want more from it and to demand more from it and to do what we can to get more from it."
Sponsored