Submitted by: Pickford Film Center
Summer at the Pickford means Rooftop Cinema—the outdoor free summer film series hosted on top of the Parkade in downtown Bellingham. In a city that loves the outdoors, from walking in the arboretum to outdoor patio cafes and beer gardens, Rooftop Cinema is the perfect community summer event. While the first screening is past, mark your calendars for two more Friday nights: July 26 for Do the Right Thing and August 9 for Scream. Join us on the rooftop of the Parkade where festivities begin at 6:30 pm.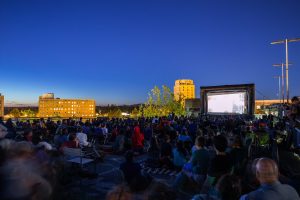 Each film begins at dusk, when the sky is dark enough to view the film. Until then and all throughout the film, enjoy a beer garden hosted by Boundary Bay Brewery, cider from Lost Giants Cider Company, a variety of snack and food vendors, and of course a gorgeous view of the sunset over Bellingham Bay. Normally the Parkade is not open to visitors trying to catch the sunset, so it's quite a treat to experience the special view.
The series kicked off with Selena on July 12 and continues with Spike Lee's Do the Right Thing on Friday, July 26. Salvatore "Sal" Fragione (Danny Aiello) is the Italian owner of a pizzeria in Brooklyn. A neighborhood local, Buggin' Out (Giancarlo Esposito), becomes upset when he sees that the pizzeria's Wall of Fame exhibits only Italian actors. Buggin' Out believes a pizzeria in a black neighborhood should showcase black actors, but Sal disagrees. The wall becomes a symbol of racism and hate to Buggin' Out and to other people in the neighborhood, and tensions rise. This film, "Confirmed Spike Lee as a writer and filmmaker of peerless vision and passionate social engagement. Punctuated by the anthemic refrain of Public Enemy's "Fight the Power," Do the Right Thing is a landmark in American cinema, as politically and emotionally charged and as relevant now as when it first hit the big screen." -The Criterion Collection
The series' third and final film is Wes Craven's horror classic Scream on Friday, August 9 featuing live music by Scary Monsters + Super Creeps before the film! Wes Craven re-invented and revitalized the slasher-horror genre with this modern horror classic, which manages to be funny, clever and scary, as a fright-masked knife maniac stalks high-school student in middle-class suburbia. Craven is happy to provide both tension and self-parody as the body count mounts – but the victims aren't always the ones you'd expect. Scream is one of the most successful horror films of all time, and a fan-favorite film.
Bring a camp chair or a cushion (note some seating is provided) and join us at the Parkade, located on the 1300 block of Commercial Street. There will be four floors of free parking below the event. Bring your friends and family for a delightful summer evening!
The Pickford is committed to bringing cinema to a wide audience. The Rooftop Cinema series is one of the ways the Pickford makes film accessible to our community. Keep updated on the Pickford's events on our website or sign up for our email newsletter at www.pickfordfilmcenter.org