In Bellingham's Silver Beach neighborhood, above Lake Whatcom, a hidden sculpture garden awaits. Its paths branch off every which way, revealing more art the deeper you wander. Native evergreens, over 400 azalea and rhododendron species, and over 100 Japanese maple species color each season uniquely. Only bird calls, breezes, streams, and occasional voices resound through the garden's calm.

It's called Big Rock Garden Park, and it hosts over three dozen permanent sculptures.
Big Rock Garden Park started privately in 1981 as "Big Rock Garden Nursery," where George and Mary Ann Drake provided employment to developmentally disabled youth. Finding no sculpture gardens in the Pacific Northwest, they opened "Gardens of Art – Fine Art for the Garden" to showcase local and international artists. The City of Bellingham purchased the land in 1993, acquiring new art commissions and donations ever since.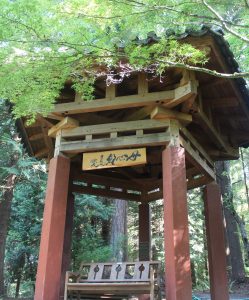 Bellingham Parks and Recreation and volunteer organization Friends of Big Rock Garden Park sponsor an annual Mother's Day celebration and other events. From "Peace," honoring single mothers to "The Three Musicians," accompanying concerts, sculptures' forms complement the garden's functions.
Sculptures Beyond the Garden Variety
Big Rock Garden's pottery, abstract geometry, minimalism, found art, and symbolic pieces bear witness to dynamic cultural legacies. The monuments "Korean War Children's Memorial Pavilion," "Lives in the Balance," and "Kwakiutl Sun Mask" respectively recognize American servicemen and women, Biafran children, and Native Americans.
Many sculptures tell stories, such as "Hope" and "Natura," personifying abstract concepts, and "Zoe Garden Wall," honoring Bellingham community leader Catherine "Kitty" Stimpson. Others hold stories in their construction. "State Street Totem" repurposes concrete from Bellingham's historic State Street, and "Sap" uses 550-year-old Douglas fir lumber that fell in the 1993 Inauguration Day storm and reportedly oozed sap even after milling.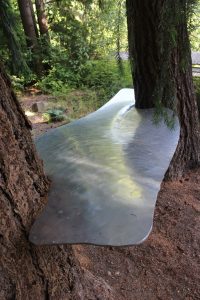 Several late contributors led storied lives. C.A. Scott and David Marshall had significant presences in Pacific Northwest art, Jan Zach's Czechoslovakian heritage informed his influence from sculptor Zden?k Pešánek, and Arnie Garborg learned metal welding at age 70.
Internationally renowned contributors include Alexei Kazantsev and Sebastián—of Russian and Mexican heritage, respectively. Still other pieces display characteristic styles of local sculptors.
Big Rock Garden Attests to the Bellingham Art Scene
Three local artists discussed their Big Rock Garden sculptures with WhatcomTalk.
Minimalist Russ Beardsley says "Unity" drew inspiration from Native Americans' communication in stone throughout the Pacific Northwest. "It just made sense to make this piece in context of what I was understanding about myself in this landscape," he says. Beardsley practices stoneworking with Borrowed Ground and plans to install more art in Bellingham. He's most recognized in Denver, where he cofounded Ironton Studios.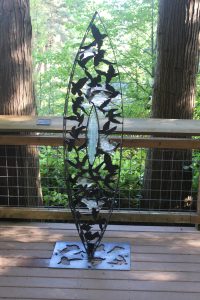 Multimedia artist Shirley Erickson describes "Positive Spirit" as "taking all the negative things that happen to us in our lives, putting it on the inside and turning it into something positive." Erickson's work features annually in the Whatcom Artist Studio Tour and permanently in Fourth Corner Frames and Chuckanut Bay Gallery. Her famous mandalas include a Fairhaven Library display and Steven Tsiorvas' memorial in Bayview Cemetery, symbolizing the 1999 Olympic Pipeline explosion with similar glass and steel construction.
Site-specific artist Aaron Loveitt describes "Swell" as depicting "our rising water line and a wave moving through a forest, a comment on climate change and rising sea levels as well as giving us a sense of place where the forest meets the sea." Loveitt's Altility Art Studio has moved from Portland to Bellingham's former Alley District to Blanchard.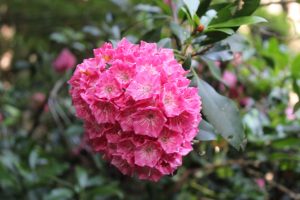 All three local artists say they most enjoy the creative process and viewer interpretation. Beardsley is "about inspiring someone to reflect, because art really has the ability to push them to see things differently—in a unique light." Erickson has "had people call me up and tell me what my work means." Loveitt enjoys "creating something the community will ponder and participate in, and to know my work is part of a dialogue we have collectively as a community."
If you want to see other vibrant art in Bellingham, these artists recommend Allied Arts, Downtown Bellingham's Art Walk, Western's Outdoor Sculpture Collection, and the Lightcatcher Museum.
Keeping Big Rock Garden Beautiful
Big Rock Garden remains relatively obscure outside of tourism.
"I think it's such a beautiful setting, and it's so quiet and peaceful up there," says Erickson. "And I think it's really underutilized…it's kind of a shame. Whenever I have out-of-town guests, I take them up to Big Rock because they think it's just a little gem."
Loveitt calls the garden "something our community should take pride in and appreciate" because it's permanent, unlike most local art collections.
The garden's natural beauty also endures. One portion, the Wildlife Friendly Garden, attracts wildlife through native prairie plants that have declined to less than one percent of their mid-1800s numbers. The City of Bellingham asks visitors to help preserve the garden—don't bring pets or bikes, walk off-trail, or climb sculptures.
Big Rock Garden is open daily from dawn to dusk. It is two and a half acres of meditative paths through Bellingham culture, resonating far outside park boundaries.