"People talk about the 'boomerang effect' in Bellingham," says Stephanie Wiley, programs and events coordinator at the Bellingham Regional Chamber of Commerce. She's referring to the idea that there are some towns that won't let a person go—even if they move away, they'll someday move right back. "Well, I'm proof that it's real!"
Born just down the road in Tacoma, Wiley's family soon moved to Sequim, where she got her first experience on stage. The Missoula Children's Theater, which visits schools and casts elementary school kids in plays, brought Johnny Appleseed to her school. "My family is both very academic, and very sports driven. And then there was me…" she says with a laugh. Her experience as an apple seed became a love for the stage that would set her apart from her "hard-core basketball family."
By the next year her family was in Ferndale, where she found a love of music. "Fourth grade was the first year we did strings—we could finally play something other than the recorder," she recounts. She saw many of her classmates choose better known instruments, but she heard a teacher say that viola players were in demand, and could get better college scholarships. Using the strange logic children sometimes employ, she knew she'd found her instrument. "I liked that it was a supporting character, but every now and then it got a chance to shine."
Wiley also got involved in choir, and followed both passions at Squalicum High School when her family moved to Bellingham. But by the tenth grade both choir and orchestra grew more demanding, and she found she had to make a choice. She chose singing, and as high school ended, decided she would focus on arts in college.
She set her heart on Whitworth, in Eastern Washington. "They have a very strong music program, and a pretty strong theater program, too," she says, but she had other considerations, as well. "What was the student community like? Will there be access to the professors? How many students are in each class?" She wanted a small school with a strong sense of community, to form stronger bonds with other students like her.
"A big part of my experience at Whitworth was the traveling," Wiley says. The school believes travel gives students perspective, and that experience is a great teacher. In her sophomore year, Wiley's choir spent a month in Argentina and Uruguay. "We stayed in peoples' homes in Argentina, and I've stayed connected to some of those people." In her junior year, she traveled to the United Kingdom on a study abroad program offered by the school where she learned about English culture through its art and music. "I spent a month in London just going to plays and concerts and musicals…and pubs!"
After graduation, Wiley set out for Seattle. "When you're an actor," she says, "your job is auditioning." Since she didn't thrive on that pressure, she took an internship in costume design. "I liked the thought, the symbolism, and the historical research that go into it," she says, but learned that designers start by spending years at a sewing machine—and that jobs are few and far between. She took it as a good learning experience and returned to Bellingham.
During high school and college, Wiley had worked summers for an event planner, but found more steady work at an apartment complex, and learned the ropes of property management. "But I wanted to be near my best friend, and I just wanted to be somewhere new." She relocated to Oakland hoping to work as an event coordinator, but was a newcomer in a highly competitive field. She was able to find work in property management again, but life in the big city brought a different flavor to the job.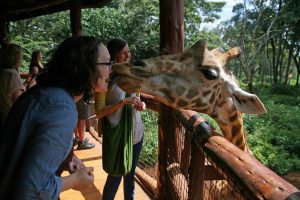 One day, out of the blue, she got a letter from a college classmate. "I hope you're doing well," it started, then got interesting: "My husband and I are working at a school in Kenya that's looking for a choir teacher—are you interested?" And so Stephanie found herself at a boarding school for children of Christian missionaries working throughout Africa.
"I knew I'd be teaching choir," Wiley says. Then the elementary school principal asked her to teach elementary music classes; she couldn't turn down the kids. "I found out I was also in charge of the seventh grade music theory and history course." In addition, she arranged a concert during every term, and a choir tour of schools and churches in Nairobi.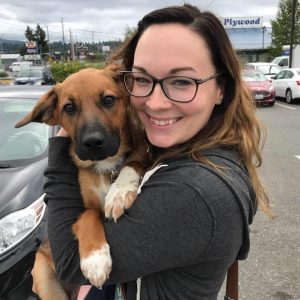 "I think the best part of my year in Kenya was that I got to travel," Wiley says with a smile. She swam in the Indian Ocean, toured a tea farm, visited an elephant orphanage, and went on a safari that delivered her right into the wild kingdom.
As the school year wrapped up, she landed in Phoenix, Arizona, again working in property management. "But it's hard, every time you move," she says, "to create a new community." Wiley missed her family. "For a long time, I missed all of the family events and gatherings. I told this to my best friend, and the next day she sent me the listing for the programs and events coordinator job at the Bellingham Regional Chamber of Commerce."
"I've always liked working in smaller organizations, and I'm excited to be working in event production. It's the first industry I was ever in, and I enjoy seeing it all come together," she says. "It's basically like theater: everyone's working up to one big event."
Speaking of theater, does that mean she's headed back to the stage? "I'm hoping to get involved in BAAY, in a supporting role, to bring theatrical education to the community, because it was so important to shaping who I am." And so, just like that boomerang, Stephanie Wiley has found herself at home again.
Sponsored