Submitted by: Bellingham Pride Committee
We are very excited for this year's Bellingham Pride parade and festival, July 14. Beginning at noon, the Bellingham Pride parade travels down Cornwall Avenue starting at Ohio Street and turns left onto Chestnut where it ends a block later on Railroad Avenue at the festival.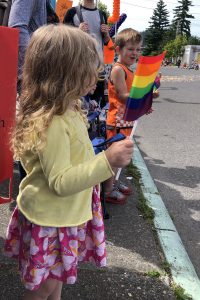 The Bellingham Pride Festival is scheduled to start at noon as well with the entertainment portion to begin directly following the end of the parade. The stage for the festival is directly on Railroad Avenue just outside the Depot Market Square. Inside the Depot lot we have this year's pride vendors. Browse from various crafts and food options to local nonprofits, there's a lot to take in.
This year we would like to announce that local Whatcom County artist Ben Mann has been selected as this year's Grand Marshal. We would also like to introduce Bellingham Pride's first Youth Grand Marshal Jace Taylor. We are very honored by both these individuals and the way they contribute to our community.
For entertainment this year we have the second annual Queen's In the Streets event. A full afternoon of drag performances that transitions into a street dance before coming to a close at 6:00 p.m. Also check out our Facebook to see our other Bellingham Pride sanctioned events. We hope to see you all there!
Parade staging 10:00 a.m. to 12:00 p.m.
Parade 12:00 p.m. to 1:00 p.m.
Pride festival 12:00 p.m. to 6:00 p.m.
Entertainment 1:00 p.m. to 6:00 p.m.