On idyllic summer evenings in Whatcom County, when the air is warm and the sun seems to resist setting, it's easy to feel that all is right with the world. These all-too-fleeting moments of summer zen can be found in many places, but you'll be hard-pressed to find a more fun way to experience it than on a Hot Thursday Night.
The Downtown Lynden Business Association, building on the success of last year's fun along Front Street, is putting together another round of Hot Thursday Nights in downtown Lynden. Taking place July 25, August 1 and August 8, the events feature a full slate of fun, mostly free activities for both children and adults, highlighted by outdoor movie viewings.
On each HTN, Front Street between Third and Fourth Streets is closed to traffic for a Night Market from 5:30 p.m. to 8:30 p.m. There are craft, clothing and food vendors, a cooling station and Game Zone provided by executive producer WECU, as well as fun children's activities like free face painting, hula hooping, and watermelon bowling. This year, dance performances by Infinity Dance Company are scheduled, and Lynden Line Dancers will also offer line dance instruction and performance.
Live music will fill the street thanks to Jansen Art Center, which will extend its weekly live music program by one hour to provide good vibes from 6:00 p.m. to 9:00 p.m. The front of the J has accordion doors that allow music to flow out of the building, and outside speakers will also enhance the sound.
"It really adds a kind of festival environment to things," says Vin Quenneville, executive director of the Jansen Art Center and board member of the Downtown Lynden Business Association.
On July 25, the musical stylings of guitarist and vocalist Scrub Hubner will be heard. Quenneville describes Hubner, who specializes in music from the 1950s, '60s and '70s, as a "human jukebox."
"If you throw any Top 40 hit at him from that timeframe, he can play it," he says. "It's really amazing."
August 1 will welcome the Rewinders—a musical trio covering '60s and '70s rock with great vocal harmonies and modern flair. On August 8, Chuck Dingée and Sharon Mayson will grace the Jansen Art Center stage. Dingee is a member of longtime Bellingham band The Walrus, and began collaborating in recent years with Whatcom County vocalist Mayson.
When the music wraps up, it's movie time. A family-friendly film will be projected onto the west wall of JoFish Seafood and Grill, which faces Fourth Street. A parking lot will serve as the theater seating area, so bring your chairs and blankets. This year, "Coco," the hit 2017 Pixar animated film, will be shown July 25. On August 1, the 1980s classic "E.T." will be screened, and on August 8, "Three Wishes," a 1990s fantasy-drama film starring Patrick Swayze, will be shown.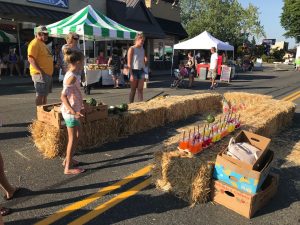 New this year to festivities is the downtown beer tasting event, "Hops Down Front Street" with all proceeds going to Backpack Buddies. The August 1 event will take place from 5:30 p.m. to 8:30 p.m. and feature two or more microbrew options at 10 tasting stations, each held inside a local business along Front Street. Limited tickets are available for pre-purchase at the event's website.
Each drinker receives a five-ounce commemorative tasting glass, five tasting tickets, and a goodie bag with surprises from local businesses. An after-party will take place in the Overflow Taps beer garden, featuring live music, the Something Cheesy food truck, and a 50/50 raffle supporting Backpack Buddies, the non-profit that's also the recipient of beer tasting proceeds.
Tammy Yoder, coordinator for Backpack Buddies, launched the organization's local branch two-and-a-half years ago to help provide extra nutrition for low-income children on weekends outside of school. Last year, the organization operated a cotton candy machine and raised about a thousand dollars for the program. The cotton candy, Yoder says, will return this year.
Hot Thursday Nights is being sponsored by executive producer WECU this year, in addition to support from Daylight Properties, Jansen Art Center, the Northwest Washington Fair, The Inn at Lynden, Village Books and Paper Dreams, Bliss and Dan Goldstein Realty, Hats Off, Cascadia International Women's Film Festival, The Lynden Tribune, and WhatcomTalk.
Keith Mader, WECU's program manager for public relations and content, says WECU values their support of the Lynden community, and sees HTNs as one of the county's great up-and-coming events.
"We thought that we'd love to support it and see it become even more awesome," he says.
Chuck Robinson, Lynden Downtown Business Association board member, says last year's events were popular, and movie attendance averaged 100 people. This year, they're trying to keep the fun fresh.
"We're just trying to continue to add to it," he says. "It gives people in Lynden another opportunity to stay in town and have fun, and bring more people to downtown. There are a lot of new people in Lynden who might not know the downtown as well as we wish they did. I think it's just going to continue to grow over the years as we move forward."