Submitted by: Project Homeless Connect
This July, the 11th annual Bellingham/Whatcom Project Homeless Connect (B/WPHC) presents a unique opportunity for community members, businesses and organizations to be a part of Whatcom County's Plan to End Homelessness. In an event that is about neighbors helping neighbors, people receive free access to an array of care options available at one location for one day.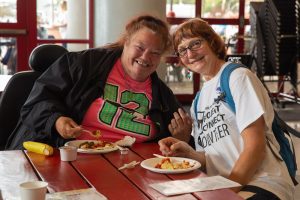 Project Homeless Connect (PHC) offers high-value services and generous hospitality for neighbors in Whatcom County who are unsheltered or experiencing a housing crisis. More than 500 people are expected to attend and seek care on Friday, July 19th at Bellingham High School (2020 Cornwall Ave.) between 9 a.m. and 4 p.m.
Services offered at PHC include: Dental services, General medical services, Haircuts, Vision and hearing screenings, Housing intakes, Department of Licensing photo ID's, Foot care, Counseling/behavioral health care, Employment screenings, Health insurance assistance, Legal and dispute resolution counsel, General Assistance Unemployable and Social Security benefit assistance, Massage and chiropractic treatment, Literacy and library assistance, Pet care and others.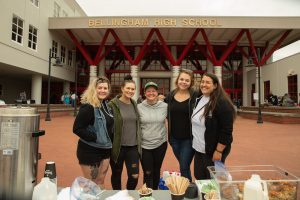 This one-day, one-stop event will mobilize community volunteers, service providers, and the community donors in order to:
Invite and welcome people who are homeless
Reduce barriers to service
Provide immediate service outcomes
Create sustainable and long-term service partnerships
Track and publicize results that connect to the Whatcom County Plan to End Homelessness
Originating in 2004, PHC is a civic engagement model now used across the US as well as in Canada and Australia to focus local resources and goodwill toward ending homelessness. The Whatcom County Coalition to End Homelessness adopted B/WPHC in 2007 as a strategy to encourage local community support for ending homelessness.

One day with a BIG impact
The impacts of Project Homeless Connect are widespread in Whatcom County. For folks who have been waiting for or denied care they need, this event offers immediate service. It's a chance to speak connect with providers and learn about services. It's also a place to have a meal, find clothing and supplies, and connect with community.

Local service providers are able to offer their craft or expertise in a way that efficiently helps hundreds of people in just one day. Ever wonder how you can use your skills, passion or expertise for the betterment of your community? This could be one of those ways.

Everyone in the county enjoys free bus transportation on July 18th and 19th thanks to the Whatcom Transit Authority (WTA), who is dedicated to removing the barrier of transportation that may otherwise prevent someone from accessing the services they need. All routes are free except for route 80x serving Mount Vernon.

Project Homeless Connect is made possible thanks to the generosity and support of Peace Health, Whatcom Community Foundation, City of Bellingham, Chuckanut Health Foundation, Whatcom Transit Authority, Jerry H Walton Foundation, St Paul's Episcopal Church, Mount Baker District Dental Society, Bellingham Food Co-op, Whatcom County, Rotary Club of Bellingham, WECU, and LithtexNW.
Getting involved with Project Homeless Connect is being a part of the solution.
Project Homeless Connect relies on the collaboration, innovation, involvement and support of neighbors like you. There are many different ways to get involved:
Sign up to volunteer for Project Homeless Connect. There are several volunteer jobs during and after the event on July 19 and with set-up on July 18th. Visit www.whatcomvolunter.org or email whatcomphc@gmail.com to get involved.
Join PHC's Outreach Team and help spread the word.
Consider financially supporting the event and the cause. Every dollar donated to Project Homeless Connect goes directly to supporting folks who are in the midst of our local housing crisis.
Visit and share our new website: www.phcwhatcom.com
Follow and share our Facebook Page @bellinghamwhatcomprojecthomelessconnect