Raising children who grow up to be great human beings is the hardest thing Carolyn Saletto has ever done. Running her own business for 15 years, though, takes a close second.
Gym Star Sports Center—a gymnastics, dance and preschool center in Ferndale—celebrates 15 years in business this year. Gym Star Sports Center has an average enrollment of 500 students and every year the business continues to grow.
The story of Gym Star really begins back when Saletto was six years old, first taking gymnastics lessons at the YMCA in downtown Bellingham. She went on to compete with the Sehome High School gymnastics team, "a dynasty of sorts," she says. Saletto was coached by Nola Ayres, whose teams won the most state championships (as of 2012) in the nation.
After high school, Saletto attended San Jose State University as a gymnast.
"I've been doing gymnastics my whole life," she says.
Fast forward to 1993. Saletto and her husband were living in Bellingham with their two kids and celebrating their tenth wedding anniversary. She was working as a gymnastics coach, and he was selling insurance—the kind where you have to cold call people, she says.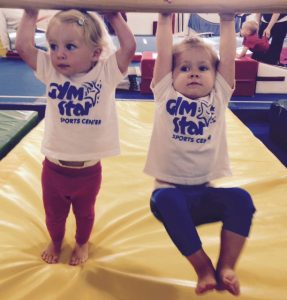 "It was just the worst thing he could have been doing," Saletto says. "He hated it."
For their anniversary that year, they drove out to Lake Whatcom and sat together, looking out across the lake.
"That's all we could afford to do," Saletto says.
In that moment, they decided to make a change. Together, they opened Gym Bus, a mobile gymnastics school that visited daycare centers and preschools. Gym Bus ran successfully for 11 years before Saletto decided to take her business one step further.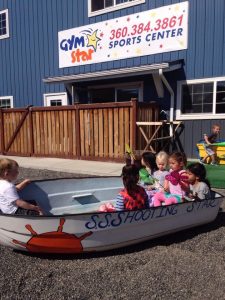 In 2005, she opened Gym Star, a 7,000 square-foot facility, originally located at 1420 Pacific Place in Ferndale. The business struggled in its first few years. "I really thought we were going to be looking at an exit plan," Saletto says.
But by the fourth year in business, Saletto had started to turn a profit, and the business grew from there.
In 2014, Saletto moved the school into its current location, on Hovander Road, a bigger facility she designed and had built. Her priority for the new space was that it be full of light and windows. More often than not, she says, gymnastics schools are in renovated warehouses where rent is affordable. These spaces tend to be dark and lacking in natural light. She wanted to create something totally different.
"When you walk into our space it's really welcoming," Saletto says.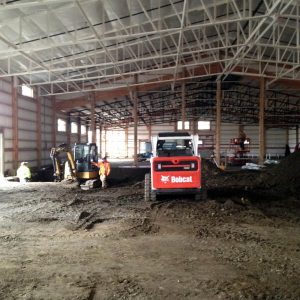 After running Gym Bus for 11 years, Saletto knew she wanted to add an academic space and work with preschoolers again.
She opened her preschool, Shooting Stars Preschool, in 2006, one year after Gym Star first opened. That year, she told Kelly Lee, her very first preschool teacher she hired: 'If you can enroll six kids, we'll open.'
This past school year, Shooting Stars Preschool had an enrollment of 89 children and are already full for the 2019/2020 school year.
Gym Star Sports Center now has three different divisions: the gymnastics school, Stellar Dance Studio and Shooting Stars Preschool.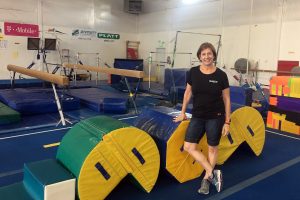 The dance studio is her newest offering, hosting classes in a variety of styles, including ballet and hip hop.
This summer, they are offering all their regular classes as well as summer camps and dance camps.
Camps for children ages 5 and up and for ages 3 to 5. The summer gymnastics session runs from July 8 to August 30.
While Saletto has mostly moved into a managerial role within the business—she now employs over 30 coaches and teachers—she still teaches several classes a week.
"That's where the joy is!" she says.
Saletto loves seeing life from the kids' points of view and seeing them get excited about movement. For the youngest gymnasts—Saletto teaches a group of 2- to 3-year-olds—she enjoys guiding them to learn to follow instructions and playing games that teach them about movement. For her older students, it's rewarding to work with them to overcome obstacles and gain confidence in themselves, she says.
Through running the business, Saletto also found the opportunity to teach and train staff. Several of her coaches are college students and working with them to grow their skills and to help them find their career paths has turned into a big part of her job.
"The one thing that really surprised me when I opened 15 years ago—that I wasn't anticipating—was the mentorship of staff," she says. "That has been such a gratifying part of what I do."
As a gymnast herself, and then watching her students grow up in gymnastics for over 15 years, Saletto appreciates the mental aspects gymnastics teaches. Through gymnastics, kids learn tenacity, perseverance, determination and focus.
"These are things that carry over into your adult life," Saletto says. "I believe it's those qualities that have made me able to do what I'm doing today."
Gym Star Sports Center
5519 Hovander Road in Ferndale
360-384-3861
www.gymstarsports.com
Sponsored