Boat living is an adventurous, alternative lifestyle that can be more relaxing than people realize. Susan and Mike Neill live aboard their boat, the OPUS, in Blaine Harbor and are full of exciting stories and love for their unconventional home.

Mike is a machinist from Canada and Susan an accountant from Texas. Mike has been an expert sailor for most of his life.
"I had never been around boats until I met him 10 years ago," says Susan.
In 2000, after two cancer scares that led to building a bucket list, Mike sailed halfway across the world on a trimaran boat he built himself. He traveled to Mexico, Gibraltar, Israel, Sicily, Greece, and more—spending nearly five years sailing and living on his boat.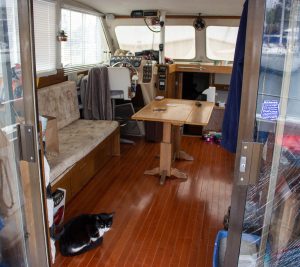 Three years ago, Mike took Susan up to Vancouver to show her different styles of boats. They bought the OPUS that same day and it became their new home.
For Susan, living on a boat offers the best of both worlds. "I love it. We can take this out and go to the islands and go fishing and crabbing and do all the stuff we want," she says. "But we can easily get back if there's a storm."
Getting back is a major factor for the couple. Some years ago, they took Mike's trimaran up to South England and got caught in an enormous gale 12 miles offshore. When Mike went to the engine compartment to check the fuel level, his pants got caught in the prop shaft.
"It pulled my leg into the prop shaft and did a real number," Mike recalls. "It tore the skin at my Achilles tendon, cut it badly. It basically ripped off like a cartoon."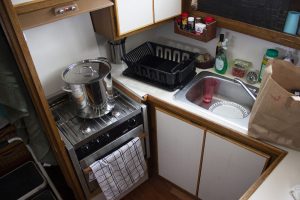 It was a serious injury. The shaft had cut bone out of his ankle. Susan, who couldn't look at the wound, handed Mike the first aid kit and radioed for rescue. After being brought to a hospital on shore, they stayed in England for a while, walking to the doctor's office daily to clean his leg.
Once they were eventually able to fly back to Texas, they left the trimaran in England, letting the marina sell it to pay for the moorage. It took a year for Mike to heal.
On their boat now, in Blaine, things are much calmer. Some of the biggest benefits of boat living are the cheap lifestyle and the freedom. They're free to go anywhere and don't pay for much besides moorage, water, and electric. Their kitchen has hot water and a microwave, and there's a shower, TV, and internet.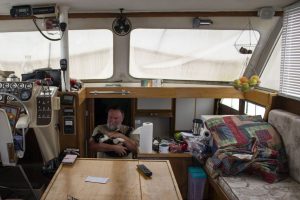 Another upside is the friendliness of the Blaine boating community. Susan says she has more of a social life here than she ever did in Texas.
"When you see a boat coming in and can tell they're having a hard time, everybody runs out, offers you a line to help you steady so that you don't bump stuff and make sure you get in," she says. "It's a very helpful [community]."
Maintenance is one of their biggest issues and they often have to worry about things getting wet and moldy. They once forgot to close the windows when taking the boat out, and the bed got soaked. Troubleshooting problems can cost a lot of money. It's hard to get mechanics out, especially during the summer, because of high demand.
Living this way is kind of like permanent camping, so downsizing is another factor to consider. Susan's closet is a small cubby, and they keep the rest of their clothes in drawers underneath the seating.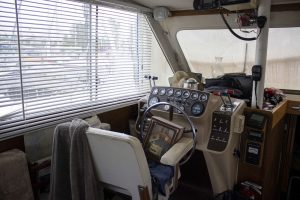 "It's kind of like RVing, but on a boat," she says.
It's all worth it to them and this is 100 percent home. The Neills love the lifestyle.
"I don't think people realize how fun and comfortable it can be," Susan says of living aboard. Visitors are sometimes surprised they have hot water and a bathroom.
"You have your patio, living room, kitchen, bathroom and bedroom. What else do you need?" she asks. "I don't miss having a whole house. This is easy to clean. The only thing I miss is a dishwasher."
It's a simple, comfortable life.
"People are unreasonable in their demands of life," Mike says. "I'm 64 and I remember living in the unfinished basement of the house my father was building for almost a full year. It didn't kill us. And we didn't have a 10,000 square foot house being built above us; it was 1,000 square feet and we had six children! We have such changed perceptions of what we require as human beings."
"I think most people just don't know you can do this," Susan says. "I never in my life considered doing this, not until I met Mike."