How often do you hear a story about someone calling their insurance company to thank them?
A few years ago, Suzanne Taylor wrote the insurance policy for a floor installation company in Bellingham. On a job installing new floors for a family, the homeowners insisted the company use a product to seal the floors they strongly advised against. Within a few days, the family's dogs had run across the floor and scratched it all up. The family sued.
Normally, business insurance policies don't cover damages caused by your work or damage caused to someone else's property if it was in your care at the time the damage happened.
Knowing this, Taylor specifically wrote in extra coverage for this company, ensuring they were covered against the family's claim. Taylor immediately received a call from her client thanking her for including the coverage in her policy.
"To this day—it's a year later—she still calls and is super appreciative," Taylor says.
Taylor, a commercial lines insurance producer with Bob Wallin Insurance in Bellingham, has been with the company for 14 of its nearly 50-year history. Bob Wallin is a locally, family- and women-owned and -operated independent insurance agency. As an independent agency, they offer a different sort of insurance experience than the online carriers with which many people work.
"If we were to write out our priority list with our customers, the number one item would not be our sales goal," Taylor says. "Of course we want to write as many [policies] as we can, but the focus is the experience our client has."
Bob Wallin founded the company in the early 1970s. He loved to be involved in his community and to take care of his customers, Taylor says. He also loved insurance.
"He was never afraid to talk to anyone about insurance," Taylor says. He would even drum up potential customers while going out for coffee.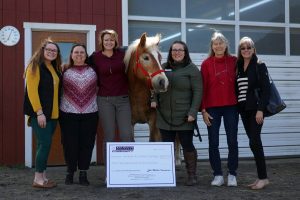 "He'd come back into the office with their contact info and he'd be like, 'Here, give 'em a call, let's write some insurance,'" she says.
In 2006, Wallin's daughter, Ann, and his granddaughter, Sue, bought the company and continue to own and run it today. At that point, Wallin was in his 70s, but he would still come to the office and find potential customers for them to call, Taylor says.
Of the nearly 5,000 customers Bob Wallin insurance has today, a handful have been with the company for 20 or 30 years. From the beginning, building strong relationships with their customers has been an important part of what they do. They're also proud to say they've had very few staff changes over the years.
"We want to have a conversation with them [our customers]," Taylor says. "We want to know what's going on in their lives, so that we can better be equipped with what we need to offer."
Developing these relationships requires the team at Bob Wallin grow trust with their customers. As in many relationships, not just insurance ones, they've found the deepest trust comes from honesty and understanding.
The agents at Bob Wallin all work hard to explain the insurance policies to their customers, so they can make informed decisions and feel confident in their coverage.
"If people feel like they're getting answers and there's a reason we're telling them to buy it [a policy], then they don't feel vulnerable, they don't feel taken advantage of," says Taylor. "And because of that, they feel good, so they're more likely to trust you."
"They're going to appreciate insurance more if they understand what it really does," she continues.
As an independent agency, Bob Wallin works with many national carriers, which allows them to offer their customers more flexibility in their coverage choices and in the relationship they have with their agent. If someone were to approach an agent at Bob Wallin saying they were considering becoming an Uber driver, that agent could advise them on whether or not their current car insurance provider would continue to insure them. If not, they could help them switch to a carrier that would, without having to leave Bob Wallin.
That kind of conversation is not really possible outside of an independent agency. Often, if a company hears you're even considering making a change, such as becoming an Uber driver, they won't renew your insurance policy, deciding it's too big a risk even if you never actually make the change.
As an independent, locally owned agency, they are also committed to giving back to the local community. They host a variety of free events each year, including an upcoming customer-appreciation barbecue in August. As an independent agency, they're most often insuring people in the local community, and therefore want to reinvest in it.
"We want to be a part of what our clients are a part of," Taylor says. "That's the epitome of a community, really: We're all helping each other out."
Sponsored