Whatcom County is a dreamland for trail runners, making it one of the best places to run single track trails in the country. While this may sound hyperbolic to some, those who run the region's forested paths know this is the truth. The roads around Bellingham are great to run, but the trails are where astounding views are gained and a true connection with the region can be made. Whether you're searching for sweeping views of the Salish Sea, a meandering route along a picturesque lake or some elevation work in stunning forests, those looking for an escape into nature while running don't have to look very far.

Before heading out on a run, stop by Fairhaven Runners. Fairhaven Runners staffs running enthusiasts and local experts, ensuring you get the right gear and information for the perfect trail for your ability. The Greater Bellingham Running Club is a fantastic resource for those looking to connect with other runners. Once you've met a few fellow runners and are ready to rock some single track, consider these options as great routes to trail run in the region.
Stimpson Trail
Distance: 4 miles
Elevation Gain: Roughly 300 ft
The Stimpson Family Nature Reserve is a year-round gem for runners looking for soft trails and great scenery. With old growth forests home to trees that are hundreds of years old, this area is incredible. Capped off with two ponds and well-maintained paths, hitting the trails here is a great introduction to trail running. The hills are rolling, the greens of the forest are intense, and the spirit of the region grows stronger with every stride.
Lake Padden
Distance: 2.6 miles
Elevation Gain: Roughly 150 ft
If you are just starting to trail run, or are looking for an easy day out, Lake Padden is perfect. This trail offers a gorgeous 2.6 mile loop along well-groomed dirt. Running a few loops here rewards you with a view of every angle of the lake. If that isn't enough, the entire area has almost three more miles of trails explore, including a few hills, making this ideal all year long. Lake Padden is a classic and a foundation area for all trail runners in the area.
Whatcom Falls Park
Distance: 4 miles
Elevation Gain: 50 ft
It's hard to beat trail running at Whatcom Falls Park. Whatcom Falls is another great beginning trail system to help you move off the road and onto the trails. The four miles here are historic, gorgeous, and perfect for a short run in the woods. The wide trails at Whatcom Falls, often on gravel, make this a good place to grab an easy run or connect to a longer trail like the ones found at Galbraith Mountain.
Sehome Hill and Arboretum
Distance: 6 miles
Elevation Gain: Variable
Since 1893, Sehome Hill and the Sehome Arboretum has been a go-to destination for stretching out the legs. Today, this area is a great place to put in a good run, grabbing some elevation and enjoying a stunning second-growth forest. With 10 different trails to explore, leading up to the top of the hill or through the incredible vegetation, running here will get you ready to explore even further around the wondrous woods of Whatcom County.
Galbraith Mountain
Distance: Over 50 miles of trails
Elevation Gain: Variable
Best known as a mountain bike destination, trail runners have been ranting and raving about Galbraith Mountain for years. Rising above Lake Padden and Lake Whatcom, the trails here give runners tons of elevation gain, dozens of trail options, and fantastic single track trails. Galbraith is where you go when you want a little of everything. You can put in training miles for races or just escape for a few hours of adventure running. Just make sure you watch for bikes flying down the hill!
Lost Lake Trail
Distance: 9 miles
Elevation Gain: 1,950 ft
With four options to reach Lost Lake, trail runners will enjoy using this area for a good training run or a fun weekend jog out on the single track trail. A favorite route is following the Fragrance Lake trail because it's scenic and slightly longer. Passing by waterfalls, through old growth forests, and accessible all year long, Lost Lake is always spectacular.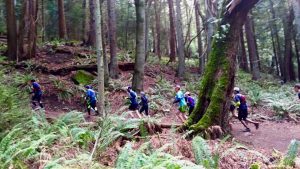 Chuckanut and the Ridge
Distance: 10.5 miles
Elevation Gain: Over 1,000 ft
The Chuckanut Ridge route may be one of the most famous trail running routes in the entire Pacific Northwest. Rugged with roots, rocks, and slick boulders, this is trail running at its best. The route starts at Hemlock Trail, climbs up past the North Lost Lake Trail, and hooks up with Chuckanut Ridge, where trail running bliss is found. Twists, turns, drops, and climbs await, making a run here sure to prepare you for any Pacific Northwest trail you will run.
Featured photo by Douglas Scott