Submitted by Whatcom Community College
Former Whatcom Community College Trustee Tim Douglas has received the Trustee Leadership Award from the Washington State Association of College Trustees (ACT). He was honored at the association's spring meeting in Walla Walla last month.
Each year, ACT recognizes an individual trustee who has made a significant contribution to promote Washington's 34 community and technical colleges. Douglas served on WCC's Board of Trustees from 2008-2018, and was board chair during the 2017-18 academic year.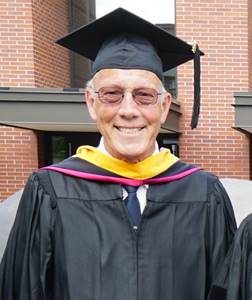 "Tim Douglas is an exemplary example of a committed and effective college trustee," said Sue Cole, WCC's Executive Director of Advancement and former College trustee, who served alongside Douglas for several years. "During his 10 years of service, he dedicated time, resources, and enthusiasm to advancing both the individual mission of Whatcom Community College, as well as the entire community and technical college system."
Douglas helped establish the ACT's Transforming Lives Award, which annually recognizes community college students whose lives have been transformed by higher education. He would often lobby the Whatcom County district and other legislators in Olympia, advocating for special initiatives and programs, such as Running Start, the capital budget, increasing faculty salaries, and international and undocumented students.
Outside of the community college system, Douglas was mayor of Bellingham from 1983-95 and 2006-07, served on the Bellingham City Council 1980-83, and founding member of the Bellingham City Club and Sister Cities Committee.
"Whatcom Community College pays exceptional attention to student success and involves every staff and faculty member in achieving that goal through remarkable cooperation," said Douglas. "It's been such an honor to serve and to support WCC's tremendous progress!"