Navigating a new career or working toward advancement in your current organization can be an overwhelming experience, especially as a young professional. Not only do you have to learn how to grow in your career, but you must also forge connections, develop personal skills, and make friends with people who share your goals. How can all of this be possible, especially while working long hours at a demanding job?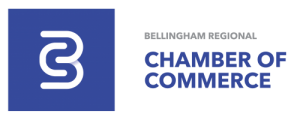 Fortunately, Whatcom Young Professionals (WYPs) can help you learn how to grow and balance yourself professionally.
Established in 2006 through the Bellingham Regional Chamber of Commerce, Whatcom Young Professionals strives to be a resource for uniting, engaging, and encouraging a strong community of young professionals. Through small-group and large networking events, young professionals can collaborate and make positive connections in the community while they learn how to be better leaders.
"It's a great organization and always responsive to the needs of the members," says WYPs principal chair Dana Weber. "We strive to be very welcoming to members, guests, and brand new attendees."
According to Weber, general manager of the Best Western Plus Bellingham Airport Hotel, a young professional is defined as an emergent leader, typically post-college, who is new to their career or job, or looking to advance within their organization. With such a large percent of the population emerging into careers, especially in the college town of Bellingham, there is a growing need for connection among young adults.
"Another benefit to WYPs is that we're grooming business and community leaders," says Weber, "and these individuals will be serving our community for decades to come."
For Alivia Jelinski, director of facility rentals and business development at the Northwest Washington Fair, WYPs has been pivotal.
"Almost everything I have in my professional and personal life has resulted from WYPs," she says. "I've met the best friends I've ever had. All the jobs and promotions I've had since joining have been through connections and skills I developed through WYPs."
Jelinski joined in 2015, under the encouragement of her boss, who wanted Jelinski to seek out friendships and business connections that would help grow her career. Although intimidated at first, Jelinski was quickly able to warm up and form close bonds with other career-minded, goal-oriented people. She has served on the advisory council for four years and is currently the organization's membership chair.
"When I first walked in, I knew maybe two people from other networking groups I'd attended," she says. "Now when I walk in, I maybe don't know two people."
WYPs holds weekly "Morning Buzzes" at various Woods Coffee spots in Whatcom County. The buzzes allow members to meet in a casual group setting and focus on personal and professional development through a discussion topic. A new book club has also been established with meetings in the evening to continue the small-group conversations around relevant professional development themes.
Jelinski highly recommends that new members start at the buzzes, where they can get closely acquainted in small groups and feel less intimidated when later attending larger events. Additionally, buzzes provide a thought-provoking topic to invigorate members as they start their day and inspire them to grow from the inside out.
"It's a great opportunity to learn from others, as well," says Jelinski. "Sometimes we talk about challenges we're facing at work and can all put our brains together to try and solve our problems. It's a great way to show my employer that I'm a valuable resource because of these things I'm able to learn."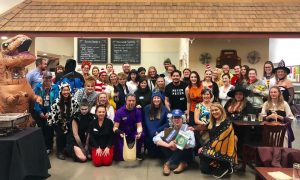 In addition to helping members grow inwardly as leaders, Whatcom Young Professionals also hosts large monthly socials, where participants can mingle and hone their social skills in a laid-back atmosphere at a highlighted local business. These events are filled with food, drinks, new connections, and engaging conversation.
In the summer months, the socials move outside, to locations such as Lost Giants Cider Company, and with spontaneous "pop-up" events, at a Bellingham Bells game or on a History Sunset Cruise.
"It's fun seeing people at their first social," says Jelinski." "When they first walk in, they're overwhelmed by the amount of people they don't know. And then, months later, they have come out of their shells and are social butterflies."
While it's safe to say that WYPs members have already formed close bonds, there's always room for more. To incentivize new members to join, Whatcom Young Professionals will host its annual Membership Drive from May 23rd through June 26th.
During this time, any new member—or anyone who refers a new member—will receive one entry into a raffle. Winners will be announced at the June 27th monthly social. This year, WYPs is raffling off a $200 gift card for any Bellingham Regional Chamber member business and a pedicure from the Chrysalis. Smaller raffle prizes will also be announced frequently on their Facebook page and through email blasts.
Membership to WYPS is only $50 a year. "For the impact it has made on my life in terms of personal development, professional development, friendships, and skills, it's so worth it," says Jelinski. "I would pay much more than $50 a year to have gotten what I have out of WYPs." To view more information about membership benefits and sign up for membership, please visit bellinghamwyps.com/join.
Whatcom Young Professionals
119 North Commercial Street in Bellingham
360-734-1330