The Jansen Art Center (The J) is a gathering place for artists—a communal spot where anyone can join in the excitement of creativity. From dancing to textiles, there's something here for everyone with an imaginative spirit. One of the center's most popular programs is ceramics.
The studio is used by all ages and has become a meeting place for new found friendships. "It's comprised of an incredible group of supportive people who all bounce ideas off of each other," says Dan Stockwell, a student at The J.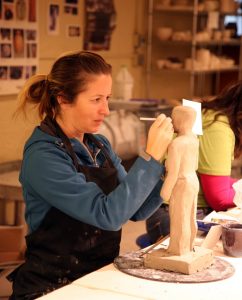 The large facility on Lynden's Front Street is packed with services for ceramics students. Dozens of workshops and classes are available with regular and guest instructors who keep material and concepts fresh.
Adult students participating in a 6-week class are allowed to utilize free open studio time with up to 20 hours a week to practice.
"Acquiring ceramic tools and equipment can get quite expensive, and that's where The J can help by providing amazing equipment and space at a very low cost to artists," says Jesse Rasmussen, ceramics program director at the Jansen Art Center.
"I moved to Lynden from Bellingham last, year largely because of the Jansen Art Center," says Ruth Hesse, a student at the center. "Everyone is incredibly welcoming, I found Jansen Art Center at a time when I really needed to be around other people."
Open studio time is popular among center visitors. "The ceramics studio is a warm and welcoming environment where artists share ideas, create, and build a sense of community through clay," says Rasmussen.
The center is spacious and made to accommodate a lot of people and equipment. It's home to eight pottery wheels, a hand building and sculpture space, shelving and storage for ongoing clay projects, a glaze room with mixing capabilities, two electric kilns, one downdraft gas kiln, and one raku kiln.
"The Jansen Center Ceramics Studio is a fun place to work, you gain experience from interacting and sharing new ideas," says Barbi J. Keily, a student at the center. "The people are friendly, and the classes offered are interesting. Whether you have been working with clay for years or just beginning, people are willing to help in your quest for that perfect ceramic project."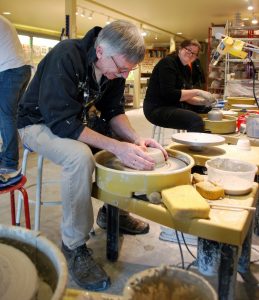 In addition to fundraising and sponsors, the center was recently awarded three grants, from the Norcliffe Foundation, the Whatcom Community Foundation and the McEachern Charitable Trust to beef up the ceramics department even more. Jansen used the funding to update the lighting to LED flat panels, add additional wheels, a waterfall spray booth, an upgraded ventilation system, new shelving, a new electric kiln, and a child-friendly vertical slab roller.
The upgraded workroom can house a sizable crowd of any age and ability. The only limit is your imagination.
On June 6, 2019, The J will host its 7th Annual Cup Show. Artists from all over the country and Canada submit handmade cups or mugs to be judged and exhibited with a chance to win one of over $1,000 worth of prizes.
Last year's Cup Show brought in 127 submissions from 49 artists. "People can get abstract with the cups," says Amelia Chirichigno, marketing manager at the Jansen Art Center. "The cup show is unique and special; it allows artists to think outside the box and push the limits of a typical cup."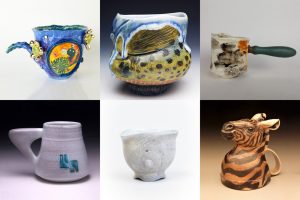 Prizes are generously donated by the Mount Baker Rotary Club, Clay Arts Center, The Green Barn, Tony's Coffee and Teas, Giffin Grip, the Washington Clay Arts Association, Whatcom Artists of Clay & Kiln and the Fraser Valley Potters Guild.
Winners are chosen after being selected by a panel of judges. Guests will choose a People's Choice Award by filling out a ballot on the opening night. One year, then-seven-year-old Hazel Lawson won the People's Choice Award for an adorable bunny on a porcelain cup.
People are allowed to purchase the cups in-house or online. Many of the artists who submit cups are sculptors who scale down their work to create a more approachable art piece the public can buy. "This is a great opportunity to purchase a small-scale piece from well-known artists," says Rasmussen.
Guests are encouraged to wander around the studio and take a look at the new equipment and studio space.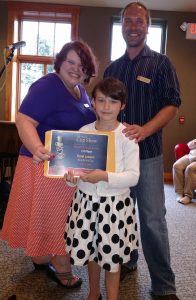 This year, on opening night, the center will host a passport giveaway. People will receive a passport card at the door and collect a stamp at each studio to enter for a chance to win a cup.
"Every year, I usually have a favorite that I purchase," says Rasmussen. "One had an image of a blue house that was slightly melting, then on the inside of the cup it had another whole drawing. It made you wonder how they did it."
"The exhibit challenges the viewer to look at cups from a different perspective," says Chirichigno, "both sculpturally and functionally."
In addition to the Cup Show, the Jansen Art Center will be opening three solo artist exhibits and a juried exhibit on June 6, 2019:
During the celebration, J.P. Falcon Grady will perform in the piano lounge from 6:00 p.m. to 8:00 p.m. The Firehall Café at the J will serve beer, wine, cider, and dinner on the balcony, which offers gorgeous views of Mount Baker.
The entire event is free and open to the public.
Most artists will be in attendance, and guests will have the opportunity to ask questions and chat with cup and exhibiting artists.
If you can't make it to the opening celebration, the exhibit will remain on display until Friday, August 30.
7th Annual Cup Show at the Jansen Art Center
Jansen Art Center
321 Front Street in Lynden
360-354-3600
Tuesdays & Wednesdays: 11:00 a.m. to 7:00 p.m.
Thursdays: 11:00 a.m. to 9:00 p.m.
Fridays & Saturdays: 11:00 a.m. to 5:00 p.m.
Sponsored