Ever wondered how to use snap peas in a springtime dinner? What about tomatoes in a summer lunch? Sometimes abundant ingredients are difficult to use if you've never worked with them before. A little inspiration from an easy-to-understand source can always help you find your way in the kitchen.
That's the idea behind Demo Days, a ten-year-old collaboration between the Bellingham Farmers Market and local non-profit Sustainable Connections. They start with the simple question: "How do I use that?" And then they offer a series of demonstrations during the market season to bolster your confidence in the kitchen—and add some variety to your home cooking routine.
Each month, volunteers select an ingredient that's available at the market and use it in live demonstrations. They also hand out recipes for Market visitors to take home with them. "The recipes are accessible, as opposed to obscure," promises market director Lora Liegel.
"It's important to use a good recipe, one that people can be successful with," adds Alex Smith of Sustainable Connections. "If it goes poorly the first time, you might be tempted to never try again. But if people can successfully cook a new recipe, they're more likely to be adventurous in the future."
Smith is a great supporter of introducing people to local goods, too. "You don't have to be a great chef to make good food, and getting good ingredients is half the battle," he says. "Imported produce is typically bred for storage, but local produce is typically bred for flavor, and for nutrition." Fresh, local ingredients are always in abundance at the Bellingham Farmers Market.
By combining valuable information with the best foods available, it's easy to see how Demo Days can benefit all of us, from the enterprising home chef to the farmers that keep Whatcom County bursting with produce.
So keep an eye out for the friendly volunteers with their fresh veggies and helpful hints. "It will be happening on the second Saturday of every month, between 10:30 a.m. and 3:00 p.m., through September" says Liegel.
From the latest Demo Day demonstration—check out this fun recipe, which highlights radishes and spring greens: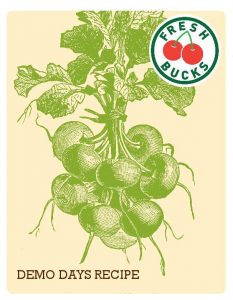 Sautéed Radishes and Spring Greens
Prep time: 5 minutes, Cook time: 10 minutes

Ingredients:
½ bunch radishes, cut in half and tops removed
3 cups chopped spring greens (kale, chard, collards)
1-2 small leeks, diced
3 green onions or green garlic, minced
1 tbsp butter or oil
2 tbsp balsamic vinegar
2 tbsp sesame seeds
Salt and pepper to taste
Directions:
In a pan, heat butter or oil on medium heat. Add leeks and cook for 2 minutes, stirring occasionally. Add greens (as well as the radish greens, if desired) and cook an additional 2 minutes. Add radishes and cook until tender, approximately 3-4 minutes. Add vinegar to the hot pan and stir until veggies are evenly coated. Plate the dish and garnish with green onions and sesame seeds, and add salt and pepper.
Bellingham Farmers Market
1100 Railroad Avenue in Bellingham
360-647-2060
Sponsored