The Whatcom Center for Early Learning (WCEL) is an organization focused on providing support and services to children ages birth to three with developmental disabilities and delays. Thanks in part to a grant from the Phillips 66 Ferndale Refinery, the WCEL will add a facility in Ferndale to the current operations in Bellingham.  
On a corner in the Bellingham Lettered Streets neighborhood sits a big, blue, beautiful old house. Its fenced yard includes a playground that's often filled with babies, toddlers and their parents. These families come to the Whatcom Center for Early Learning because their children are challenged with special needs, and here they receive support to help their little ones thrive.
Since 1973, WCEL has provided early intervention for kids. It's a mission that has attracted motivated people with a deep love for what they do, including executive director Mark Moder. He's happy to talk about the science and statistics of his work, but also has an obvious affinity for the young ones. "It's hard to think of them as 'clients,'" he says, and often refers to them as "kiddos" instead.
"The biggest misunderstanding is that people think we're a daycare or a preschool," Mark says. In reality, WCEL is focused on programs that can turn lives around. A candidate for early intervention "could be a kid with autism or Down Syndrome, or a kiddo that's not talking as much as his or her peers. With any kind of developmental disability, we want to help early on, because that's when we'll have the best chance of maximizing their life's potential."
"Early" is key since up to the age of three, the brain is making a million neural connections every second, so the right guidance can make an enormous difference. As Mark points out, "When we started in the '70s, people dealt with developmentally disabled kids in a very different way. They were hospitalized, hidden away, or sent to a home." Today, with early detection and the right treatment, an amazing 30 to 40 percent of developmentally disabled kids are able to catch up to their peers.
The WCEL Bellingham Lettered Streets location is a great setting thanks to ample parking, a picturesque neighborhood, and a house that comfortably supports a crew of 31 people, including classroom facilitators that host the kids and parents for a range of in-house programs.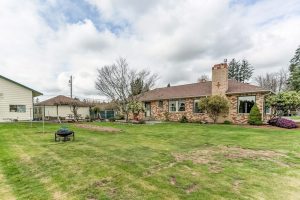 There are also 22 therapists on staff, who travel to the homes of the children and engage them at ground level—literally. "They're in homes, on the floor with the kids, and they're working to coach the parents, saying 'Here's what you need to get to the next developmental milestone.'"
WCEL currently serves 220 children on a monthly basis, and covers all of Whatcom County. For that reason, WCEL has begun work on it new facility in Ferndale, which will provide similar services as Bellingham. "We love being here in the Lettered Streets, and we are going to love being in Ferndale, too," says Mark.
Phillips 66 Ferndale Refinery hosted an agency fair last fall during their United Way of Whatcom County workplace giving campaign. Ferndale Refinery invited a handful of United Way partner agencies to share their organizations' programs with refinery employees. WCEL jumped at the opportunity to present their mission and discuss current projects.
As a result, Phillips 66 stepped forward with what Mark describes as a "surprise grant" of $25,500. "It's always great to have local support when you're just starting a project. It reiterates to the community the great work we are doing at WCEL."
The money will go a long way toward finishing the new WCEL location in Ferndale: renovation of a 3,200-square-foot brick house built in Ferndale in 1946. With a large outbuilding and a spacious yard, it will provide a home base for families in Ferndale, Lynden, Blaine and Sumas, as well as therapists that support the north part of the county.
TJ Lee is an engineer at the Phillips 66 Ferndale Refinery and was a United Way campaign lead for the refinery last year. "Phillips 66 does a lot of work in the community, and the refinery actively supports education and STEM [Science, Technology, Engineering and Math] programs," he says. "Phillips 66 wants to improve educational outcomes in the community. The Ferndale Refinery was inspired to donate to help WCEL expand their services to be more accessible in Ferndale and north Whatcom County."
Lee also has two daughters that have been through WCEL programs. "From a societal perspective, early intervention, socialization and parenting skills have a huge return on investment, both financially and in quality of life," he says. "And from an individual perspective, it's a warm and supportive place that pulls the community together. They have so many great teachers and resources. Expanding access into the County is awesome."
Whatcom Center for Early Learning
2001 H Street in Bellingham
360-671-3660
Sponsored