Barkley Village has quickly become a center of exciting and fun events that take place throughout the year. But did you know that these events also raise money for local non-profit organizations?
Each year, the folks at Barkley Village put together an event calendar to collaborate with these non-profits, raising thousands of dollars to help provide resources for veterans, the homeless, and others in need. In fact, 100 percent of the proceeds from every Barkley Village event go towards a partnering non-profit.
"When we decided to bring events back to Barkley Village, we wanted to ensure that no matter what, it benefited a non-profit in the community," says Neal Swanson, vice president of leasing and marketing for Barkley Village.
Barkley's recent Wine Walk, held April 12, hosted more than 500 people and raised $13,000 for Domestic Violence and Sexual Assault Services (DVSAS). That amount is nearly double raised by last year's inaugural Wine Walk.
DVSAS's event and marketing coordinator, Angela Sherburne, says Barkley Village was instrumental in putting together last year's Wine Walk, and yielded more planning to DVSAS for this year's event. In both years, she adds, Barkley Village was great at contacting tenants and asking how they'd like to participate in the event.
"They've been such a great partner to work with," Sherburne says. "They really believe in what we do."
The team at Barkley is proud not only of how these events have brought more people and excitement to Barkley, but how they positively affect Bellingham as a whole.
On June 6, Barkley will hold its largest non-profit-supporting event, "Handbags for Housing," on the Barkley Village Green. The event is a fun, festive fashion show and handbag auction benefiting Lydia Place, which provides housing and resources for homeless families.
Hundreds of handbags are sold, a beauty bar is set up alongside cocktail and wine vendors, and local boutiques and retailers offer their services and wares, all under one very large tented roof.
The event was previously held at a smaller venue in downtown Bellingham, and made the transition last year to Barkley. The move helped Lydia Place raise 50 percent more than the previous year and attendance landed somewhere between 500 and 700 people, Swanson says. Lydia Place's Emily O'Connor says having their event at Barkley Village provided an opportunity to do something fun and different for the community.
"Barkley was absolutely critical to that experiment being able to happen," she says. "They really wanted to see what was possible within their green space, and their team was the best partners you could ask for through the entire process."
Lydia Place will also be the benefiting partner for August 17's Concert on the Green, featuring live music from the popular Tom Petty tribute band Petty or Not and Bellingham's Baby Cakes.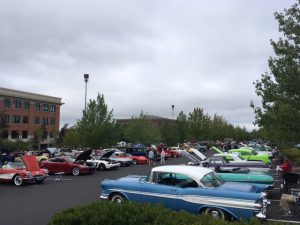 Barkley's other upcoming events also benefit great causes. The July 21 Classic Car Show, in its third year, will raise money for Vietnam Veterans of America; last year's vent raised more than $10,000. This fall, the September 28 Food Truck Round-Up will benefit Whatcom County food banks, while the annual October Spirit Walk will raise money for Brigadoon Service Dogs, which helps provide service dogs to veterans, children, and adults with disabilities.
All together, these events raised more than $200,000 last year from more than 7,000 ticketed attendees. Even better, Swanson says last year's numbers show that having events in Barkley Village helped non-profits raise about $100,000 in new money, funds which may or may not have been collected if events had been held elsewhere.
Regardless of where a non-profit event takes place, Swanson says, the goal should always be to maximize its community reach and thus its fundraising potential.
"It's not just a Barkley thing," he says. "It's Bellingham. We know Fairhaven has good events, and we all know downtown has good events. But adding great events just strengthens the city overall, and gives people more options."
---
Sponsored