There's an app for nearly everything now, including Pacific Northwest living. One great way to make Whatcom County your own is to grab a few helpful apps for your smartphone, from paying for parking to planning a hike.

We've compiled some essential apps for living and visiting Whatcom. Figure out the best local breakfasts, discover shows, identify that nearby tree or faraway mountain, and check on the weather before you head out, and a lot more.
Foursquare: City Guide
iOS, Android, Windows
Price: Free
Foursquare: City Guide is a great way to find quality restaurants, bars, nightlife, activities and more in any city or town. Seek out popular spots or hidden gems recommended by locals and visitors alike. Get short "tips" from others on the app – or write your own! You can even keep lists to keep track of where you've been and where you want to go.
Foursquare is a lifesaver I wish I'd found sooner than later. Once, when I was half-awake and hunting down breakfast in Belltown, Seattle, it would have been an absolute necessity. Like any review-based app, tips can sometimes be less than helpful, but for the most part Foursquare users give great advice.
AllTrails
iOS, Android
Price: Free, with optional subscription service
Self-described as "your guide to the outdoors," AllTrails helps you discover the best hiking, running, and biking trails all over. With 60,000 detailed trail maps, photos, and reviews, you can find new trails in national parks and around your own neighborhood.
Find hikes tailored to your fitness and experience level. You can also find dog-friendly and kid-friendly parks, as well as wheelchair-friendly trails. You can also record your hike using your phone as GPS activity tracker to view stats at a glance and keep from getting lost.
AllTrails also comes with AllTrails Pro, an upgraded subscription service. While the app is a little deceptive about what you can and can't use without paying, Pro lets you download offline maps, gives air quality and satellite weather updates, and uses Lifeline, a system that keeps friends and loved ones informed while you're on your hike. Free or paid, though, AllTrails is still a great way to discover and track local hikes.
Trees PNW
iOS, Android
Price: Free
Trees PNW is a great nature guide to trees in Oregon, Washington, and the western half of British Columbia. It's the perfect offline app for walks, hikes, and teaching.
The app helps you identify trees with pictures and easy cues with each species to learn and identify trees from red alders, paper birches, western redcedars, douglas-firs, Pacific yews and more.
Design-wise, the app's user interface can get a little crowded depending on the size of your phone. Despite this, the information is fantastic, and a great way to learn a little more about nature, whether you're hiking, vacationing, or wondering what exactly that tree in your backyard is called again.
Peakfinder AR
iOS, Android
Price: $4.99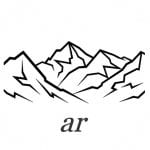 Speaking of identification, Peakfinder AR lets you explore and identify nearby mountains. Peakfinder shows the names of mountains and peaks with a 360 panorama display and a knowledge of more than 650,000 peaks.
With offline function, the app hoverlays your camera image with a panorama drawing, and renders surrounding landscapes in real time. It can also "fly" from peak to peak, with dozens of identification features. With Whatcom's numerous mountain views, Peakfinder is perfect for identifying nearby geography.
BandsInTown
iOS, Android
Price: Free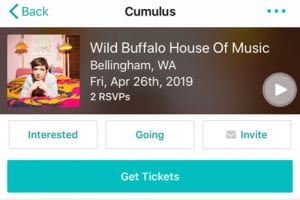 The app where concert-goers and artists connect, BandsInTown helps you hunt for shows coming to your town. With BandsInTown, you can get tickets and find concerts based on what artists you already listen to via Apple Music, Spotify, Soundcloud and more. You can also get news, interviews, tour announcements and more from musicians you enjoy. Perfect for catching the next local show in Bellingham.
PayByPhone
iOS, Android, Windows
Price: Free
PayByPhone lets you pay for parking anywhere in downtown Bellingham. Register through the app and pay for parking in just a few seconds! You can also get expiration reminder messages and extend your time. Integrate it with your Apple Watch or pay through Apple Pay. It also includes nearby events, parking history, and traffic information. Though this app applies more for Bellingham than anywhere else, but is still incredibly worth it if you're ever short on change downtown.
Carrot Weather
iOS, Android
Price: $4.99, with optional subscription service
Carrot Weather is a quirky app that delivers the weather with a side of snark. Award-winning and accurate, Carrot Weather gives you quick and accurate access to current, hourly, and daily forecasts with biting humor. Forecast updates include lines like "It's partly sunny. Yay, skin cancer! Or "It's a beautiful, sunny day! Ha ha, just kidding. It's raining." You can tailor Carrot's style of humor or turn her off completely.
Carrot includes mini-games with "missions" that take you to Moscow, Easter Island, the moon, and a lot more. You can even earn "achievements" based on where you are in the world.
You can also buy a Premium Club subscription that gives you additional features with extra customization, alternative weather data sources, and Apple Watch background updates.