BIn January, babygreens, the popular plant shop in downtown Bellingham, expanded to open a cafe.

The cafe is an extension of the existing plant shop, allowing people to enjoy coffee, tea, beer and wine amongst the tropical greenery.
"Things are going really wonderfully, especially having just opened," says owner Nick Meza. "Our whole team feels that it's being received really well."
Babygreens opened in April 2018, and the cafe was added in January 2019. From the beginning, Meza had wanted to incorporate a cafe into the plant business.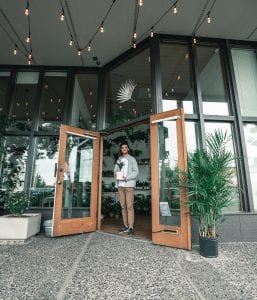 "It was always part of the original goal and vision for the business overall, having that dual concept," Meza says. "We just had to work up to it."
Adding the cafe to the plant store is a natural partnership for Meza. He wanted to create a place where people could enjoy the greenery of the plant store without having to buy a plant. He also saw a niche in the coffee shops in town and filled it. Adding the social aspect is important to him, something that was missing without the cafe.
"They work together really naturally and really well," Meza says.
Meza attended Western Washington University and studied outdoor recreation and marketing. The inspiration for the plant store, he says, came about halfway through his time at Western – but his appreciation for adding plants to indoor spaces came long before that.
"I've always really loved having greenery in my spaces," Meza says.
Growing up, his mom always had plants everywhere. "I think that carried on to me in a certain way," he says.
In high school and college, Meza always had plants around and found he was instinctively good at caring for them.
Once Meza started seriously looking for spaces to rent for his shop, he spent several months searching online and touring places that weren't quite right. Securing the space babygreens now occupies came together in a more old-fashioned way, he says.
"Honestly it was just a walk by," Meza says. "There was an old-school "for lease" sign in the window with a phone number – that's it."
Meza called the number, and everything came together easily from there.
The cafe serves the full spread of espresso drinks, drip coffee and a few pour-over options, all using Anchorhead Coffee from Seattle. They also serve various loose leaf teas, as well as beer, wine and cider.
The babygreens cafe has a few rotating taps of local beers, one cider on tap from Herb's Cider, the local cider company, and six different wines for people to choose from: three red and three white, including a sparkling option, which they pour for mimosas on the weekends.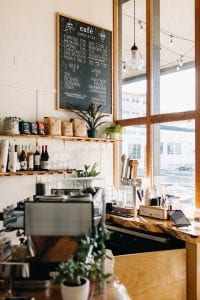 For food, the cafe serves pastries from local bakeries. They're looking to expand their food choices, Meza says. He is planning to add a breakfast sandwich and a few savory snacks, such as a charcuterie board. But he's in no rush, taking his time to intentionally grow the cafe as it's ready.
"We're trying to really focus on quality and expand that side of the business with time," Meza says.
Babygreens also hosts workshops and live music every so often. With limited space, though, things can't get too crazy, Meza says. He has a couple live music offerings in the next couple months. They're collaborating with a local band and hosting one of their own staff members to play. In about a month or so, they're also planning a one-year anniversary party for babygreens.
"That's definitely going to be more extravagant than most of our events," Meza says.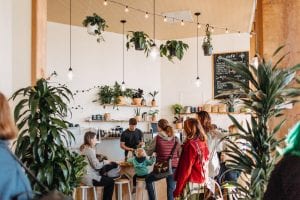 In the next few weeks, babygreens is opening outdoor seating along their Chestnut Street storefront. They're also planning to extend their hours into the evening, hopefully encouraging people to try some of the beer and wine they offer, enjoy live music and take advantage of the afternoon light that floods the shop.
"We get really pretty afternoon light in here," Meza says. "It's amazing."
Meza wears many hats at babygreens: ordering plants, sourcing drinks for the cafe and managing both sides of his new business. His team brings expertise to both facets, he says, advising on which local breweries to look into and bringing extensive knowledge of botany to the job. At the end of the day though, the responsibility is still on him.
babygreens
1201 Cornwall Avenue in Bellingham
425-286-4412
Hours:
Monday through Thursday: 8:00 a.m. to 7:00 p.m.
Friday and Saturday: 8:00 a.m. to 9:00 p.m.
Sunday: 8:00 a.m. to 5:00 p.m.