Terri Sirmans just celebrated her twenty-year anniversary with the Holiday Inn Express. Although she's been the hotel's general manager for many years, she still finds new ways to love—and grow—in her job.
"If I'm not learning something every day, there's something wrong," Terri says. "Anyone can do anything if you have the right attitude."
She keeps her job interesting by challenging herself. "There are always new things to learn," she says. "I knew nothing about marketing in the beginning. I never say I can't do that, or I don't know how, I just say give me a little time."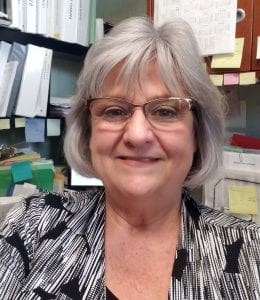 Growing up, Terri discovered a thirst for adventure and exploration through her parents.
"My dad was an iron worker in Montana, and he had a dive school," she explains. When she was 12, they took a trip to visit a family friend in California. He offered her father an undersea welding position, so the family packed up and moved.
From there, her father moved onto other positions in Australia and, later, Singapore.
"He worked as a deep-sea diver on drilling rigs for oil companies," she says. "It was a good deal; he worked two weeks on and two weeks off, so I got to see a lot of my dad."
Her father was originally from Bellingham, and at one point owned a water ski school on Lake Samish. They formed human pyramids and water skied behind airplanes on the lake.
"He taught us to do [stunts] and we had some really fun times," says Terri. She describes one particular day when she had greased herself up in baby oil and was sunbathing. Her dad unexpectedly called her to climb up on a two-person high pyramid. She couldn't hold on, and her slippery body slid off into the water.
She had lots of adventures growing up in exotic places. "I loved the whole time I lived in Australia," she says—though she found the slang difficult to follow. "They were speaking in English, but I was completely lost. It got to be the big joke that I had to stop everyone, and they'd say, 'The Yank doesn't get it!'
From there, Terri moved to Singapore and finished high school in Asia.
"We took road trips into Malaysia Cameroon Highlands," she recalls. "They had great big butterfly nests. We learned how to save butterflies and mount them when I was a teenager."
Years ago, Terri returned to Australia for her sister's wedding. The two of them went to order a coffee and when the barista said, 'I'll shout you for it,' Terri was mortified—she thought he wanted to have a shouting match over the coffee. What he meant was that he wanted to buy her a coffee. Some things haven't changed.
It's only natural that Terri would end up in the travel business, though she happened upon hotel management by accident.
"In the late '90s I wanted to work as a travel agent, so I took a course at the Bellingham Technical College," says Terri. Her timing wasn't good; it was the start of online booking agencies and the travel agent business was downsizing.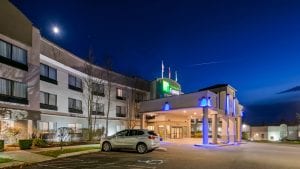 "During the class, I interned here [at the Holiday Inn Express], to learn about hotels." After the internship, she was offered a position at the front desk. Terri moved up quickly within the company. "First I was offered the front desk supervisor position, then worked in the office and finally had an opportunity to move into the general manager position," she says. After a trial period, she was offered the job and has been there ever since.
Terri loves her career with the company and says the employees are like a second family to her. Five staff members have been there for over 16 years. They've learned to work well together and support each other wherever needed.
"When I got here, there was a lot of division between housekeeping, maintenance and the front desk," she says. Terri brought them together with common interests and company celebrations. March Madness, Fantasy Football, monthly luncheons, pumpkin carving contests and big Christmas parties keeps the staff social and enjoying each another's company.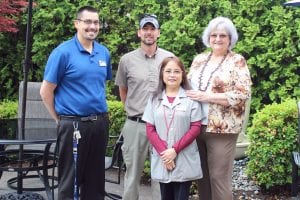 "We have so many different nationalities here," Terri says, smiling. "The potlucks are amazing."
Family photos of staff members hang above her desk on a cork board. "If anyone asks for help, they stand in for each other where needed. If someone has a family emergency, the hotel keeps running," she says.
She enjoys coming to work every day. "It's never a chore," she says. "That's why I'm still here."
Cross-training her staff comes in handy in many ways. They're empowered and happier in their positions and it gives Terri the freedom to take a vacation free from worries.
Terri was away on a trip to Mexico with her mother when corporate unexpectedly dropped by the Holiday Inn Express for a bi-annual inspection. The team took over and knew exactly what to do to ensure a successful review.
She hopes to retire in three years, but for now, she's happy in her position and living with her spunky, 90-year-old mother who teaches tap dancing three times a week.
"I've learned a lot about people, different ways to approach things and how to handle situations," Terri says. She loves the hotel industry because of the people she meets daily. "It helps you grow as a person by getting to meet so many people in so many different walks of life."
Sponsored