Driving south on Meridian Street in Bellingham, you pass by Earl's Bike Shop, and then quickly come upon an unassuming storefront, home to the Assistance League of Bellingham thrift store. Inside, the shop is often busy. On the day I visited, I was surprised to find it about as busy as Value Village around Halloween, with people of all kinds milling around and making purchases.
While humble on its face, this store brings over $400,000 in annual revenue to the local non-profit, funding the majority of its programs.
On February 25, Signs Plus installed a new sign above the doors of the Assistance League of Bellingham, making the storefront a little more assuming and helping to draw an even greater crowd of customers inside.
Signs Plus, sign design and installation company in Bellingham since 1992, worked with the non-profit and the family of a former Signs Plus customer to create the new signage. Coincidentally, it was funded by the estate of Steve Brewster, the owner for 30 years of Bellingham's Sportsman Chalet. In 2010, his successors at Sportsman Chalet worked with Signs Plus to create a sign for the business' new James Street location.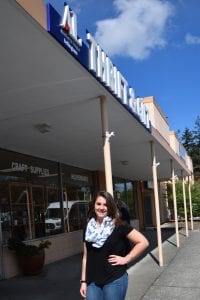 "It was a sad day when we had to remove it, when they closed," says Jim Sutterfield, president of Signs Plus. "It's awesome to see the legacy continue in some form at the Assistance League of Bellingham!"
The Assistance League of Bellingham, local arm of the national Assistance League organization, was first founded in 1977 under a different name, and then officially chartered through the national organization in 1982.
The organization's mission is to transform the lives of underserved children and adults in the community primarily through providing new clothing to kids. Their other programming includes giving gifts to residents of elder-care centers, offering scholarships for kids to attend summer enrichment programs, and providing clothes to hospital patients who are victims of assault or trauma and who may arrive at the hospital without clothing to wear home.
"We love to support our local community and local organizations as much as we can," says Sydney Sutterfield, Signs Plus project manager. "So every opportunity that we can help out, we want to."
The Bellingham chapter was founded by a group of women and continues to run through the generosity of over 150 volunteer members, only one of which is a man.
These women operate collectively as the grandmothers of Whatcom County, offering care and support to anyone who might need a little extra.
"What I love is that when we dress the kids from all the schools, we see them, we help dress them, we help pick out the clothes," says Christy Dahms, volunteer with the Assistance League for 10 years. "We are there. We have personal contact with all these 2,000+ kids and see their faces and their parents' delight."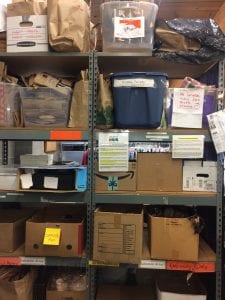 What sets the organization apart, Dahms says, is their diligence and care all the way through the process.
"We send the money out, but we follow it and make sure it goes where it's supposed to go," she says.
Through their program Operation School Bell, the Assistance League partners with two local department stores to give new clothing to kindergarten through eighth-grade students in Whatcom County.
"We give the clothes, but we're also giving dignity and self-respect," Dahms says.
The organization also runs a program for homeless, unaccompanied, and emancipated high schoolers in Whatcom County to receive a sum of money with which to purchase new clothes.
"Teachers all say there's absolutely no doubt those kids sit up straighter in their chairs and that they are more comfortable going out on the play field, because they look like the other kids," Dahms says. "So there's absolutely no doubt that it makes a difference."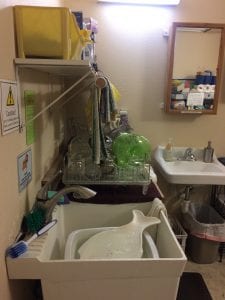 Inside the thrift store, a couple dozen women, most of retirement age, run an extremely organized business. All clothing items donated to the Assistance League thrift store are inspected three times for rips and stains: once initially as they're sorted, a second time as they're steam washed, and a third time as they're priced and hung.
One volunteer irons all the donated socks by hand. All the glassware and kitchen appliances are washed by hand before they are displayed in the store. The Assistance League also has a dedicated shoeshiner and shoe repair-woman.
The organization partners with eight different elder-care centers in Whatcom County to provide Christmas gifts to residents who don't have family nearby. They receive personal wish lists from these residents, and do their best to find the items.
One year, Dahms received a list from a woman who wanted a guidebook of Paris, pink nail polish, and a pink dress with a zipper, "the kind grandmas wear," Dahms recalls.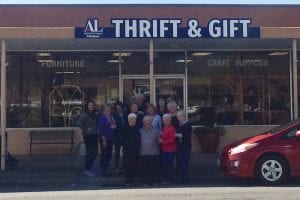 Purely coincidentally, Dahms was visiting the care center where this woman lived and got to witness her open the gifts.
"I saw her eyes when she opened the different things," Dahms says.
She learned the woman had been a flight attendant and always enjoyed the time she got to spend in Paris. Telling this story brings tears to Dahms' eyes, as do many others she shares while we talk.
Last year, the Assistance League of Bellingham gave clothing to about 2,225 kids, 66 high school students, 650 emergency room patients – and 125 elder-care patients received Christmas gifts. They also awarded 76 children summer enrichment scholarships.
During our tour of the thrift store, Dahms tells me that everything she's wearing was purchased there. "Once you start shopping here," she says, "you'll never shop anywhere else."
Sponsored