On opening night at the Mount Baker Theatre – April 29, 1927 – tickets cost 35 cents each.
Ninety-two years later, Mount Baker Theatre is the only theatre from that era still functioning, thanks to generous support from the regional community. The theatre became a nonprofit organization in 1983 after fierce protests from the community prevented its demolition.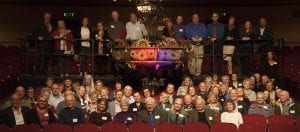 "Since then, it has been this wonderful nonprofit entity as well as being a functioning performing arts center," says Amy Blackwood, individual giving manager at Mount Baker Theatre. "The theatre has relied on community support ever since to thrive and survive today."
To celebrate the theatre's 92nd birthday, on April 27, the theatre is hosting Artrageous, a group of 12 singers, dancers and musicians from New Mexico who create visual art pieces as part of their live music and dance performance. Through their performances, they aim to convey art as an integral part of the human existence.
After the show at the Mount Baker Theatre, the works of art created during the performance will be available for purchase during a silent auction.
Throughout April, the Mount Baker Theatre is also asking community members to donate to the theatre for a community birthday gift. They are hoping to reach their goal of $9,200 by the Artrageous performance on the April 27. Sticking with the 92nd theme, they're asking for $9.20 donations, but people are welcome to donate any amount.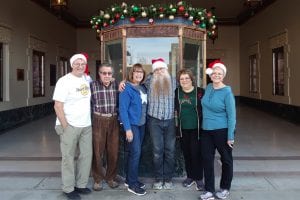 "More than one hundred thousand people come here every year and enjoy different events, from Broadway shows to local dance recitals. If even a small portion of them come together to give a little bit to support the Theatre, the combined community contribution will help keep the theatre thriving for years to come," Blackwood says.
As part of the month-long donation, all thirteen Cruisin Coffee locations are taking donations to celebrate Mount Baker Theatre. People can add $1 to their purchase at the cafes. Anyone who makes a donation through Cruisin Coffee will also receive a $10-off coupon to the Artrageous show. The Theatre's community support circle extends to other local business partners, as well.
As a non-profit organization, the Mount Baker Theatre depends on donations, volunteers and their members to keep the programs running. Ticket sales pay for less than half of their annual costs, so members play a vital role in the theatre's success, Blackwood says.
The theatre has roughly 850 members who donate anywhere from $50 to over $10,000 annually, and receive certain thank-you benefits in exchange. Members at all levels can purchase tickets before the general community, and the perks pile up as the donation amount does.
Some members get the chance to attend pre-show receptions where they can meet the artists or directors before the show and ask questions. The pre-show receptions are one of the most exciting things about being a member of Mount Baker Theatre, says Pat Kingshott, a member and volunteer with the theatre since 2005.
"We never miss one of those if we're going to an event," she says.
This opportunity doesn't exist everywhere, says Nina Sona, a member of the theatre since 2016.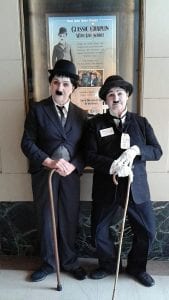 "I've never seen anything like that," she says. "It's perfect, because Bellingham is big enough to attract big shows, but it's small enough that it's still a community theatre."
The quality of the performances at the Mount Baker Theatre struck Sona most when she and her husband first joined.
"Most personally rewarding to me [about being a member] is the ability to have access to this level of entertainment in what I would consider to be a fairly small town," Sona says.
"If you like live theatre, if you like musicals, if you like music: there is something for everyone," she says.
If the members of the Mount Baker Theatre keep the programming funded, it's the consistent staff of volunteers that keep it running.
Sona and her husband, Andrew, who also sits on the theatre's board, have been active members of the performing arts community everywhere they've lived, from New Jersey to Oklahoma, and they both say the amount of volunteer hours dedicated to the Mount Baker Theatre outpaces what they've witnessed elsewhere.
All the ushers and front desk receptionists at every Mount Baker Theatre event are volunteers, along with the crew who hang the Christmas decorations each year.
"The volunteerism here is amazing," Nina Sona says. "Some of these people have been volunteering for 20 or 30 years."
Kingshott became an usher at the theatre at the same time she became a member. She moved here from San Antonio, Texas, where she was an usher for 17 years.
"I get to meet all kinds of people who come to the theatre, and I get to help them enjoy the culture," she says. "It certainly adds quality to my life – and it adds excitement."
Kingshott has been an active member, season ticket holder and volunteer at Mount Baker Theatre for the past 14 years.
"It's kind of my home away from home," she says. "It's my favorite place to be other than at home."
Sponsored