"What keeps me going every day, is seeing people's sighs of relief and joy after a massage or a float session, and knowing that we're making a difference," says Tim Fuller, co-owner of Still Life Massage and Float.
Behind the modern façade, the Still Life building houses a massage studio and float rooms in an impeccably clean and comfortable space. Located near the harbor on Bellwether Way, a calming atmosphere with soothing grays and blues greets you with oxygen-producing greenery and peaceful marina views.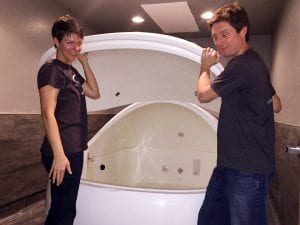 Tim and Shannon were both born and raised in Bellingham. Shannon remembers a time, years before they met, when she saw Tim drinking a coffee with friends at Tony's Coffee. He left an impression on her, enough that she remembered him several years later when she saw him again on their first date.
The pair met on Match.com. "I'm not embarrassed to say it anymore, because people do the internet dating thing now," says Tim. It worked out well for the two, they've been married for 15 years and have two children and a successful business. They beam while talking about the three years of hard work that's gotten them to a point where they can finally take a breather to spend time with their kids.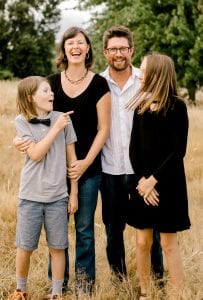 When Shannon's mother became a massage therapist as a second career, she took note. "I liked her flexibility. I liked her schedule. I thought, I'd be down with that," she says. "I chose that career because I wanted to have a family and I knew it could be flexible."
Tim had a career in the wine and restaurant industry for 25 years. He worked at the Bellwether during the construction of Still Life and often came over to check on the progress before and after his shifts.
During the early days, Tim and Shannon utilized Western Washington University's Small Business Development Center. "They were great, they helped us write a business plan," says Tim.
At the time, they'd never run a business before and were lost when it came to details and financing questions from the bank. WECU financed the business through an SBA loan backed by the government. It was a brand new program at the time and Still Life was the first to take advantage.
"One of the things that we learned along the way is that people out there want to help you. You just have to accidentally find them," says Shannon. "We were fortunate we fell into the right people and made good connections; people were so helpful."
"It's been a crazy ride," says Tim. "[I remember] when we were so gut wrenched to sign a 10-year lease. Being responsible for all that and having to sign for our house as collateral." Now, they're three and a half years in, and he wishes they would have signed on for 15.
"That was probably the scariest time of our lives, putting this together. [There were] nights I couldn't sleep, I just wanted to throw up," says Tim. "They say we have to take risks to be successful. I didn't want to wait tables and sell wine for the rest of my life. I wanted to build something to be proud of."
Now the business is running smoothly, and those nights are long forgotten.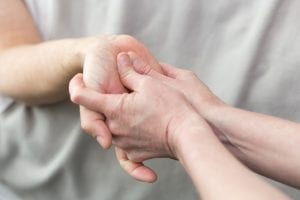 "It was tough the first year or two. We were here from about 8:30 in the morning until the last appointment around 7:00 – 7:30 p.m." says Tim. "We now have ten massage therapists and five people at the front desk. It's allowing us more flexibility to enjoy life and be with our kids a little bit more."
When Still Life started, they expected vacationers from the Bellwether to be a driving force in the business. In reality, word of mouth and relationships built with local clients have created a community around them. "We're passionate about what we do," says Tim. "We've had people cry, thanking our staff and us. It touches us inside and keeps us going."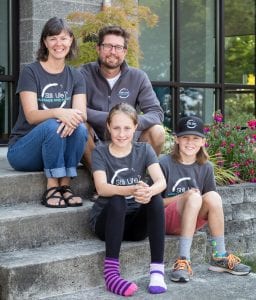 "I love to greet my clients, and I think that's one of the great parts of our success. We care. The reason we're doing this is because we love our clients so much and we want them to feel good," says Tim.
The Fuller's kids are even getting involved in the family company. They occasionally come in to help out. "Our son is diligent, he's super clean, and it's so sweet to see," says Shannon.
"He's already asking if he can work this summer," Tim says. "And who knows? Maybe he'll take over the business someday."
Still Life Massage and Float
19 Bellwether Way #101 in Bellingham
360-647-2805
Sponsored