The travel season is upon us, with spring break next week and summer just on the horizon. Even if your days of solo jaunts are behind you, all it takes to enjoy the ride with children is the right amount of research and planning.
Dr. Manny Eusebio, a pediatrician for PeaceHealth, feels passionate about the benefits of traveling with children. "I've always thought that travel is such a great way to augment education, well-roundedness and global citizenship for kids," he says. "I love this topic."
Traveling with children isn't always easy; it takes planning, and there are a lot of variables depending on your mode of travel, the country you visit, and the age of your children.
But the payoff is rewarding. Children will remember family vacations for the rest of their lives no matter where you decide to go. A camping trip an hour away to Mount Baker can be a transformative experience.
Vaccinations and Medicine
Pediatricians can offer specific tips depending on your travel choices. "If there's any question, come see your pediatrician or your family practice doctor," says Dr. Eusebio. "Pediatricians love to talk about travel, and your child's doctor is one of the best resources for trying to understand what they might face."
Depending on the country or region you're visiting there could be potential health risks. Preventative strategies or vaccines will protect your family against outbreaks occurring in these areas.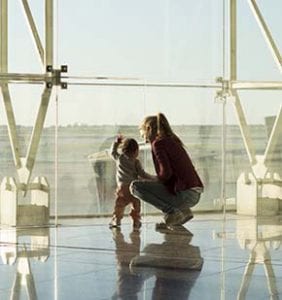 "Right now, people who are going to Clark County should strongly consider completing their measles vaccine series," Dr. Eusebio says.
If it's flu season, families should get their flu shots. You'll be exposed to thousands of people during travel, whether it's on a cruise, in an airport, or in crowded spaces like Disney World.
Flights
On a flight, cabin pressure can change dramatically during ascent and decent. Children should swallow to allow their ears to pop to prevent ear pain. "Suck on a pacifier or grab a water bottle and stay hydrated," says Dr. Eusebio.
Sleep
"If you're going international or to a different time zone, try to adapt [children's] sleep schedules two to three days beforehand," he says. "Preparation is very important."
Begin a child's bedtime routine an hour earlier or later each night until they acclimate to the new time zone. When it comes to sleep, it's ideal to maintain routine as much as possible.
Bring a favorite stuffed animal or anything that brings your child comfort. "A blanket or a portable toy, just one small thing that gives them a sense that this new isn't entirely foreign to them," says Dr. Eusebio.
Taxis
If you're using taxis or a rideshare like Uber, make sure to tell the company ahead of time that you have a child. Bring your car seat with you and strap it into the vehicle before you leave. Rental car agencies in the airport have car seats available to rent, and airlines will let you check them.
Hotels
When booking a hotel, make sure the one you choose is quiet and child-friendly, not above a bar or dance club. The Expedia App, explains what to expect from various hotels and provides information on childcare options and play areas on site.
The Expedia app even holds on to your travel plans if you're without wi-fi.
Renting adjoining rooms or a small suite allows for privacy. "Sometimes you just need to spend a little more so your kids also can have their space and decompress," says Dr. Eusebio.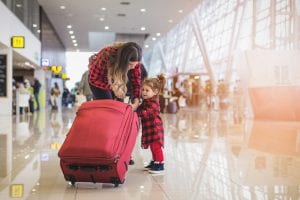 Adjoining spaces also come in handy during nap times, allowing more freedom for the family and quality sleep for young children.
Hydration
"If you're in a foreign country, make sure your water sources are reliable," Dr. Eusebio says. "If you're going to Mexico or further south, you want to drink bottled water. If anything is in question, buy bottled water or make sure it's boiled."
He stresses that staying hydrated is the most important thing while traveling.
Diet
Trying local food is half the fun when you're in a new environment, but if your child always asks for macaroni and cheese for lunch, bring a microwavable pack that you can prepare at your hotel. That way, you know that you'll have at least one meal you can count on them eating.
"Packs of oatmeal are great for kids," says Dr. Eusebio. If all else fails, kids love oatmeal; it's hardy, small enough to throw in a bag, and will carry them through until the next meal.
Bring small travel snack; little graham crackers, goldfish and apples travel well. Food is also a great way of distracting children during long flights and drives.
If you're traveling internationally, check the Centers for Disease Control website for current health risks and outbreaks in any country around the world. The American Academy of Pediatrics is an excellent resource for preventative medicine and Hoagland Pharmacy (on Yew Street) has access to travel vaccines. Nurse Ruth administers them and gives suggestions for travel. And PeaceHealth is always willing to answer any questions that might arise before or during your trip.
Sponsored