If you love browsing the stacks on a cold winter day or finding the perfect novel to take with you on summer vacation, Griffintown's Cozy Corner Books in Ferndale is the place for you. It's a picture-perfect small town bookstore.

Just off Portal Way, Griffintown's is located across from what used to be Griffintown Railroad Station, in what owner Chris Callow says is the oldest still-standing building in Ferndale, built in 1890. The rustic, wooden structure has weathered boards and great big sunlight-filled windows – and holds thousands of previously loved books.
Inside the original glass paneled door, rows and rows of eight-foot hand-built shelves line the walls and carry worn paperbacks of every genre. One title may come and go a dozen times until someone chooses to hold onto it permanently.
Callow encourages patrons to come back. "I don't like people to drop off books and never return. I want customers more than I want books," he says. "Customers are very important to us."
Complimentary fresh coffee is on and cozy old chairs sit in front of the large windows while the snow falls outside on Griffintown Park across the street.
Until the last year or two, Callow was baffled by the lack of Ferndale residents in his store.
"I've found a lot of people were travelers, staying at Birch Bay or the State Park or bed and breakfasts around the area," he says.
Just recently, he's seen more neighbors drop in and is still surprised by the number who tell him they've passed by for years and have only just stopped by for the first time. It seems Ferndale residents don't realize the little gem they're driving by every day.
These snug little spaces are slowly disappearing from landscapes around the country. Callow feels passionate about keeping small businesses alive.
"I'm bullish on small local businesses, I think it's the backbone of the community and I just hope people remember that as they're ordering products online," says Callow. He wants consumers to realize the importance of having a vibrant business community. "Yes, we need big companies," he says, "but they've got to have the small businesses too: the local coffee shops, restaurants, bookstores and clothing stores where they get the personal service they won't get anywhere else."
Callow feels that personal touch is one of the most important things missing in the world of online sales. "I try my darndest to have a conversation with everyone who comes in here," he says. "From the moment they walk in the door to the moment they leave, I want them to get that sense they're welcome. You won't get that online, but you will get advertising."
While shopping at Cozy Corner, the ambiance adds to the experience. You're free to sit and find the perfect title. "The hunt is half the battle, half the fun," Callow says. "To find it, sit down, and read a chapter or so and think, Is this really what I want? You can't do that online."
Callow and his staff can direct you to what you're looking for and are knowledgeable about most of the titles they have in stock and what's currently popular.
Callow obtains hard-to-find books with his inner network of booksellers. "I do a lot of ordering for people; I give very good prices for it," says Callow. "I get free shipping from a network, and I can usually get it within a week."
Customers can bring books in for credit to their account, making already good prices even better. "We issue a dollar-per-book credit for each one I take," says Callow. "They can buy books at a reduced price, so everybody wins. It's the perfect answer to over-crowded homes; a win-win for customers and Cozy Corner.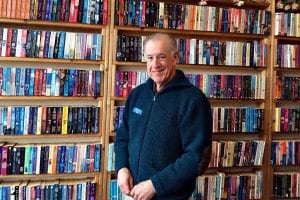 For Callow, it's important for people to be happy with their purchases. If they find they've bought a title they've already read, or if they don't like a book that he's recommended, he allows them to bring it back and trade for another book "straight across."
"I want people to feel comfortable doing business here," he says. "If I'm generous, they'll be generous and bring their business back."
Callow's personalized customer service and great prices are working for him; each month's sales have been better and better. Ferndale residents are beginning to stop in more often and he has a solid base of regulars that come from Bellingham just to shop at the Cozy Corner.
Stop in at Griffintown's Cozy Corner Books and find a new favorite read. Relax, browse, enjoy a free cup of coffee and support a local business. It's a win-win for everyone.
Griffintown's Cozy Corner Books
360-380-1642