When visiting Glacier, many folks stop at the Wake 'n Bakery. Here, you may run into one local woman getting her morning coffee. You'll definitely encounter her artwork for sale: ceramic mugs and pictures with carvings inspired by the Mount Baker Wilderness decorate the local bakery. These are the work of Diane Gilbraith.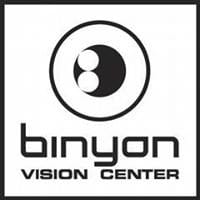 Diane was born in London, England, in 1945 and her journey to becoming a locally beloved Glacier artist is a fascinating story.
She was actually born in her grandmother's living room during World War II and grew up in Hounslow, Middlsex, as the youngest of four. The first time Diane remembers being recognized for her artwork was when she painted the school cafeteria and did drawings for a linoleum cut for Sports Day.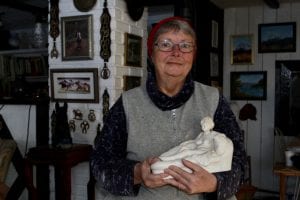 When she was 14 years old, Diane turned in a drawing of King Arthur's Lady of the Lake, which her teacher never returned. To this day, Diane is certain the instructor stole it.
She also recalls her teachers issuing notebooks. Students were given a new notebook once their current one was full. "My teacher looked at me and said, 'This is supposed to be for notes, not drawing.' I had drawn young people at the beach because bikinis had just been invented. I was in trouble."
Diane grins mischievously at the memory.
Diane soon became known for her skill. "One day in art class, they said to draw the person next to you," Diane recalls. "It looked like her. From then on, it was portraiture for many, many years."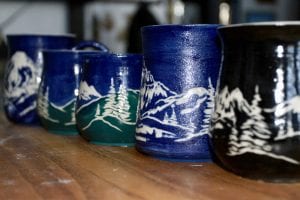 Diane's mom moved their family to Canada to do farm work while Diane was still a teenager. Diane loved working with the animals. She met her first husband in Ontario and found herself pregnant with her first child at 17. The next several decades were a whirlwind of travel, romance, odd jobs and family, including her three children. She moved to Glacier to be near her mother, who lived in Paradise at the time.
Diane worked as a bookkeeper in Glacier for 10 years, for Gary Graham, founder of the much-loved local eatery, Graham's. She also worked as an apprentice for three years at Cloudy Mountain Pottery. She applied for ceramics classes at Fraser Valley College in Abbotsford, Canada, but they were all full. So she enrolled in art history and applied to be a model for the ceramics classes, instead.
"You can get in on the discussions," she says, "And, oh, there were lively discussions! So I joined them. The professor said there'd be a spot for me next year if I wanted to enroll in his class. So then I got into a ceramics and sculpture program – at 50 years old – by taking my clothes off." Diane states this proudly.
"When I started sculpture, I was like, 'Wow,'" Diane says. "The first one I did was my daughter. Then I realized all these portraits were practice for sculpture."
Diane's advice for aspiring artists is: be yourself and let yourself grow in to yourself.
"I see everything around me as paintings," she says. "I think I look at the whole world through an artist's eye, which always left me out of step in school. They want you to be avant-garde, come up with something new, but tough." Diane finds art education to have a homogenous nature.
Diane remembers meeting the head of the Art Department at Fraser Valley College. "I had a piece in a Whatcom Art Guild Show," she says. "I felt like I wouldn't fit in at her college. I showed her a reclining nude sculpture at the show and she looked at it and said, 'Nope, you wouldn't.'" Diane stayed true to herself and stands by her work.
One of Diane's sculptures is called "Glacier Woman." She says it's a melding of a few local women she regards as the heart and soul of Glacier, due to their "independence and complete disregard for dressing the way fashion is depicted. They're happy to live out here away from all that."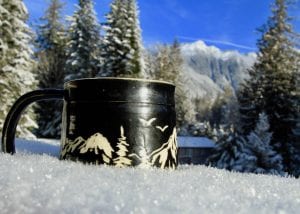 Twenty-two years ago, the Glacier community held a nail-pulling party to help Diane build a place to throw her clay. When she was 60 years old, she began caring for the elderly in Marysville, which she still does to this day, at 74 years old. She also teaches Art History Through Cinema at Whatcom Community College.
Diane Gilbraith is a striking example of fortitude, adaptability, independence and creativity. She embodies the heart and soul of Glacier Woman.
"People come here and they stick," she says of her close-knit community. "The ones who do are independent. I've always felt comfortable with that. Here, I'm not labeled as an old lady. Young people don't talk to me like I'm an old lady and I like that." She's right at home in Whatcom County.