At a young age, R.B. Wick began collecting and selling things. When he was five, he and a best friend tried selling dirt and cattails to anyone passing through their neighborhood, which was on a dead end street. They were sure the topsoil, taken from the knothole of a backyard pear tree, would yield riches. Unsurprisingly, it did not.

"We hardly sold anything," recalls Wick. "But it was still fun. If we were selling lemonade with ice, the ice would have been melted before the first customer. That's how few people we had coming by."
Wick, who owns Bellingham Coin Shop, has become vastly more successful with selling things. But he's still all about having fun. Wick is the man behind a series of increasingly popular local treasure hunts, in addition to being a comedic improviser, local realtor and all-around good guy.
"Reputation in business is, for me anyway, the number one way to get ahead and to build a relationship with the community," Wick says. "Treat people fair, treat people the way you want to be treated, and they'll have your back."
Finding His Knack
R.B. Wick (he keeps the initials a secret for privacy reasons) was born and raised in Whatcom County, the youngest child of Randy and Annie Wick. He has six half-siblings, as each parent had three children from previous marriages. Wick attended Mount Baker High School, graduating in 2005. The path to his current occupations began at 16, when he gained employment at a local coin shop. Wick worked there until age 25, when he and the coin shop owner decided to part ways.
Soon after, Wick found himself sitting at home, depressed and unsure of his next move. But then he remembered two paintings he'd bought at an estate sale for $5 each. Wick turned his head to glimpse the paintings on his wall, and had an idea.
"I couldn't read the signatures," he recalls. "I was determined I was going to figure out the signatures. And I did; it was a famous Eastern Bloc artist from the 70s."
Wick contacted an auction house in Belgium, shipped the paintings off, and saw them sell at auction for $12,000. After shipping costs and auction fees, he made about $7,000. Following that stroke of good fortune, Wick and a friend decided to attend some Seattle storage unit auctions. At one auction, in January 2013, the door of a 15-by-30-foot unit was lifted to reveal a storage area stuffed with random bins, pelican cases, and a metal cage.
"Having watched 'Storage Wars,' I thought, 'I'm going to see what I can do with this,'" he says. Wick bid $6,800 and won the auction. The containers, remnants of a photography studio, were filled with DSLRs, flash units, photo backdrops and printers. Again, Wick lucked into something that turned him a profit. He continued buying storage units and selling their contents.
In late 2014, a friend at Eartha Kitty's (a local estate liquation business) told Wick his ethics, honesty and antiques expertise made him a perfect person to handle estate sales. He demurred, but the friend gave his number to someone anyway. Suddenly, Wick found himself conducting his first estate sale. His knack for research identified valuable items, helping the client make around $10,000. By the time he'd completed his second estate sale, Wick knew he needed to do it full-time.
"People are at a vulnerable time," he says of estate sales. "They're dealing with a lot of sad emotions. And you can be there, and be supportive to those people at that time. And I like that."
Wick even handled the estate of Burl Ives, the "Holly Jolly Christmas" singer who lived his last years with his wife in Anacortes. Wick also has a realtor's license, and works with his brother, a full-time realtor, to help sell estate sale homes. He takes his reputation seriously and is willing to fix any mistake, even if it means taking money from his own pocket to do so.
"If someone trusts me, that's worth so much," he says.
A Place for His Stuff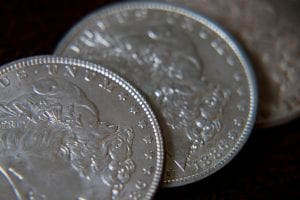 In October 2015, Wick opened Bellingham Coin Shop. He'd been wanting to open a store, and a thrift store seemed a good fit. The shop is organized rather neatly thanks to his girlfriend, Sara Harrison, who does accounting and inventory. It's also filled with unusual things.
In the back of the store, Wick has a decommissioned Vietnam-era bazooka and an Alcatraz lifejacket. His office is cluttered with random objects, including an old bottle of DDT that sits on a shelf behind his chair. Wick also has a signed copy of the Beatles' album "A Hard Day's Night," and a Saint Christopher necklace that once belonged to Ringo Starr. He got both items from a woman who walked into his shop one day, asking about gold coins. It turned out the two were related. The woman's mother had worked at Seattle's Edgewater Hotel when the Beatles stayed there. Wick had the signatures checked, and found they were all written by Beatles manager Brian Epstein. He'd commonly sign the Fab Four's names on albums due to the ever-constant demand for autographs.
Sometimes Wick comes across things he can't sell, for legal reasons. A storage unit once turned up a real elephant tusk, which he keeps at home and off the black market. At one estate sale, Wick came into possession of a taxidermied sea turtle the family didn't want. He took it home and named it Herman. He's constantly worried his dogs will try to eat it.
A big part of Bellingham Coin Shop is, of course, coins. There are all kinds, including Roman currency over 1,800 years old. Wick loves thinking about their history.
"A coin has passed through who knows how many hands," he says. "It's travelled from who knows where. The mystery is to where they've been."
He also sees coins as a legacy piece, something to be passed down through his family. Wick's father collected silver dollars when Wick was growing up, and Wick now owns them.
"He put time, thought and care into collecting them, so it's part of him," he says. "Some day, when I have kids and grandkids, I can say 'these were your grandfather's or great-grandfather's.'"
Wick also loves sharing his coins with the community. In April, during National Coin Week, he'll dump numerous old varieties –including 5,000 'wheat' pennies – into tip jars across Bellingham, putting them back into circulation for people to find.
Treasure of the Heart
His most popular venture, though, is local treasure hunts. Wick came up with the idea years ago, while at the other coin shop. Putting old money in Easter eggs, he thought, was the perfect way of advertising a numismatic business. The owner didn't like it, and it didn't happen. But last Easter, Wick remembered the idea and decided to try it.
He filled plastic eggs with silver bars and gold coins and hid them around town, figuring it'd be fun for his normal customers. After doing several more treasure hunts at Christmas and New Year's, things have gone viral. Wick's gotten media attention from the Bellingham Herald and King 5 News, and his social media accounts have had thousands of hits (especially when he drops hints as to where treasure's hidden). Doing something positive that gives back to the community, Wick says, is what he wants people to remember about him.
"I don't understand why more people don't do fun things for people," he says, his eyes welling with a hint of moisture. "Because it makes you feel so good. It gives you so many good vibes, to know that people are out there having fun because of you."
Wick plans to keep doing the treasure hunts, refining them each time (the treasure boxes he hides are empty except for his business card; treasure hunters must call to collect the loot). He's open to ideas from locals regarding additional prizes to include; future boxes may have gift certificates from local businesses. Wick's also hired someone to manage his Instagram account, and once they get 50,000 followers, he plans to give away $5,000 in cash.
But Wick doesn't want to just give away money; he wants to inspire others through random acts of happiness. His idea is to make videos in which he offers people money to do silly, kind or spontaneous things, which then go viral and inspire others to pay it forward.
"That's what my dream is," he says. "What I want to do is help more people. And how do you help more people? Well, you can't just help people on your own; you have to inspire others to do good."
In addition to his business ventures, Wick continues to inspire happiness through his personal life. Five years ago, he surprised his dad, a Seahawks fan, with a trip to the Super Bowl. Family and friends helped him afford the cost. Wick is also a student improviser at the Upfront Theatre. He'd always wanted to try improv but was scared to get on stage. Wick showed up to an open audition with no prior experience, and was selected to perform regularly as part of the theatre's up-and-coming performance team.
There is a primary concept in improv called "Yes, and…," in which performers offer suggestions to other performers in order to accept and build the reality of their scene. This concept is as true on-stage as it is in real life, and it's the way R.B. Wick plans to continue living his life, no matter where it takes him next.
"Keep saying 'yes' to these weird things that are positive," he says. "As long as it's a positive thing, and you say 'yes' to it, your life can only get better."