Life was almost unbearable when 53-year-old Guo Cheng came to Blaine from Florida. A one-two punch of arthritis and sciatic nerve pain made it difficult to walk a single block. She saw countless doctors. Nothing helped.
"I cried a lot," Cheng says. "Then I said, 'Okay. I'll use the Chinese way to treat myself."
She turned to tai chi for help. Over time, it snowballed into something she never expected: the Blaine Taiji Academy.
The Blaine Taiji Academy is by seniors and for seniors – though anyone of any age is welcome to join.  Found in the Blaine Senior Center, they practice tai chi and qigong with several other branching classes. The Academy, now 10 years old, is well-known in the tai chi world, winning several competitions and training with internationally-known tai chi leaders.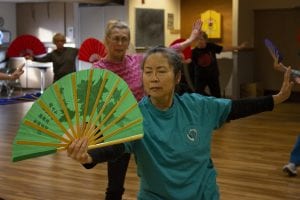 Tai chi, or taijiquan, is a Chinese martial art. Qigong is a holistic exercise focused on posture, movement, and breathing. Both are popularly practiced for exercise and personal health, and it's low-impact moves are accessible for seniors, disabled people, and people recovering from injuries.
Cheng, now 63, is president and founder. When she started tai chi for herself, she opened a class at the Blaine Senior Center.
"When I started, I was in very bad shape," Cheng says. At first, she could barely walk. Then, as she got stronger, her sciatic pain disappeared. "Before, I couldn't kick [my] leg. Now I can do everything!"
Cheng noticed that others in the class were improving too. She opened more classes, including a studio in her home. Then she started tai chi fan, sword, balance classes and more. She also had a class for those with Parkinson's, and the Northwest Parkinson's Foundation recognized her work.
Cheng had help from Chen Sitan, her teacher and acclaimed prince of tai chi. Sitan has won 32 gold medals in national and international tai chi competitions, and has been to the Academy more than once.
"We all learned [the] standard from him," Cheng says. "He always teaches me something."
One of the Academy's instructors is Sandy Brewer. Brewer is an actor and founding member of the Blaine Community Theater. He also teaches tai chi at the Ferndale YMCA, Lynden YMCA and Lynden Community Center.
Like Cheng, Brewer taught as he learned.
"Guo is great about taking people as they learn," Brewer says. "The best way to learn anything well is to learn how to teach. As you teach, you discover more."
At the Senior Center, Brewer and I watch the group warm up. Brewer has a hard time explaining the steps without moving himself, and we eventually join in. He often tells newcomers to stand in the middle, where there are people all around that you can watch, follow and learn from with no judgement.
"You got people of every age and every walk of life out here," he says. "I love it."
One of his favorite memories comes from performing at the iDiOM Theatre, where the playwright knew he practiced tai chi. Eventually, this led to a tai chi sword fight with a monster sock puppet.
"Incidentally, I lost that, and the sock puppet ate me," he says.
Graham and Donna Hunter are also instructors. Donna started years ago, deciding to exercise more after a cancer diagnosis. Her husband Graham is part of the Academy's qigong teams.
"I love doing fan routines," Donna says. "And people think – when you say 'fan' – you're going to do something delicate. And you come out and whip this fan open and it goes FWOMP! People jump if they haven't [heard it before]."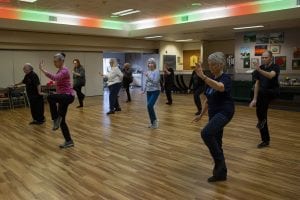 The Academy's visited Canada and China several times to learn from the experts. In 2011, Cheng, Brewer, Graham and other Academy members followed Sitan's team to a qigong competition in Canada. They were the oldest team. They took second place.
Other Academy members, as well as people around the world, are improving themselves through tai chi. Practitioners often improve their balance, blood pressure, flexibility and muscle strength. These benefits are recognized by Harvard Medical School and the National Institute of Health, which started the American Tai Chi and Qigong Association.
"First off, when you start learning the art, you learn that there are ways to move your body that aren't necessarily stressful, but then improve your joint health and your breathing," Brewer says.
One member had balance issues after brain tumor surgery. Like Cheng, tai chi helped her walk better. Another member, who has multiple sclerosis, is now a class leader. One member was even prescribed three tai chi exercises a week to help his Parkinson's.
Cheng is moving to Bellingham. All classes have moved to the Senior Center, where other instructors will take over. She plans to come back from time to time. If she starts a new group in Bellingham, she says she wants to keep the Academy's name, which has become famous over the years.
"I foresee the taiji availability and culture being part of what draws older folks to move to Blaine," Brewer says. He would also like to see tai chi taught in schools. "We are a dedicated core, and something well could develop."
Everyone is welcome to Blaine Taiji Academy. They can be found at the Blaine Senior Center, and have a schedule of daily activities that includes their classes.